Reader J sent in a link to this New Republic piece by Christopher Ketcham about alleged plagarism by Chris Hedges. Hedges reported for the Times and won a Pulitzer, and has written a number of books. Ketcham's wife is one of the people Hedges plagarized.
I read the piece and it pretty thoroughly documents a few instances where Hedges lifted paragraphs, massaged them, and put them into his work. I'd like to see Hedges' response and I'd also like to see someone run Hedges' books through some plagarism detecting software to see if they're isolated incidents. In general when these plagarism incidents come up, I always wonder what's so goddam hard about a quote and a footnote. This is especially true about one particular case that Ketcham identifies, where Hedges lifted 3 sentences from Hemingway without attribution.
Here's the predictable response: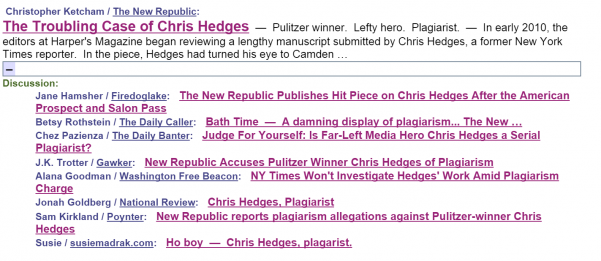 I have to say that Jane Hamsher's piece at FDL is one of the stupidest fucking things I've ever read, and that's saying a lot. She begins by complaining about the length of the piece, which is long because Ketcham has to include a lot of examples otherwise the Jane Hamshers would be saying he didn't have enough evidence. She continues by saying that Salon and the Prospect didn't publish it, which Ketcham acknowledges in his piece. That's the first time I've read something by Hamsher in a long time and if it's indicative of the current state of her art, FDL is much worse off than I would have imagined.