I'm both deeply unversed in Texas politics, and utterly not a lawyer, but my spidey sense tells me that this is good news for John McCain:
 A grand jury indicted Texas Gov. Rick Perry on Friday for allegedly abusing the powers of his office by carrying out a threat to veto funding for state prosecutors investigating public corruption — making the possible 2016 presidential hopeful his state's first indicted governor in nearly a century.

A special prosecutor spent months calling witnesses and presenting evidence that Perry broke the law when he promised publicly to nix $7.5 million over two years for the public integrity unit, which is run by Travis County Democratic District Attorney Rosemary Lehmberg's office. It's the same office that indicted U.S. Rep. Tom Delay as part of a finance probe.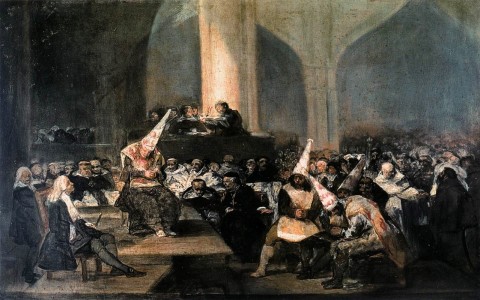 Seems to me that being indicted for being a dick to a Democrat might just help Perry in the Republican primary, but as this only reinforces a general election theme that we know what Perry (and the Texas GOP governing elite, and the national Republican Party) are, so now we're just haggling over price … well, that's just not good.  The ads write themselves and all that.
But, as I said up top, what the hell do I know.  For now, I'll enjoy the spectacle of the newly bespectacled governor talk grand juries and not guilty pleas, while quietly marveling the the managed to beat Chris Christie in the who gets charged first sweepstakes.  I thought the Jersey blowhard had this stakes race nailed.
Update: It occurs to me that the true sweetness of the story is the sheer stupid involved.  If I read the report correctly, Perry could have simply vetoed the funding with no prior thuggery and achieved the desired goal — shutting the investigation down.  It was the act of opening his fettering gob that got him into trouble:
No one disputes that Perry is allowed to veto measures approved by the Legislature, including part or all of the state budget. But the left-leaning Texans for Public Justice government watchdog group filed an ethics complaint accusing the governor of coercion because he threatened to use his veto before actually doing so in an attempt to pressure Lehmberg to quit.
Hee.
Image: Francisco de Goya, Trial by the Inquisition, 1812-1819