If we were not engaged in a systemic freak out about a disease that has not killed anyone infected on US soil yet, we would be aggressively vaccinating for the flu right now.  The flu is a disease that kills thousands in a good year, and tens of thousands in an average year.  Its early symptoms look a lot like Ebola (high fever, coughing, feeling like shit) so people going to the ER or their doctor's office for a flu visit will be getting screened for Ebola, and there will be some small percentage who falsely fail the Ebola screening and thus have their lives upended.  Minimizing the spread of the flu would make Ebola precautions more effective plus get far fewer people sick from a deadly disease.
Yet, we're doing almost nothing different about this.  The CDC is tracking the rates of vaccination in 2013 and 2014.  2014 vaccination rates are up slightly.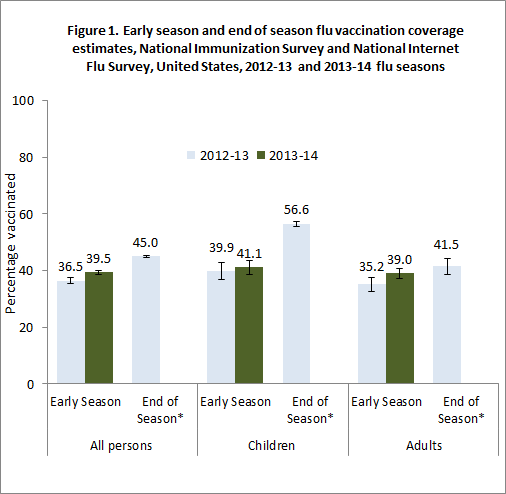 Even in a non-Ebola world, health insurers want to pay for the flu vaccine.  Mayhew Insurance knocks $200 off individual deductibles for flu shots because it saves a lot of money by avoiding hospitalizations (let's ignore the avoided feeling like shit days and unplanned time off from a cost accounting view to keep things simple.)  It is a massive net win for society to minimize flu in good years.  In years where there is another infectious disease whose early symptoms mimic a nasty flu, it is even more of a no brainer if our society actually wanted to solve the problem.
Instead, we get a freak-out and mass hysteria.