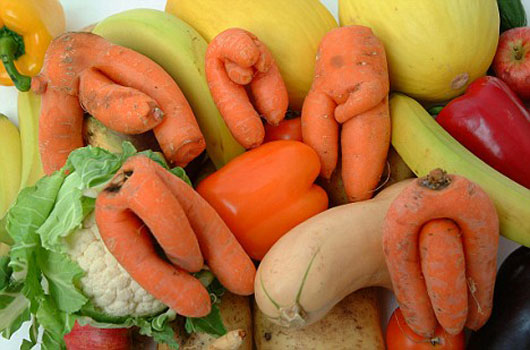 Thinkprogress posted this story to Facebook, stating that it is heartbreaking that it has to exist:
A small town outside Pittsburgh is getting a new, unusual grocery shopping option. Denise Marte is opening a store that will sell dented cans, bent boxes, and expired packages of food and other necessities at cut-rate prices in Rural Valley, PA.

Marte Mart is the latest entrant into a business category known as food salvage stores. The stores buy damaged goods that traditional retailers refuse, and they are regulated by the Food and Drug Administration like any other food provider. With prices of staple foods rising and the slow recovery from the recession leaving food budgets tight for millions, the stores have found success in other parts of the country, and Marte's will bring the idea to Armstrong County.
That's not heartbreaking, that's awesome!
We have so much food wasted in this country that this is something that every city needs a few of:
The sheer volume of food wasted in the U.S. each year should cause us some shame, given how many people are hungry both in our own backyard and abroad.

Now the U.S. Department of Agriculture has provided us with a way to understand our flagrant annual waste in terms of calories, too. It's pretty mind-boggling — 141 trillion calories down the drain, so to speak, or 1,249 calories per capita per day.

And if we could actually reduce this staggering quantity of food waste, the price of food worldwide might go down, according to a report from researchers at USDA's Economic Research Service, Jean Buzby, Hodan Wells and Jeffrey Hyman.

To come up with these estimates of all the food that was harvested but never eaten, the team crunched the latest available data from 2010. This "lost" food encompasses all of the edible food available for consumption — including food that spoils or gets contaminated by mold or pests. It also includes the food that's "wasted" — i.e. food discarded by retailers because it's blemished, and the food left on our plates.

All told, 133 billion pounds of food was lost in 2010 — that's 31 percent of the total food supply. And it was worth about $161.6 billion.
Many of those sell-by dates are just recommendations, and usually bad ones:
Pick up a gallon of milk or a carton of eggs and it will probably have a "sell-by" or "best-by" label. But what does that date actually mean? It's unclear! The date can signify different things in different states. And many items stay fresh long after the expiration date passes.

But when does it all go bad?

In fact, the whole labeling system is a total mess, argues a new report (pdf) from the Harvard Food Law and Policy Clinic. Date labels are often so inscrutable and differ so widely from state to state that they're essentially worthless as information. (The U.S. Department of Agriculture has a whole page straining to make sense of the whole muddle and does a good job explaining how long various foods will last.)
Another good link here on sell-by dates. I'm one of the people who, unless I am buying Chambers steaks (cut fresh in front of me by my local butcher), always buy all my meat from the manager's specials and marked down category. Just throw it in the freezer and it will be fine.
And with produce, you would be shocked to learn how much is just wasted because it doesn't look pretty or has a bruise or nick in it, etc. It's still good food. No one cares how pretty an apple is in an apple pie, or sliced up, etc. Recently, a store in France has begun to highlight just this:
Customers rarely see imperfect fruit and vegetables—the bent cucumber, the two-legged carrot, even the heart-shaped potato—because they are tossed away long before they reach supermarket shelves. But this year, French supermarket chain, Intermarché, decided to feature these so-called ugly fruits and vegetables in their stores (in an effort to reduce food waste).

The campaign, Quoi ma gueule? (What's wrong with my face?), was promoted over a two-day test period in March in Intermarché stores—France's third largest supermarket chain—in the north-central town of Provins.

Each year, approximately one third of total food produced for human consumption, is wasted. The UN Environment Programme estimates the amount of food lost or wasted is equivalent to over half of the annual global production of cereals crops.

Intermarché gave the ugly vegetables their own catwalk—a dedicated area with their own labeling in the supermarket. The broader advertising campaign, Inglorious Fruits and Vegetables, starred Clementine, the unfortunate mandarin, who informed consumers that her imperfections were "actually quite cute."
I wouldn't buy seafood past the expiration, but around here, all the seafood is mainly frozen anyway. If something is past the sell buy or markdown date, it is store incompetence in that they put it on display in too great a quantity, etc.
Additionally, it takes a ridiculous amount of oil (and the ensuing environmental damage) to raise a steer, to get crops to market, etc.:
Three quarters of a gallon of oil to produce a pound of beef. At $4.00 per gallon, this implies the cost of a pound of beef includes $3.00 worth of oil. In reality, the oil is used for illustrative purposes only. The energy in the food systems comes from many sources, such as natural gas for fertilizer and drying grains, and the electric grid for almost everything. Broadly, however, industrial energy sources tend to have correlated prices and oil is considered the lynch pin since it is involved in the transportation of all goods, including energy inputs. Given the heavy use of oil in the food system wouldn't you expect oil and food prices to correlate? Well they certainly do.
And they aren't feeding the steer oil- it's used to run the machinery that feeds them, tills the land, grows the crops, picks the crops, ships the crops and the meat, run the power plants that generate the electricity to keep them cold, and the oil is used to make the packaging the beef is in. That, in turn, leads to environmental damage and climate changing emissions:
If the amount of food the world wastes was a country, it would be topped only by China and the U.S. in terms of greenhouse gas emissions, according to a new UN report.

The report, published Wednesday by the UN Food and Agriculture Organization, found each year about a third of the food produced for human consumption worldwide — about 1.3 billion metric tons — is wasted, a practice which emits the equivalent of about 3.3 billion metric tons of greenhouse gases. That's about twice the amount of carbon emitted from the U.S.'s transportation sector and close to twice the yearly emissions of India. That wasted food also wastes water — the report states that about 250 cubic kilometers of ground and surface water is used each year to produce food that is ultimately wasted, an amount about three times the volume of Lake Geneva in Switzerland.
So no, ThinkProgress, this is not heartbreaking. This is AWESOME. We should have these in every city, particularly for areas that are food deserts, and we would be doing a world of good. Less waste, more disposable income to be invested or spent in other parts of the country, fewer emissions and less fossil fuel use, exposing people who have only been able to shop in bodegas with prepackaged crap to healthier food options, and so much more. I wish there was one around here- I'd shop there every time I went to the grocery. I'd be getting the same quality of food for a better price, which means more money for me to spend on video games or other things I enjoy.
The only thing heartbreaking about this development is the stigma ThinkProgress is unwittingly attaching to it by saying it is heartbreaking, as if only poor people should eat ugly produce. Not to mention, anyone who lives near an apple orchard will tell you that pretty apples have been bred to be pretty, and taste nowhere near as good as the local apples, warts and all. Just look at what has been done to Red Delicious apples over the decades, where it became more important to marketers that they be Red, and the Delicious became an afterthought. Maybe this is a rural v. urban thing, where urban dwellers don't really know where their food comes from- have you ever taken someone to a slaughterhouse for the first time? I remember visiting one in Germany to see how the sausage is made, so to speak, and I had several friends who swore off meat forever. I guess they thought they were just convincing the animals to kill themselves so they could be eaten. Beats me.
TL;DR- MORE OF THIS KIND OF STORE, PLEASE.