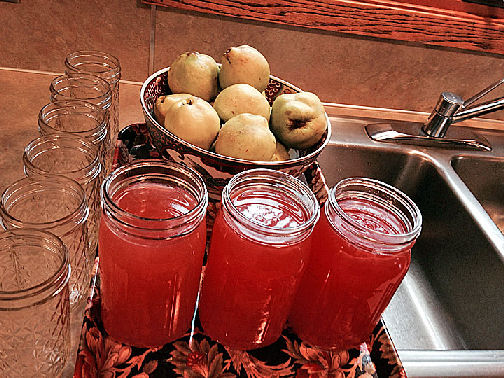 From faithful commentor Marvel:
Over this-away, we still have some 'putting up' to do.

I think I may have described before, the evolution of our kitchen practices as the harvest season opens and commences to barrel down upon us, e.g., the first few pounds of tomatoes are cleaned and staged for their lively Summer portraits, then skinned, seeded and slow-roasted to perfection before being lovingly ladled and canned for later consumption….but by early September, if I manage a quick rinse and rough chop of the little devils before tossing them unceremoniously in the freezer (for later, cruel processing), they're lucky.

Well, now, before the heavy raking of leaves commences, I've found some time to finish up (OK: begin) the last of my pantry chores.

Today's delight includes steaming about 15 pounds of fresh quince to produce the heady juice for a cardamom-spiced jelly we adore.

First up: Raw quince and the instruments of their destruction. (They suspect nothing.) Quince, as plucked, is not edible and is more like working with small wooden toys than actual, living fruit.

Midway through the mayhem and so far, no one's had to call 911. (I sing them a cheerful song to keep their spirits up.)

The steamer loaded, now's the next-to-best time: the kitchen'll soon be warm & a little steamy and the whole house will smell DIVINE (raw or cooked, quince have a delightful aroma like a flowery combination of apples and pears).

Soon these three quarts of quince juice will fill many small jars with ruby-colored jelly, the likes of which must be tasted to be believed!

How could such gnarly-looking fruit produce such beautiful ruby juice???
***********
What's going on in your gardens this week?