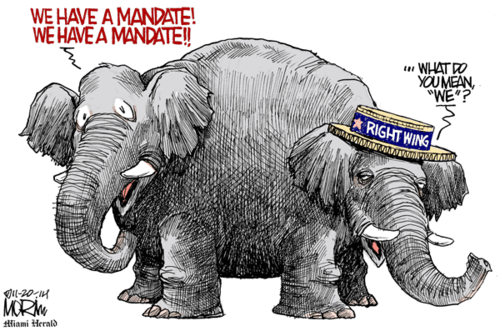 (Jim Morin via GoComics.com)
Did someone say "man date"?… From Mark Joseph Stern, at Slate:
On Wednesday, the viciously anti-gay National Organization for Marriage finally released its 2013 tax filings—two days late, in direct violation of federal law. The results are nothing short of brutal. NOM raised $5.1 million last year—a 50 percent drop-off from its 2012 earnings. Two donors accounted for more than half of that money. And the group's "Education Fund," which churns out anti-gay propaganda and homophobic calumny, raised less than $1.7 million, a 70 percent decline from 2012. NOM closed out the year more than $2.5 million in debt…

… Gay marriage is here to stay; a $100 (or $100,000) check to NOM won't change anything. Maybe a few former donors have even changed their mind about the whole gay marriage issue. Either way, most people know a lost cause when they see one. And anyone not totally blinded by bigotry can see pretty clearly that NOM is waging a war against the inevitable…

… In the near future, NOM's higher-ups will release that they're on the brink of officially folding. At that point, they'll give the piggy bank one last shake, then jump ship for good. The resulting collapse will be pitiable, painful, and pathetic—a finale befitting an organization built on a platform of nothing but hate.
Apart from small, hard-won victories — and, of course, the President's address — what's on the agenda for the evening?