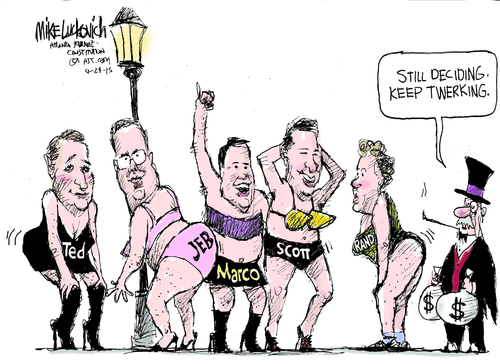 Timothy Egan, at the NYTimes:
… We are in the "invisible primary," an apt term for the age of oligarchs and dark money. It's invisible, this suck-up campaign, because it's happening behind the closed doors of a wealthy few, as a half-dozen or so Republicans audition to win the blessing of billionaires. It should be called the Plutocrat Primary.

Having already pledged to put together a political network that would spend close to $900 million to determine who runs the country, the Kochs are getting close to selecting a favorite for president. Normally, the Kochs stay out of presidential primaries. But this year, they're cutting to the chase, trying to pick a nominee and a president.

On Monday, the Brothers K seemed to tip their hand, gushing over Gov. Scott Walker of Wisconsin. Election over, call it a campaign. Why bother to go through the motions of voting? The Kochs have spoken.

But then, Walker went full Glenn Beck, while talking to Glenn Beck, and appeared to come out in favor of curbing legal immigration, a new position to go with his complete flip-flop on illegal immigration. The Kochs need immigrants, both at the low end and the high end of their vast empire of energy and related companies. And of course, as one of the nation's top corporate polluters, they've always needed politicians.

So, David Koch has now clarified the position of the electorate of two. It's down to five candidates: Walker, Jeb Bush, and Senators Ted Cruz, Rand Paul and Marco Rubio. The billionaire brothers will withhold their backing until one of the five says the most Koch-friendly things. "What we expect them to do is compete on who has a more positive message for America," David Koch told USA Today.

The Kochs' political views are like an invasive weed growing in every crack of the country, spreading through think tanks, corrupt academics and talk radio shills. In economics, the Koches have long professed opposition to letting a single entity — usually government — pick winners and losers in the market.

But with this bigfoot move into the Republican primary field, the Kochs are determined to pick a winner from the throne room of their family monarchy — free market and free election be damned. At the same time, a secret Koch memo unearthed by Politico shows that the family-run political machine plans an exhaustive ground game, embedding hundreds of staffers in communities across America, starting this year..