Commenter SRV in an earlier thread made an interesting and somewhat snarky remark:
Will Hillary knock out her Sister Souljah Moment early or wait until next year?
There is no need for any Democrat who is planning to run on maintaining and perhaps expanding the Obama Coalition to Sister Soulijah anyone.
This Vox map explains why: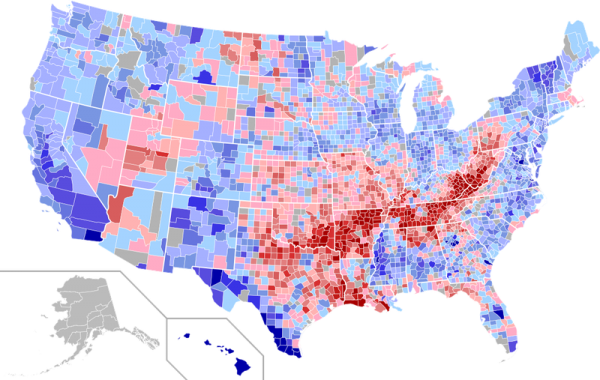 The Obama Coalition is white liberals, urbanites, union members and everyone who is non-white.
The Bill Clinton Coalition had a significant component of socially and economically conservative people who were scared of the Other and Cocaine and the Loud Music of Kids these days. Sister Soulijah was a signaling mechanism to elite opinion makers, shapers and leaders that Bill Clinton would respect the views of this marginal portion of his winning coalition even at the expense of a significant but insufficient for a win portion of his base coalition.
The people who were soothed enough by Clinton's Sister Soulijah comments in 1991 are either dead, or hard core Republican base voters now. The marginal member of the Obama coalition is not scared of changing times anywhere near as much as the marginal member of the 1992 Clinton coalition.
Furthermore, we have to remember the times; Democrats had just gotten their asses handed to them three Presidential elections in a row as they were seen as too soft on crime. 2016 will see Democrats as the incumbent party with a better than even chance of holding the White House for a third term if they can actually get all of their naturally predisposed to like them voters out to vote. Depressing the base vote in order to chase a few marginal votes is stupid.