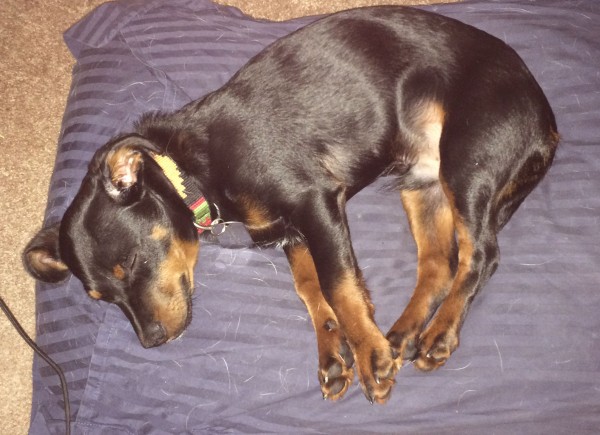 Thurston is by my feet on the doggie pillow resting comfortably after his surgery. He was a little groggy when I picked him up, but he recovered quickly and played with Rosie for hours and acted like nothing had ever happened. He is so spoiled by the vet staff. When I sat there waiting, I watched several dogs be brought out, reunited with their owner, and leave. Then Thurston comes out and several of them are cooing and oohing and ahhing about how good he was and he is so cute and blah blah blah and all I could think about was "you've never stepped in his shit at 4 am in the morning while tripping over the slipper he chewed." At any rate, all the piglets are home, healthy, heartwormed, and accounted for, so it is a good day.
Speaking of spoiled, if you are wondering, the "doggie" pillow is actually a pillow from my bed. Every week when I change the sheets, I just bring one of the four pillows in to the study and throw it on the ground for the dogs, since one of them is going to drag one in here anyway. I just gave up taking them back into the bedroom and instead am proactive now. This way, one is on the "doggie" pillow, one is on the couch, and one is on the actual dog bed while I am in the office, so they all have their spaces.
I decided to change my name back to John Cole. No point to the +0 tag anymore since it has been almost ay ear since I gave up the bottle and don't even miss it or think about it, so now I am just John Cole again. I'm off to go give Sense8 a whirl on the tv thingamabob.