The cost curve is bending to a lower slope of less cost acceleration.
The Robert Woods Johnson Foundation has released preliminary 2015 results on medical service pricing:
We have observed many times that growth in health service prices remains extremely low, and this month's trend report suggests that this trend is continuing, reporting an annual increase in health care prices for 2015 of 1.1 percent, the lowest recorded since Altarum's series began in 1990. Given the flatness of this series, the two drivers of the recent growth in health spending have been coverage expansion and spending on prescription drugs.
In 2015, the nominal GDP growth was 2.9%.  Inflation was roughly 1%.  Healthcare price inflation was within rounding errors of general inflation.  This is extremely important news.
However cost control is not only a matter of price. It is a matter of quantity.
Everyone expected quantity of services to go up significantly. The CBO had projected a spike in GDP devoted to healthcare spending in 2014 and 2015 because it was projecting the US uninsurance rate to be cut in half.  Below is a November 2013 chart from the  White House  that shows how the CBO anticipated a spike: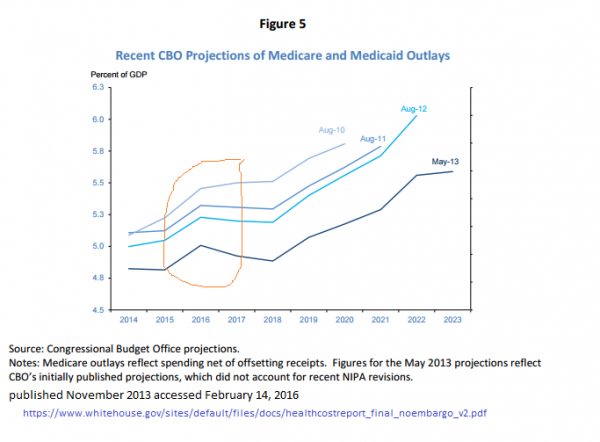 The RWJF research shows that spike shown through the data:
This month's results are quite consistent with this foreshadowing. The quarterly trend in overall health spending growth using the Altarum Health Spending Economic Indicators series shows a clear peak in Q1 2015 at 6.7 percent, with subsequent declines every quarter. Partial data for Q4 (October and November) show a spending growth rate of 5.2 percent. While overall spending growth in 2015 will clearly exceed that of 2014, a reduction appears to be underway.
Total spending is a function of the average price per service and the number of services being sold.  Since we expanded access to health insurance and healthcare with the biggest wave of new entrants to the system happening in 2014 and 2015, the number of services being used should have gone up.  They did.  Some of that incremental increase was due to "catch-up care".  That wave seems to have crested.  The rest of the increment is the "natural" healthcare utilization rate of newly insured people who have had their "gonna kill me now" problems taken care of.
Charles Gaba has argued, the easy large scale additions to the ranks of the insured is complete.
6. The remaining uninsured STILL haven't a clue about the deadlines and/or tax penalties:

The final factor is one which I've written about before, and which there seems to be no obvious solution to: In spite of a massive outreach/marketing/eduction effort by HHS, CMS, HC.gov, the state exchanges, the private insurance carriers, Enroll America, Families USA, Planned Parenthood, the United Way and dozens of other organizations,people STILL had no idea about the deadline and/or mandate tax:
This will change once the large population former Confederate states expand Medicaid at some point in the next decade but there are not big pools of easy conversions readily available.
What does this mean?
The cost curve is bending.  If prices can grow at roughly the rate of inflation and not even nominal GDP quite a few long term federal financing problems go from dire to manageable.