Apparently we're supposed to be impressed that Rubio came in second to Trump in South Carolina.  Here are the numbers, per Google: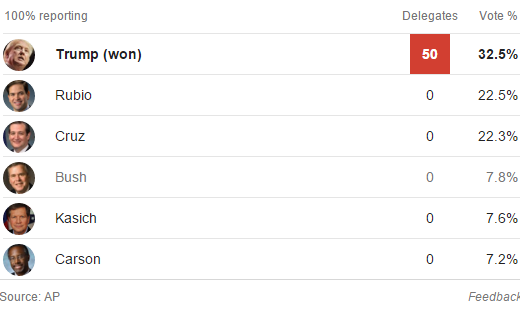 I guess if you assume that the others will drop out (why?) and that Rubio will pick up most of their support (citation needed), and if you squint the right way and hold your tongue at the right angle, you can see a path to victory for Rubio based on Saturday's results.  So, for example, Rubio barely beats Trump (at a couple of points over 50%, not by a landslide) if you assume that he would get roughly half of Cruz supporters (my guess is a lot lower), half of crazy Carson's (again doubtful) and almost all of Bush and Kasich's lemmings (probable), only if all of those candidates decide to commit political seppuku as quickly as possible.
But, this scenario is not credible.  First,  most of those grifters aren't going to drop out until well after Super Tuesday, so the anti-Trump vote will be split between the hateful 5.  After March 1, there are primaries in states like New York and Connecticut where Trump might be more popular than Rubio.  And, most importantly, Rubio is weak sauce.  He hasn't taken the full brunt of Trump's bullying, and he doesn't strike me as someone quick enough on his feet to take on Trump one-on-one.
It's too early to call but if you're a member of the DC GOP establishment, you're definitely chewing Xanax and downing martinis like an asteroid is about to impact the planet, because, for those dinosaurs, it looks like an extinction-level event is coming.