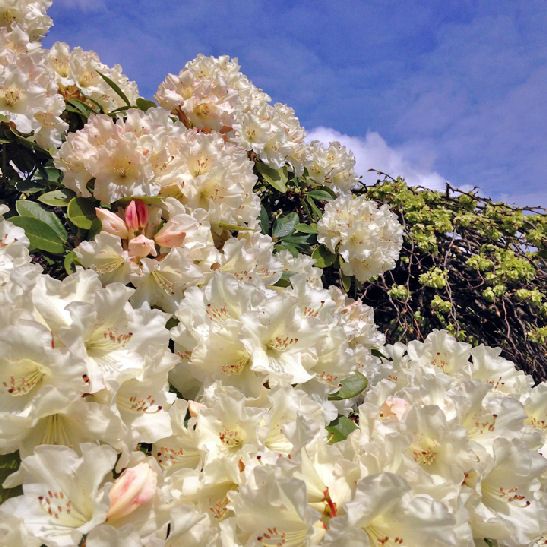 From gifted gardener / photographer commentor Marvel:
The Willamette Valley has enjoyed a string of warm sunny days, so we all (and I do mean ALL) have spent the last several days working outdoors, giddy with Spring Fever.

Why is it that after only four gardening days I already feel a month behind?

Anyway, a friend suggested we start our days this week with seasonal Haiku posts.

Here's today's (and a photo of a monster-sized rhodie out front):

Dawning bright and cool
a fresh morning breeze unfurls
Spring's crisp linen skies

Buds and blooms explode
playful color everywhere
Spring's confetti bomb

Raindrop-beaded buds
warming in the morning sun
Peony burlesque.
***********
There was a two-story rhododendron wrapping one corner of our house when we bought it twenty-something years ago, and it was doing very nicely until an ice-storm-intensive winter a few years ago. I personally suspect it's never bounced back because the roto-rooter guy finally managed to kill off its infiltration into the main sewer outlet that runs next to it — we haven't had an overflow problem in the downstairs half-bath since its near-demise. But the Spousal Unit blames our eldest dog Zevon, who loves to make shallow 'nests' under it during the hot weather, so S.U. spent a lot of time last fall putting down plastic netting to discourage digging and mulching the area deeply. No new buds yet, but I'm hoping for his sake the bush at least leafs out a little better once the weather warms up…
Also, I finally got my tomato orders done, and come mid-May I will be inundated with TOO MANY TOMATO PLANTS. There are never too many homegrown tomatoes, but I've only got a bathroom-sized patch of asphalt for the planters. And it was a pretty mild winter by New England standards, too!
What's going on in your garden (planning) this week?