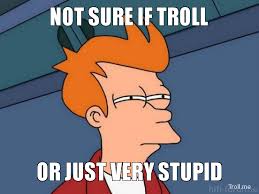 There's been a lot of talk on the threads this week about trolls and what should be done about them.
I think Cole's rules have always been pretty clear. The banhammer (temporary or otherwise) only comes out for egregiously bad behaviour – actual physical or emotional threats, truly offensive -isms, 9/11 truthers and the like. In such instances, one or more of the front pagers contact Cole (who has, I note for those who complain that Cole never reads his own blog, usually already seen it) and Cole decides if they get banned.
The front pagers might very occasionally delete comments which are highly offensive or gratuitously derailing of a thread which has nothing to do with the shit they are spouting, but otherwise, you're all adults and you can deal with a few dickheads yourselves.
Speaking for myself only, I kind of like the trolls – be they one note weirdos, Republican ratfuckers, ex-PUMAs for Trump, or just DougJ in a new hat. They are an integral part of this blog's history – from Doug trolling Republican Cole, through Brick Oven Bob Bill (if you don't know who he was, I suggest you google), to Mikey the Goatfucker, the helicopters are not laughing guy, Uncle Clarence Thomas, Unlimited Corporate Cash, and that guy I managed to flirt out of existence in one thread after he resorted to copying the entire thread into successive comments in an attempt to crash the blog.*
More to the point – it's election season. There are going to be trolls, and trolls in increasing numbers until we get to November. If we banned everyone who said something stupid in the next 5 months, the blog would consist entirely of posts from Tom and Richard on which none of you fuckers would be allowed to comment.
Also to remember – just because someone disagrees with you, even to the point of complete exasperation, that doesn't necessarily make them a troll. Or mean that they should be banned to preserve your delicate sensibilities.
If you really hate trolls, ignore them, or install one of the filters that some kind person will link to below a few comments in, or send them pancake recipes, or read one of the other threads.
Anyway, I'm listening to Grimes this weekend (a long weekend here in Sydney). What are you listening to?
* If anyone knows when that thread was, I'd love to read it again. That was fun.