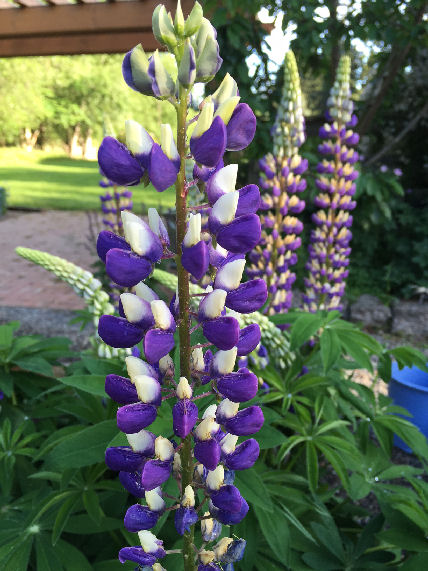 Programming note — some of these pics came through on my email upside-down. I flipped them in Photoshop, but I don't have the skills to keep your smart-screens from "correcting" them back to the original orientation.
More bounty from faithful garden commentor Opie Jeanne:
Volunteer chives, foxgloves, and baby lupine in the gravel

Beans just starting, volunteer lupines

New rose garden. 3 years ago this had a dying pine tree and some English ivy (invasive species here) and a row of elderly lavender, also dying. The rocks were there and we salvaged a few of the old lavender and added a lot of young plants. Had to fix the drainage in this part of the yard before we did anything.

[Ed: That can't be a juggler leading the parade, can it?]


Corn bed, alpine strawberries

Last of the Lilacs, just a week ago

Dreaming of bunnies
***********
Here north of Boston, I've got almost all the mail-order tomatoes transplanted, but now all the rootpouches need to be slide-puzzled into place before they're tall enough to require laddering. And I can't finish moving them until the Spousal Unit finishes pruning as much of the godsdamned overhanging nuisance oak as he can reach from a ladder, which it's my job to hold… if I'm not back on the blog this evening, assume the worst.
Speaking of future posts — there's a bunch of pet pics waiting to cheer up our mornings, but as best I can tell from my disorganized email, the only gardening post now in the queue is a blog-link from Peter Cook. So, if you've got garden photos, this would be the time to send jpgs to annelaurie at verizon dot net.
What's going on in your gardens this week?