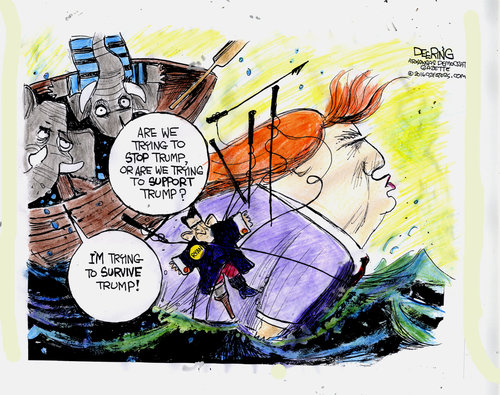 From the Washington Post:
A wave of apprehension and anguish swept the Republican Party on Thursday, with many GOP leaders alarmed by Donald Trump's refusal to accept the outcome of the election and concluding that it is probably too late to salvage his flailing presidential campaign.

As the Republican nominee reeled from a turbulent performance in the final debate here in Las Vegas, his party's embattled senators and House members scrambled to protect their seats and preserve the GOP's congressional majorities against what Republicans privately acknowledge could be a landslide victory for Democratic nominee Hillary Clinton…

"The campaign is over," said Steve Schmidt, a Trump critic and former senior strategist on George W. Bush's and John McCain's presidential campaigns.

Calling a refusal to accept the election results "disqualifying," Schmidt added: "The question is, how close will Clinton get to 400 electoral votes? She'll be north of 350, and she's trending towards 400 — and the trend line is taking place in very red states like Georgia, Texas and Arizona."…

Meanwhile, top Democrats fanned out to battleground states on Thursday to hammer Trump for what they described as an unprecedented attack on the country's political system and to attempt to yoke Trump to Republican candidates down the ballot.

Campaigning in Miami, President Obama said Trump's doubts about the election outcome are "not a joking matter. That is dangerous."…

And in Arizona, where polls show an unexpectedly tight presidential race, first lady Michelle Obama said Trump "is threatening the very idea of America itself" by suggesting he would not honor the election results.

"You do not keep American democracy 'in suspense,' " Obama said in Phoenix.

Sen. Tim Kaine of Virginia, Clinton's vice-presidential running mate, held a rally at a downtown Charlotte brewery, where he said Trump's claims of a "rigged" election reminded him of the Third World politicking he had seen as a young missionary in Honduras.

"The bigger we can win by, the harder it is for him to whine and have anyone believe him," Kaine said, trying to galvanize supporters on the first day of early voting in North Carolina…
***********
Apart from a little hard-earned schadenfreude, what's on the agenda as we wrap up this busy week?
THIS is this new battleground map. Deploy donations & volunteers to any grey, pink or turquoise spot on this map:https://t.co/tPLgsQelG3 pic.twitter.com/UL4S9TaZIs

— Al Giordano (@AlGiordano) October 20, 2016