…May they be blessed!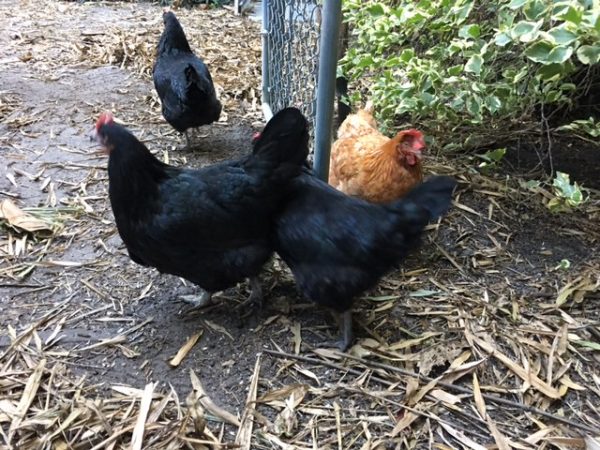 Chickens are like people in that they are constantly angling for power. Ours is a rooster-less flock, but there's a boss hen and a scapegoat. The former role is transient, whereas the latter appears to be permanent. Boss hens are evidently deposed by coalition.
By my reckoning, we're on our third boss hen since the formation of the flock: Joan Jett, the largest black hen pictured above, was recently deposed by Dorito, the orange hen. Joan Jett rose to power by deposing Big Foot, not pictured.
Also, it turns out the chickens DO like bananas. Someone had asked about that. Now you know.
Open thread!
ETA: My hubby and I are thinking about moving at some point in the future, and I'm not looking forward to moving the chickens. Maybe we'll just put "chickens convey to new owner" in the listing? Nah. But I'm not sure how we'll move them. We have a large dog kennel that we were going to use to round them up when a hurricane threatened, but thank dog we didn't have to do it. I guess we'll move them in that. It'll be fun! Not.