I've received more emails, fb mentions, twitter dm's and mentions about this than anything else I can remember in the history of this blog, so I might as well address it formally. yes, I have heard about the two racist ass women in downstate WV who posted some "deplorable" shit to their facebook page: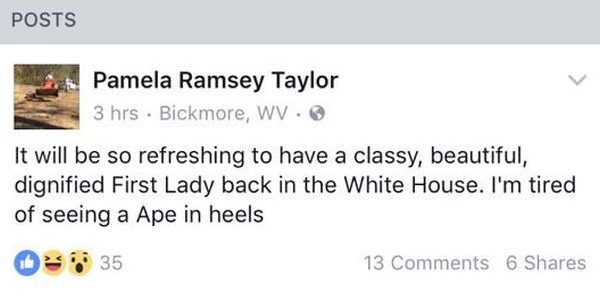 An official at a Clay County agency lost her job Monday after publishing a racist Facebook post criticizing first lady Michelle Obama.

The mayor of Clay also was strongly criticized for commenting in approval of the post.

Pamela Ramsey Taylor, an employee of the Clay Development Corporation, referred to the first lady as an "ape in heels" in the Facebook post. A person who answered the phone at the Clay Development Corporation said Monday afternoon that Taylor has been removed from her post, but refused to comment further.

Clay Mayor Beverly Whaling commented on the post soon after, saying, "Just made my day Pam."

Neither Taylor nor Whaling could be reached for comment Monday. Their Facebook pages have been deleted.
We can now report that Whaling, the Clay mayor (Clay is the county seat of Clay County, so if you are wondering if we backward hicks have mayors for counties, no, we don't) has submitted her resignation. So I have now reported this, so hopefully the emails will stop.
What's more interesting, probably, is why I didn't mention it. And the reason I didn't mention it was BECAUSE NO SHIT, HALF THE GOD DAMNED PEOPLE IN THE STATE HAVE BEEN SHARING AND SAYING SHIT LIKE THIS FOR EIGHT FUCKING YEARS. I'm honestly more surprised that someone got in trouble. That's what is so horrifying about the election of Trump. Being overtly racist has been normalized and rewarded.
I mean, where has everyone been the past decade?