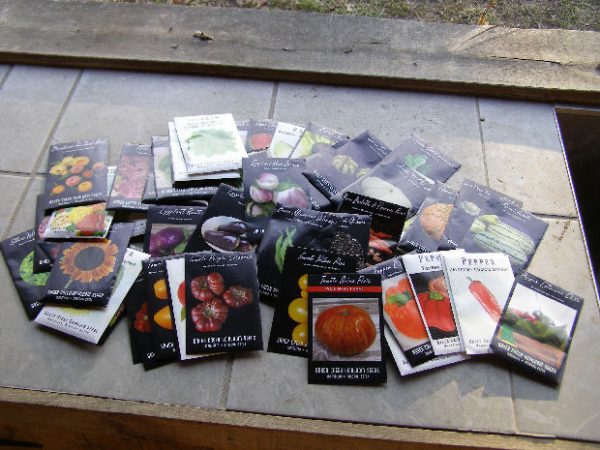 .
From gifted photographer & loyal garden commentor Ozark Hillbilly:
Got my seeds almost a month ago. Had to build a new germination/growing stand and it took a week to get it together. Planted my tomaters, egg plants, and peppers to start with.

Of the maters I have grown Green Zebra, Orange Icicle, Arkansas Traveler, and Yellow Pear before. Really looking forward to the Costoluto Genovese and Purple Calabash. The Solar Flair just looked fun and the Moneymakers are a greenhouse type for next winter. Also growing Amish Paste from saved seeds



Of the peppers, the Toppo Giallo and Toppo Rosso are both new to me and I look forward to seeing if they do as well as the other Italian sweet peppers I grow (Corno di Toro Giallo and Corno do Toro Rosso) The Etiuda are just so brightly colored I had to try them. The Corne de Chevre are the only new to me hot pepper I am growing this year. The Estaceno and the Santa Fe Grande I have tried before with not much success. If I don't like the results again this year I will just figure the Ozarks aren't right for them and move on. The Jalapenos…. Well, what is a summer without stuffed Jalapenos?

All 3 egg plants are new to me. The Rosita and the Rosa Bianca are both supposed to be superb and the Diamond is another of this type of eggplant that my wife loves grilled. This is the 3rd or 4th type I have tried and while all were good none were exceptional.

Radishes are all new to me, with exceptional colors to add to a salad. We'll see about the flavor.

The last I took during January's ice storm. It is a pic of a Dogwood bud encased in ice, awaiting springs warming sun. Seems apropos considering this weekend's winter storm and our own political winter.
.
What's going on in your garden (planning) this week?