This will be a running and updated post on the cost estimates of the AHCA by the Congressional Budget Office (CBO) and Joint Committee on Taxation (JCT)
17:20 TLDR It is about the same bill that got scored in March with marginal changes. CBO does not think MacArthur/Upton will have large net effects
16:22 The JCT estimates the bill that passed the House has a $662 billion dollar tax cut over the scoring window.
16:30 The March 23, 2017 CBO score is here. This was the managers amendment leading into the week of the first vote window which got pulled. It does not include everything that was in the bill before it got pulled.
The baseline is -24 million incrementally not insured for a total 52 million people without insurance and $150 billion in total deficit reduction.
16:33 Here it is
16:34$120 billion in deficit reduction, donut plans will be purchased, slightly more people covered
In addition, the agencies expect that some people would use the tax credits authorized by the
act to purchase policies that would not cover major medical risks and that are not counted
as insurance in this cost estimate.
1635
So basically, CBO thinks only 1-2 states would go for waivers, meaning AHCA 2.0 will *only* be about as shitty as…AHCA 1.0

— ☪️ Charles Gaba ✡️ (@charles_gaba) May 24, 2017
The MacArthur amendment is doing very little work. That surprises me. I thought that between it and Upton throwing money at states to take a waiver, that several states including medium (Wisconsin, Georgia) and large (Texas, Florida) would have been scored as very likely to go that route.
16:37
CBO and JCT estimate that, in 2018, 14 million more people would be uninsured under H.R. 1628 than under current law. The increase in the number of uninsured people relative to the number projected under current law would reach 19 million in 2020 and 23 million in 2026. In 2026, an estimated 51 million people under age 65 would be uninsured, compared with 28 million who would lack insurance that year under current law. Under the legislation, a few million of those people would use tax credits to purchase policies that would not cover major medical risks.
So it looks like the CBO is mostly projecting the same loss of coverage slope between its two estimates with some uptake due to cheaper underwritten premiums.
16:42 CBO thinks MacArthur/Upton will produce structurally unstable markets in 15% of the population due to split risk pools
the agencies estimate that about one-sixth of the population resides in areas inwhich the nongroup market would start to become unstable beginning in 2020. That instability would result from market responses to decisions by some states to waive two
provisions of federal law, as would be permitted under H.R. 1628. One type of waiver would allow states to modify the requirements governing essential health benefits (EHBs), which set minimum standards for the benefits that insurance in the nongroup and
small-group markets must cover. A second type of waiver would allow insurers to set premiums on the basis of an individual's health status if the person had not demonstrated continuous coverage; that is, the waiver would eliminate the requirement for what is termed community rating for premiums charged to such people. CBO and JCT anticipate that most healthy people applying for insurance in the nongroup market in those states would be able to choose between premiums based on their own expected health care costs (medically underwritten premiums) and premiums based on the average health care costs for people who share the same age and smoking status and who reside in the same
geographic area (community-rated premiums)
The Upton money is an incredibly underfunded high cost risk pool:
CBO and JCT expect that, as a consequence, the waivers in those states would have another effect: Community-rated premiums would rise over time, and people who are less healthy (including those with preexisting or newly acquired medical conditions) would ultimately be unable to purchase comprehensive nongroup health insurance at premiums comparable to those under current law, if they could purchase it at all—despite the additional funding that would be available under H.R. 1628 to help reduce premiums.
1645 Don't be sick in a full MacArthur/Upton state
Finally, about one-sixth of the population resides in states that would obtain waivers involving both the EHBs and community rating and that would allow premiums to be set on the basis of an individual's health status in a substantial portion of the nongroup market…. less healthy people would face extremely high premiums, despite the additional funding that would be available under H.R. 1628 to help reduce premiums. Over time, it would become more difficult for less healthy people (including people with preexisting medical conditions) in those states to purchase insurance because their premiums would continue to increase rapidly. As a result of the narrower scope of covered benefits and the difficulty less healthy people would face purchasing insurance, average premiums for people who did purchase insurance would generally be lower than in other states—but the variation around that average would be very large. CBO and JCT do not have an estimate of how much lower those premiums would be.
These are the states that would have unstable markets in the 16:42 update
Now time to follow the money. It is a net cut of $964 billion dollars in spending on federal health insurance funds.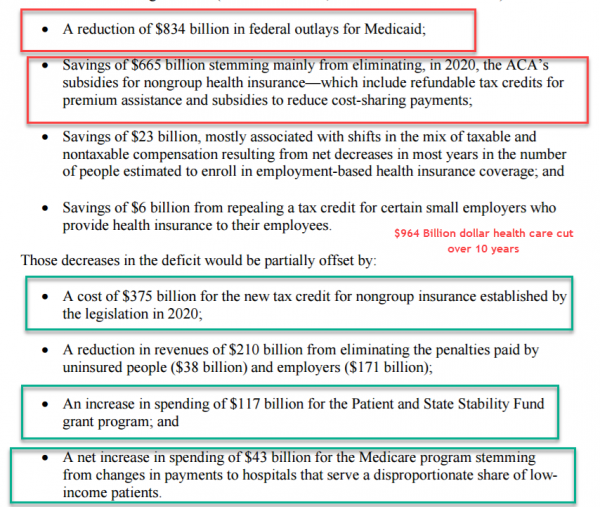 16:55 This might be a big deal. I am not sure yet
BREAKING: CBO score shows AHCA violates Senate rules. The bill does not comply with reconciliation instructions. pic.twitter.com/VlDS9kxtsH

— Topher Spiro (@TopherSpiro) May 24, 2017
Both the Senate HELP and Senate Finance committees have to show at least a billion dollars in net savings per committee. I think Topher is saying this is not happening for one committee. I will find out more soon.
1657 Full MacArthur/Upton Waivers of Doom for older non-Medicare eligible buyers
CBO estimates that in states requesting AHCA waivers, premiums for low-income elderly enrollees would go up 800 percent. That is not a typo. pic.twitter.com/W7QC4z9UUS

— Sarah Kliff (@sarahkliff) May 24, 2017
1659 Being old and working poor means being the target of this bill's pain
Although the agencies expect that the legislation would increase the number of uninsured broadly, the increase would be is proportionately larger among older people with lower income—particularly people between 50 and 64 years old with income of less than 200 percent of the federal poverty level (see Figure 2).
1701 Update on the reconciliation question —
@TopherSpiro I'm hearing that the stability fund is written into SSA, so it'll likely be counted in Finance's jurisdiction, not HELP

— Adrianna McIntyre (@onceuponA) May 24, 2017
If this is the case, then no need for another amendment and revote in the House.
1704 Premiums versus out of pocket in waiver states
half of the population—in states that obtained waivers—CBO and JCT anticipate that, on average, premiums would be lower and related out-of-pocket costs would be higher than they were in the agencies' prior estimates. The agencies expect that premiums would be substantially higher than previously estimated for less healthy people in some states and somewhat lower for the healthier people in those states.
Lower premiums are good for people who don't use services. Cost shift to people who use services.
So sick people in waiver states will pay far higher premiums and then much higher out of pocket costs.
1707 If you work at a co-op, polish your resume.
Effects on CO-OP or Multistate Plans. The act would exempt plans in the Consumer Operated and Oriented Plan (CO-OP) program established by the ACA, multistate plans established under the ACA, and Members of Congress and Congressional staff from the terms of any waiver approved in a state, as well as provide exemptions in a limited number of other circumstances. CBO and JCT expect that those plans would not be profitable because other insurers in the state would receive the majority of the healthier enrollees.
1712 Upton and MacArthur got bought for peanuts
Crucial detail: CBO says flat out that funds added to win moderates would do little to reduce premiums for those w/preexisting conditions: pic.twitter.com/EKZH1WEqsX

— Greg Sargent (@ThePlumLineGS) May 24, 2017
1715 Winners and losers — remember the case examples in the aggressive waiver states are the people who can pass underwriting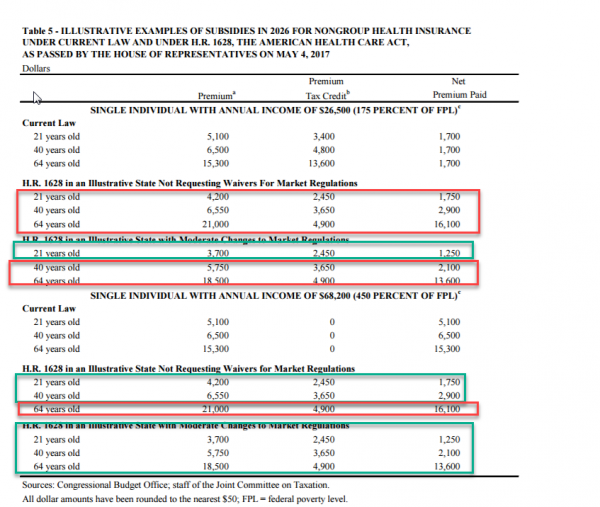 Young and well off do better to significantly better under the AHCA. Older and less well off are usually about break even or far worse off.