I've been under the radar (well, here) the past two days, because I have a lot of stuff going on and everything political moves so fast that by the time I get to a computer to write about it someone else already has. Not to mention, I think we will all survive without my hot takes on the Nazi Keebler elf perjuring himself in front of the Senate and the Scalise shooting, although I will note that Scalise is fond of speaking in front of groups whose raison d'etre is political violence.
Sooo, what all is going on (I know you are all just riveted to your screens now)? Yesterday I drove to my dentist and had my temporary crown replaced. It's about an hour away and as I was driving down I called (I have hands free and voice activation so no bitching) my electrician to check in about an outlet that has not been working in my bedroom since I moved in. They had checked it before and there was no risk of fire or anything, and we had discussed fixing it this summer. I had been calling them for two weeks and got no response (yes I left messages), but I tried again anyway, they answered, and the guy told me "Oh hey, they are on their way out," to which I responded "that's awesome, I am not there."
So I called dad, he went over, let them in and watched, and as I sat in a dentist chair I got periodic (every ten minutes) phone calls telling me how I was a slob, was doing something wrong, needed to do something, etc. On the upside, he did clean my kitchen.
On my way back home (it's a 75 minute drive), dad called to tell me I need to take my trash out more often, and that he had taken it out for me and put it on the deck. That is not, in my book, taking out the trash, that is taking the trash and throwing it on the deck. I immediately told him that he can't do that, Thurston will get into it, and he said "don't worry, I put it up off the ground on your recycling bins." We all know how this ends, right?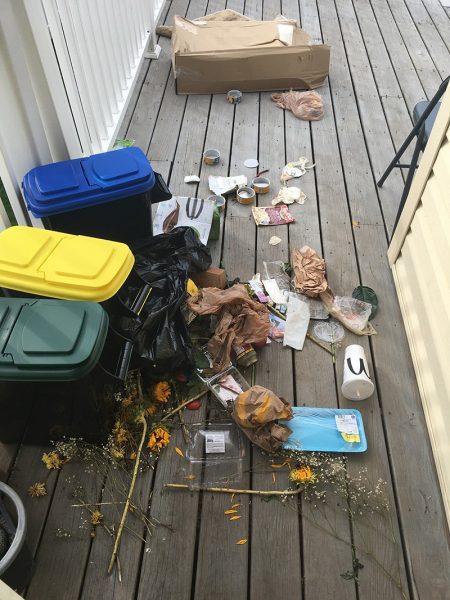 I found Thurston in the middle of that. I didn't even yell at him, because he looked guilty and I knew it was a honey trap and not his fault, really. The upside is that I just got the bins the other day, so the trash that was thrown everywhere had not been sorted and cleaned, and the flowers hand not been composted, and now it is. Recycling around here isn't mandated, so I am just doing this on my own. I still need a bin for paper products.
Moving along, I had just absorbed the information about the Scalise shooting this morning and was taking a shower when my crown fell out. And I mean that- it just fell out. There was no chewing motion or anything that precipitated it, it was just in place and suddenly it was not. So I called up the dentist, and she had me come down immediately to have it fixed. This time, I had myself numbed up and they used some super cement (yesterday I went without novocaine) and then ground it down so it was all smooth and what not. I am a grinder, and according to my dentist I can move my jaw in directions that 99% of people can't, so she thinks I caught it at an odd angle in my sleep and loosened it. At any rate, I am back in tip top shape and she didn't charge me anything.
It's hot as hell here and humid to boot, and on the ride home I drove through a rain storm, and it was really weird watching my in car thermometer go from 89 degrees to 73 in a matter of minutes and then jack back up to 89 when I drove out of the store. I mean, I know this is how it works, but I never had witnessed it like that before.
I have decided that I want to take a course in floral design, and I don't know how to go about it. Should I look at local universities? Should I do it online? My preferred way of going about it would be to talk to an independently run flower shop and tell the owner that I will work for free on weekends if they teach me, but who knows. Do any of you have any experience with this?
Watched the Worricker Trilogy on Amazon Prime the past few days, and am now engrossed in the Tunnel, which is just great and stars Stannis Baratheon. I have a hard time watching the news for any extended period because it just sends me into fits of rage. Today's volcanic eruption from yours truly came when I heard reporters talking about how the Congressional Baseball game will continue on tomorrow, as if this was some great act of bravery and defiance against all odd. I may or may not have yelled "YOU FUCKING PUSSIES YOU KNOW WHO ELSE GOES ABOUT BUSINESS AS USUAL THE DAY AFTER A SHOOTING? EVERY FUCKING KID IN AMERICA WENT TO SCHOOL THE DAY AFTER NEWTOWN, AND WITHOUT 10,000 ARMED GUARDS LIKE YOU MOTHER FUCKERS WILL HAVE. YOU FUCKING SCUMBAG PIECES OF SHIT, GET THE FUCK OVER YOURSELVES."
Ok. I did yell that. And the only reason I felt slightly bad was because it startled Lily, who is an angel. Thurston, man, fuck him.