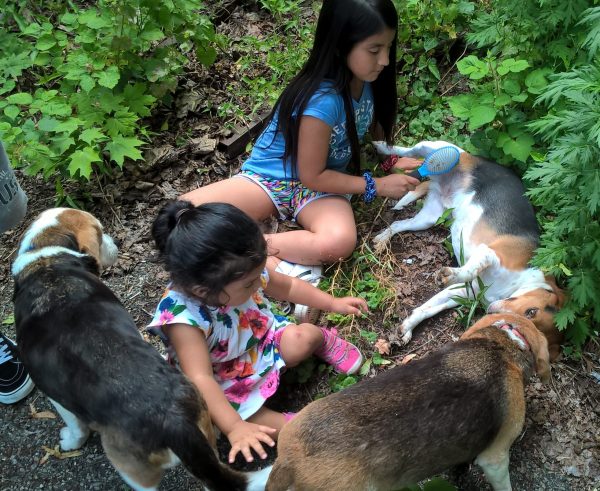 Tony S, serial rescuer and mensch:
Peekskill, NY is probably more demographically representative of the USA than any isolated rural enclave. Though it is thin on the high end, the community is demographically and economically diverse. Based in prosperous Westchester County, Peekskill is seen by surrounding towns as a place to be exploited and disrespected.

Most Westchester communities resist affordable housing to the death. A huge proportion of Peekskill's homes are dedicated to affordable housing, in everything from mid-to-relatively large developments to buildings owned by predatory landlords and packed with tenants.

My wife and I live in a 115-year-old home with a number of dogs, most of whom are elder pups. A couple of houses down from us is a 130-year-old house absolutely packed with people of all ages. Many of the oldest and youngest only speak Spanish. But the kids who are old enough to be in school are clearly one thing, and one thing only — Americans.

Peekskill schools don't score well on standardized tests. But in my 20 years here, I've seen them do amazingly well and helping children lean how to be Americans — in the way they speak, their attitudes, their energy and even their actions.

I've always felt that the most special thing about the United States is the fact that it's dedicated to an idea, not a group, religion, or person. I want this to be a positive post, so I won't talk about specific people, or presidents. I will present the Congressional Oath of Office, which Congress seems to have forgotten. It is not an Oath to to an individual or a party. It is an oath to a document that represents a set of ideals. This is special, and when it was written close to 250 years ago, it was unique among nations.


I do solemnly swear (or affirm) that I will support and defend the Constitution of the United States against all enemies, foreign and domestic; that I will bear true faith and allegiance to the same; that I take this obligation freely, without any mental reservation or purpose of evasion; and that I will well and faithfully discharge the duties of the office on which I am about to enter: So help me God.

So, where do the pups come in? A few weeks ago, one of my neighbors, a nine-year old girl I'll call D., knocked on my door and asked if had seen a pup that was missing from a friend's home. She was direct, focused and obviously intelligent.

My pack, which consists of mostly beagles, shrieked and howled in the background. D., asked if she could come for a visit. I said, mumblingly, "Sure."

Recognizing an attempted dodge, she said, "Tomorrow?"

It was not a request. She then said, "11."

She showed up the next day with her sister and some friends. Older and younger beagles got to play and get cuddled. Neighborhood kids got a chance to experience safe dogs. Our two eldest dogs, whom we only adopted a year or so ago and are about 14-15, demonstrated that, yes, they had grown up with kids, and they really, really missed them.

If we want a country that is growing and healthy, we must let in people from the rest of the world. If want to live up our ideals, we need to rejoice that we swear to a constitution and a republic, not a person.