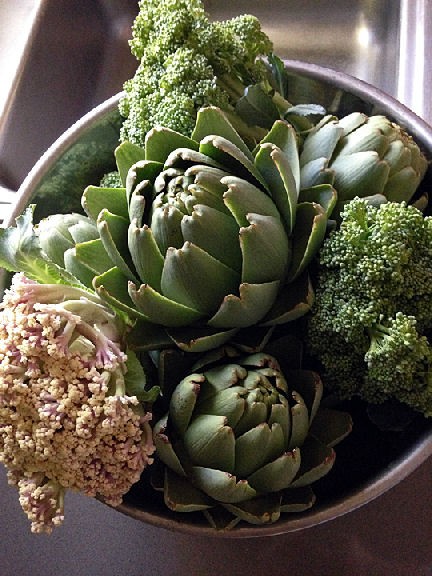 From superior gardener and faithful commentor Marvel:
Don't you just LOVE Summer???????!

It was a slow, mild Spring here in the Willamette Valley. Turns out, slow & mild suits me (and the garden) just fine. It's a kind of full-spectrum Circle of Life thing out there: harvesting the early stuff (e.g., garlic, beets, carrots), planting the Fall & Winter stuff (e.g., cabbage, peas, greens) and killing as many bad bugs and weeds as can be kilt.

We planted a few varieties of beets, most of them colorful, and harvesting them is like plunging your hand into a treasure chest, not knowing which earthy gem you'll come up with.

We pulled up the garlic — a whole bed's-worth. We laid them out on shelves snug in the garden shed where they rested & dried for about a month and I just finished cleaning & trimming 'em. The wonderful scent of garlic made me wish we had planted pasta & skillets, too.

This year I'm trying something new. I usually don't achieve a very good germination rate when I plant shelling peas and think it's because I plant them too deeply (they're supposed to be planted a mere inch below the soil surface). I'm always afraid that they'll 'float' up too far when I water 'em. So with this Fall crop, I nestled 'em in under a thin layer of amended soil & covered them with a lightweight board to help them hold moisture & STAY PUT when I water them. Good luck little peas!

Walla walla, wall-to-wall!

We keep a garden journel and every year include an inventory of what's growing out there. Here goes:
Apples, artichokes, asparagus, beans, beets, blueberries, broccoli, carrots, cauliflower, corn, cucumbers, garlic, grapes, kale, leeks, onions, pears, peas, peppers, plums, potatoes, strawberries, tomatoes. Basil, chamomile, chives, dill, mint, oregano, rosemary, thyme. PLUS, weeds, weeds, weeds, weeds, weeds, weeds, weeds and some white clover (this year's Can't Lick 'Em/Join 'Em groundcover — it kills weeds and the bees love it).
***********
Here north of Boston, we're finally getting the first ripe full-sized tomatoes. Normally we can count on the harvest starting in mid-July, but this unusually mild rain-every-three-day summer has been great for the flowers but not so great for setting fruit. Hit of the season so far is a new variety from Laurel's Heirloom Tomatoes, Tati's Wedding, which is intensely flavorful and meaty. It's now on my must-have list (along with Bearclaw, Black Cherry, Cherokee Purple, Chocolate Stripes, Japanese Black Trifele, Kellogg's Breakfast, Opalka, Paul Robeson, Sungold, White Currant… )
What's going on in your garden(s), this week?