On the Road is a weekday feature spotlighting reader photo submissions.
From the exotic to the familiar, whether you're traveling or in your own backyard, we would love to see the world through your eyes.
Good Morning All,
This weekday feature is for Juicers who are are on the road, traveling, or just want to share a little bit of their world via stories and pictures. So many of us rise each morning, eager for something beautiful, inspiring, amazing, subtle, of note, and our community delivers – a view into their world, whether they're far away or close to home – pictures with a story, with context, with meaning, sometimes just beauty. By concentrating travel updates and tips here, it's easier for all of us to keep up or find them later.
So please, speak up and share some of your adventures and travel news here, and submit your pictures using our speedy, secure form. You can submit up to 7 pictures at a time, with an overall description and one for each picture.
You can, of course, send an email with pictures if the form gives you trouble, or if you are trying to submit something special, like a zipped archive or a movie. If your pictures are already hosted online, then please email the links with your descriptions.
For each picture, it's best to provide your commenter screenname, description, where it was taken, and date. It's tough to keep everyone's email address and screenname straight, so don't assume that I remember it "from last time". More and more, the first photo before the fold will be from a commenter, so making it easy to locate the screenname when I've found a compelling photo is crucial.
Have a wonderful day and weekend – enjoy the pictures!
First, thanks for all who donated, and big thanks to John. Lots of good stuff will be rolling out soon, but most importantly, I think the "comments disappearing" issue that plagues some users is solved!
Now for a serious tip: one tip I always pass on for emergencies is: plastic bags. Ideally gallon size, but also trash bags, quart,  sandwich, etc. – put all of them into one big ziploc to keep them all dry. They are great for so many things, but keeping them clean and dry until needed is key.  They can be used to store/move clean water, collect rain, collect waste for safer disposal, add a bug and waterproof covering to food, medicine, or other important items, act as gloves, etc. – they're a very handy tool, even lifesaving.
I also like to keep a lighter, matches, and some dryer lint (for kindling) in a double or triple bag so that I have a guaranteed source of fire. If you have to use a knife for first aid, you can sanitize the blade before cutting (alcohol-based hand sanitizer hurts like a bitch when you rub it into a fresh wound, but it can help in a pinch, too)
Have a good and safe weekend, everybody! All of our thoughts and prayers go out to everyone in Irma's path, future and past (commenter Betty, are you ok?)
And now: eclipse-a-rama, part deux.
So this isn't as funny as it was when it was sent, but still…it IS topical, if mordant.
I know I speak for all of us: Betty Cracker et famille, be safe!
This gem is from valued commenter low-tech cyclist.
Church signboard: "The End Times: Tuesday 6 PM"

(Just south of Plant City, FL – practically in Betty Cracker's backyard!)

Who knew it was THAT imminent?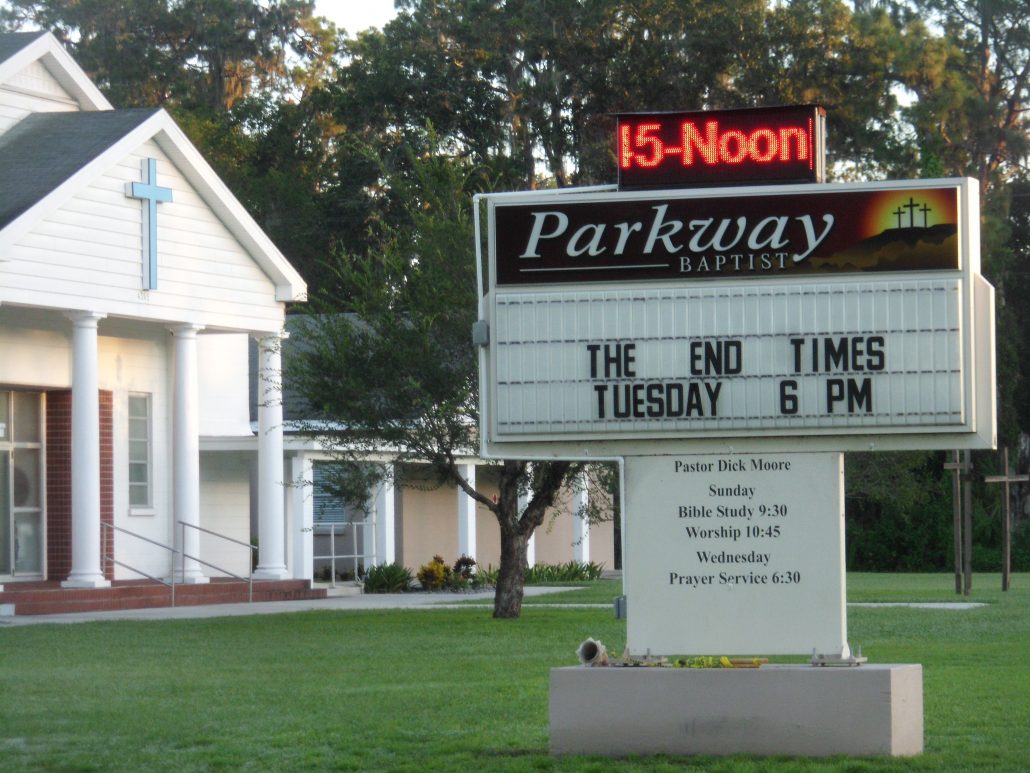 I enjoyed the eclipse with my mom – she had been scheduled to still be in hospital, recovering from surgery, but things ended up going differently, so she was home and I had eclipse glasses for each of us (and a pair to lend to her Taiwanese friends visiting DC).
Still weak from surgery, she clung on to me a lot to steady herself as we stood in her front yard, but it was amazing, even if we only saw ~80% totality. I did take a few leaf pictures so here's the best. If you zoom in a bit or have better eyes than I, you'll see lots and lots of crescents from the eclipsed sun. These were made by the intersections of leaves, acting in concert like a host of pinhole cameras. Just so neat.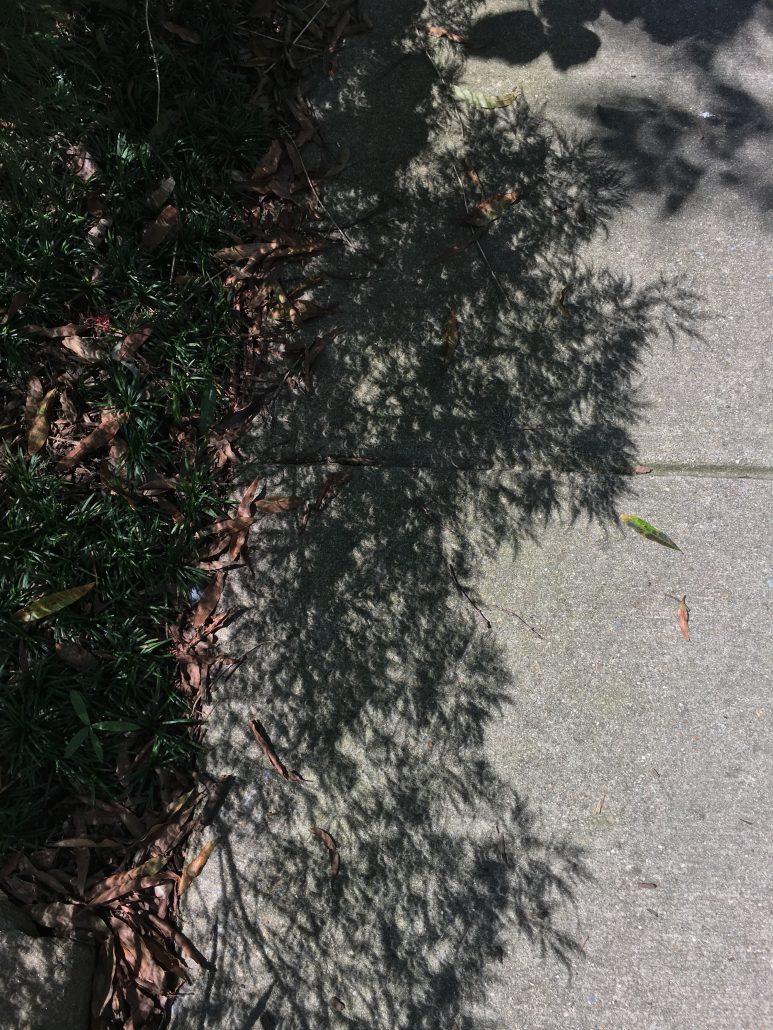 Next up, pictures from valued commenter KarenH.
Mr. KarenH and I traveled from San Antonio to Plymouth, Nebraska, allegedly to visit his sister and other relatives, but timed so as to see the eclipse. I had hoped to get some photos of the eclipse itself, but the weather didn't cooperate and it was cloudy with a slight drizzle. Our location was in a soybean field about 4 miles west of Plymouth(with permission of the owners) and there was nobody else around. Even though we couldn't see the sun, we knew when totality occurred because it became dark and quiet, and then the crickets started chirping. Our location was perfect to see the 360 degree "sunset" though and these are my images of that.

North Horizon

View to the north during totality.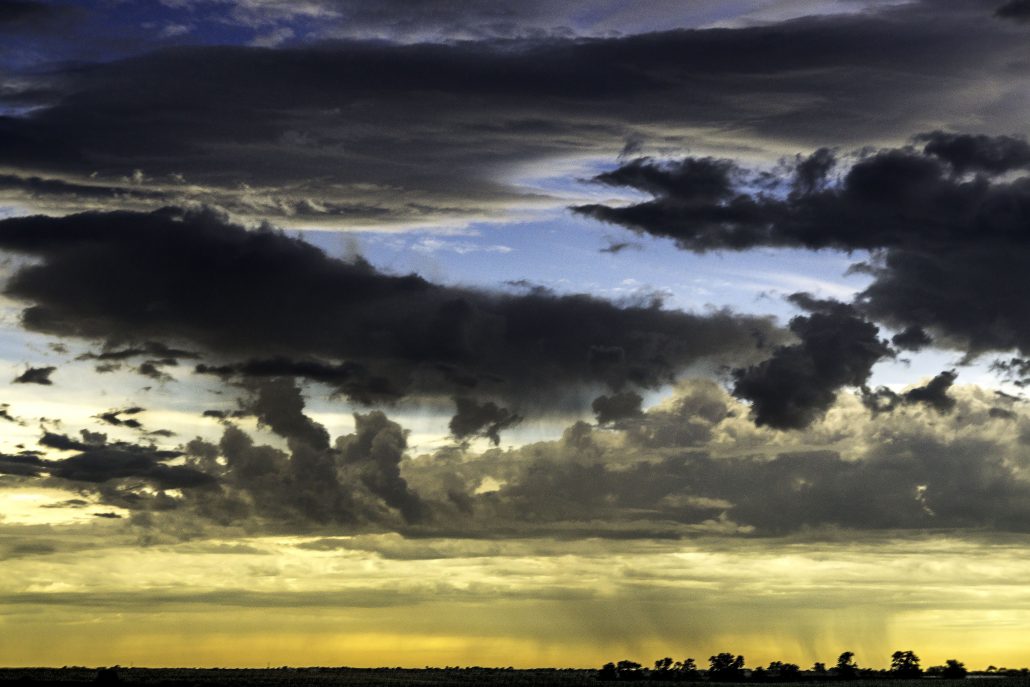 South Horizon

View to the south during totality.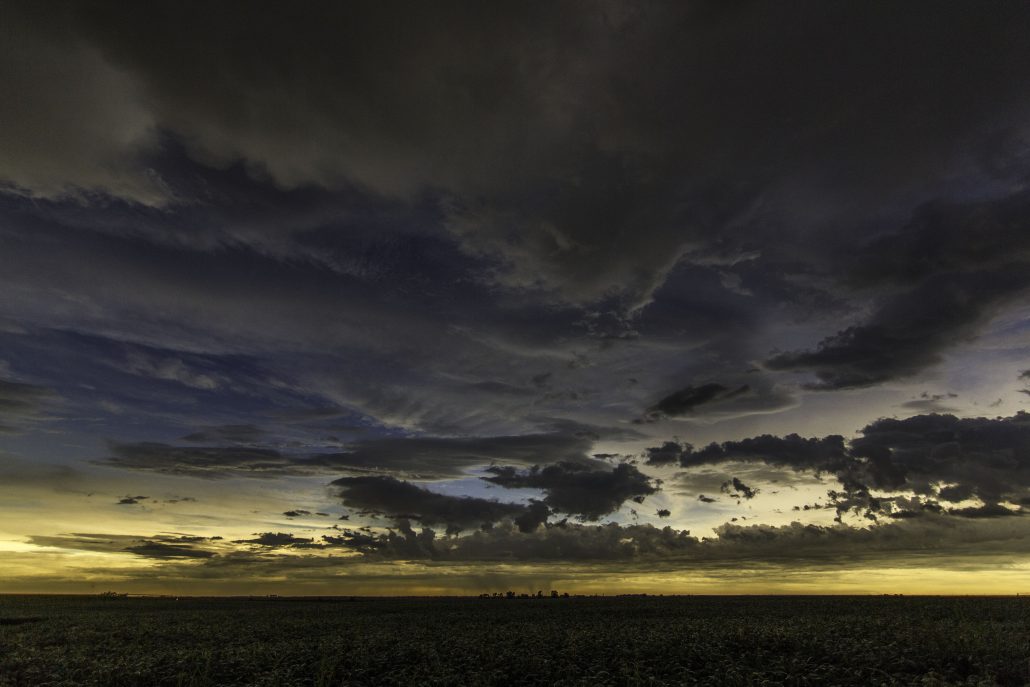 East Horizon

Nearing the end of totality and the cornfield somewhat blocks horizon.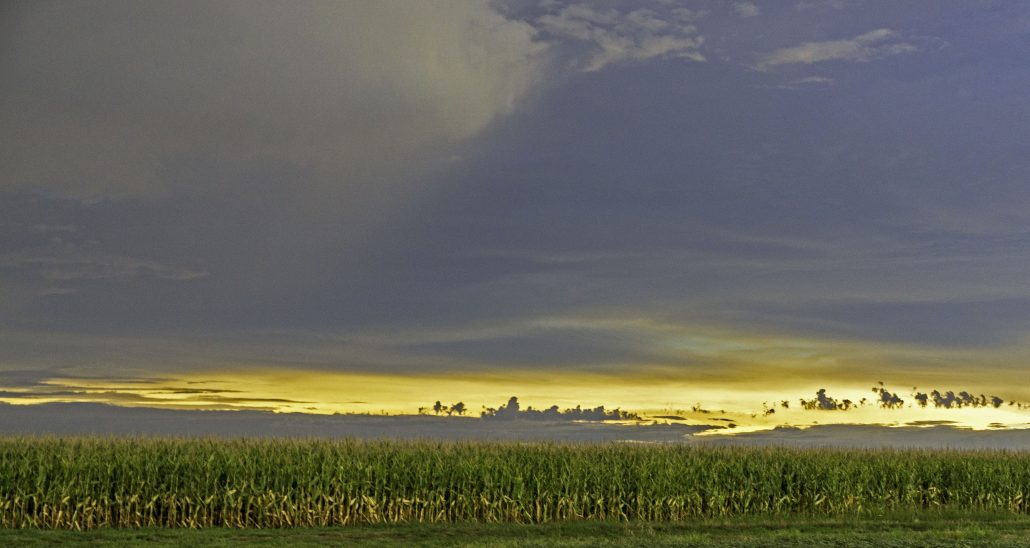 West Horizon

I particularly like this one because of the telephone lines and farmstead in the distance.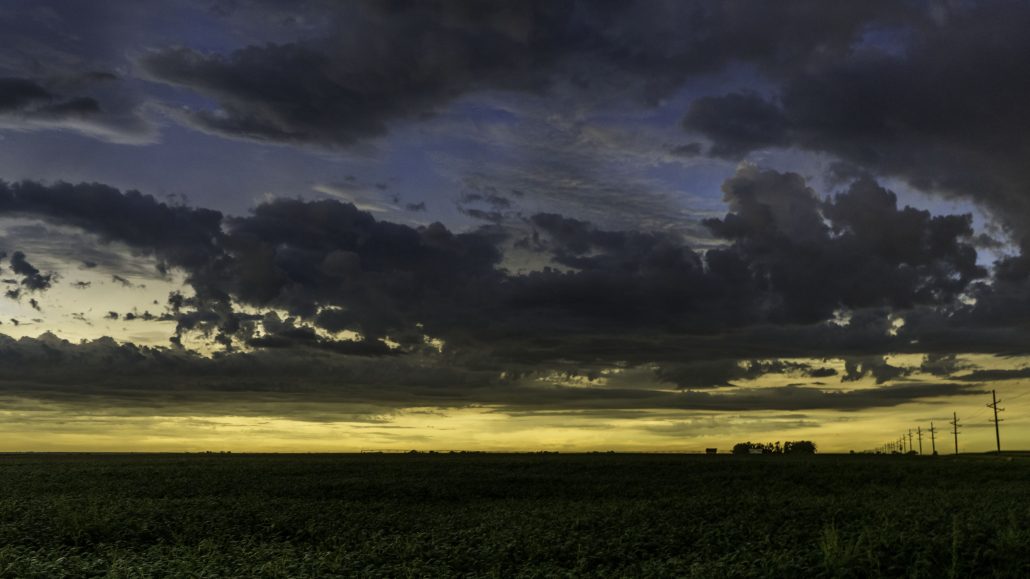 Just…wow. The world and universe are just so amazing! And the skill of our readers – just amazing pictures, thank you so much for those amazing pictures, KarenH, do send us more when you can.
Next, pictures from valued commenter randy khan.
I promised an eclipse photo if any of them came out. Here's the best one I got – no filters, no fancy lenses, no processing except to crop it.

Taken on 2017-08-21

Cape May, New Jersey

An eclipse photo from Cape May, New Jersey, where the clouds came and went and sometimes let you see the crescent of the sun when they were just the right thickness. This photo was taken about 18 minutes before the maximum.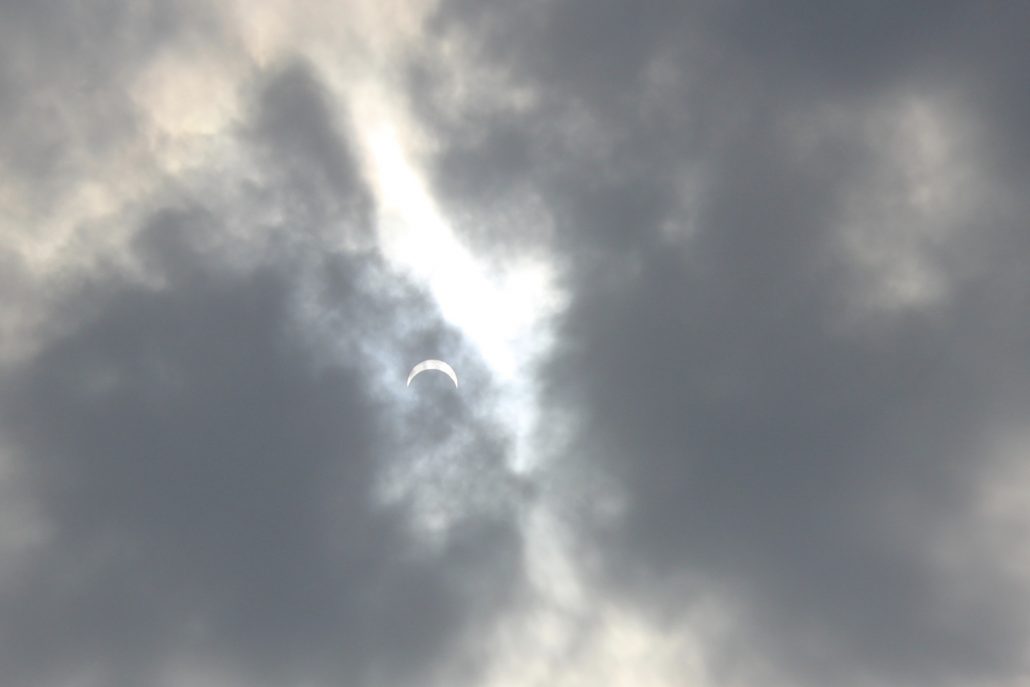 Awesome, randy khan, do send us more when you can!
Finally, pictures from valued commenter The Midnight Lurker.
Due to an unchecked item on my bucket list, I drove with my lovely wife to Clarksville, TN to see the total eclipse. I rented a black Cadillac for the trip and planned on driving no more than five hours a day. First day, after a late start, we ran into a massive pileup on Interstate 30 just east of Texarkana. After two hours of bumper-to-bumper crawl, we got off on the back roads of Arkansas and lost count of the many Confederate flags, dilapidated trailer homes, and pick-ups on blocks that we passed. I found myself humming Dueling Banjos until my wife ordered me to please stop. I didn't stop to take any pictures because I didn't want to get shot. Nine hours and an uneasy, front seat armistice later, we arrived at our halfway point — Hot Springs.

We stayed at a great hotel, the Burgundy. It is a romantic get-a-way with a great on-site restaurant, Table 28. But by the time we arrived, we were too tired to go. And since my wife had lost her appetite for anything other than my head on a platter, I ordered some horderves for myself to the room, sat in my corner and ate in silence. Despite the rotten day, they were delicious.

Sorry I didn't take any pictures there either, but the next day we were anxious to get back on the road to our destination. We were worried of a repeat of the previous day, what with the endless rabble of alarmists on cable TV predicting eclipse related, Walking Dead-ish traffic snarls. But we had clear sailing to Clarksville.

I originally had reservations at the Marriott in Paducah, KY, but Hotels.com/Marriott (they each blame the other) cancelled my booking two weeks ago saying they were overbooked. A pox on their houses. So we spent Sunday night at the America's Best Value Inn for the nominal fee of $300 and I was lucky to get it.

The day of, I debated going to Hopkinsville, KY to get closer to ground zero, but my wife forbade it. So I paid an additional $75 so I could get a late check-out and permission to set up my tripod in the parking lot. No photos here either because… well, it was the parking lot of a no-tell motel just off the Interstate. Use your imagination.

The eclipse was great. i was in a good position to get a shot of Baily's beads which are the pink blobs of sunlight that rim the eclipse. It's where sunlight passes through the mountains and craters of the moon or something. Get Levenson to explain it.

Immediately after the event, we drove to Memphis and stayed at the Peabody (no, I'm not rich I just travel that way). It is a beautiful old hotel that was spared being demolished back in the seventies. And there are the ducks.

Each morning at 11:00, a badling of ducks are marched from their penthouse palace on the roof down to the lobby where they walk a red carpet to the hotel's fountain. There they remain until 5:00 when they are marched back. They are led by a Duckmaster, sort of a Drum Major in a mini-parade. i know it sounds corny, but the hotel guests, especially the kids, get a big kick out of it. My wife loved it, but I missed it because I drove across to border to Mississippi to clean my mother's and grandparent's headstones out of some stupid sense of obligation. So no photos of cute ducks marching to the delight of small children.

After a good night's rest, we drove to Hot Springs, AR and checked into the Embassy Suites by Hilton Hot Springs Hotel & Spa or E.S.H.H.S.H.S. The hotel is reminiscent of the Hyatt Regency in San Francisco. I didn't take any photos here because my wife and I were too busy reenacting our favorite bits from Mel Brooks' High Anxiety.

The next morning, while my wife got a massage and herbal soak, and operating under direct orders from Sgt. Cole, I treated myself to a luxury pedicure. My feet thank you, Sergeant. Then we had a leisurely drive back to Texas where we were greeted by a molting baby velociraptor.

Totality in Clarksville, TN. Baily's beads at 3 and 5 o'clock.
My favorite shot — the end of totality.
A couple of minutes after totality.
Lobby of the Peabody.
Duck Palace on the rooftop of the Peabody.
What are you looking at?
Thank you so much The Midnight Lurker, do send us more when you can.
Travel or shelter in place safely everybody, and do share some stories in the comments, even if you're joining the conversation late. Many folks confide that they go back and read old threads, one reason these are available on the Quick Links menu.
One again, to submit pictures: Use the Form or Send an Email