On the Road is a weekday feature spotlighting reader photo submissions.
From the exotic to the familiar, whether you're traveling or in your own backyard, we would love to see the world through your eyes.
Good Morning All,
This weekday feature is for Juicers who are are on the road, traveling, or just want to share a little bit of their world via stories and pictures. So many of us rise each morning, eager for something beautiful, inspiring, amazing, subtle, of note, and our community delivers – a view into their world, whether they're far away or close to home – pictures with a story, with context, with meaning, sometimes just beauty. By concentrating travel updates and tips here, it's easier for all of us to keep up or find them later.
So please, speak up and share some of your adventures and travel news here, and submit your pictures using our speedy, secure form. You can submit up to 7 pictures at a time, with an overall description and one for each picture.
You can, of course, send an email with pictures if the form gives you trouble, or if you are trying to submit something special, like a zipped archive or a movie. If your pictures are already hosted online, then please email the links with your descriptions.
For each picture, it's best to provide your commenter screenname, description, where it was taken, and date. It's tough to keep everyone's email address and screenname straight, so don't assume that I remember it "from last time". More and more, the first photo before the fold will be from a commenter, so making it easy to locate the screenname when I've found a compelling photo is crucial.
Have a wonderful day, and enjoy the pictures!
First up, a picture from valued commenter hedgehog the occasional commenter.
I wandered up to Civic Center Park for lunch (there are a variety of food trucks there during the summer), and I was struck by the blue sky and the bright, colorful flowers. Good reminder to slow down and actually LOOK at things.

Taken on 2017-08-24

Taken from Civic Center Park.

The Colorado State Capitol and part of the Civic Center Gardens, taken on a recent lunch break.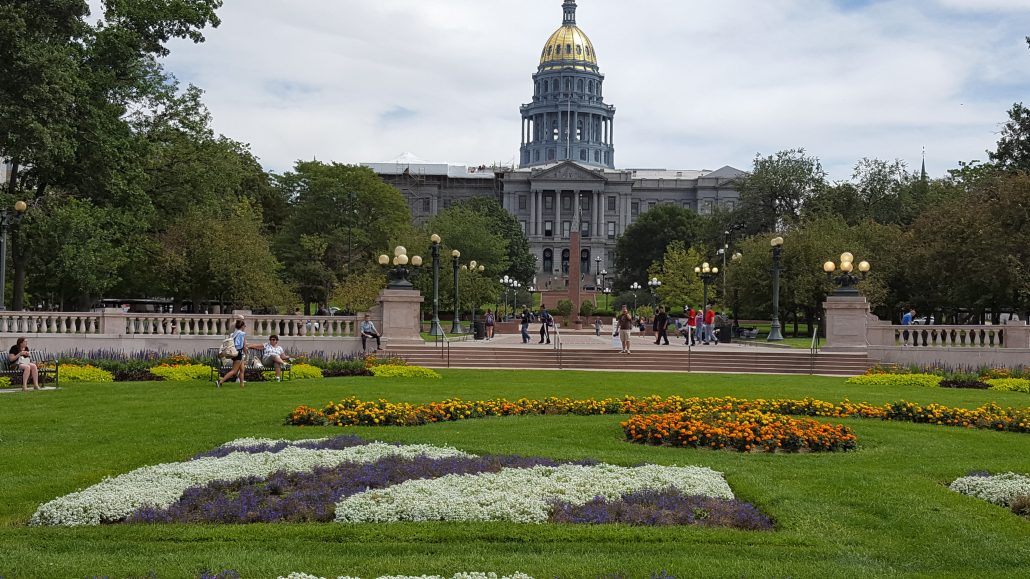 It looks mighty different than last time I saw it, with 2 feet of snow covering everything! I so dearly miss Colorado – coming from the lush DC area, everything first looked brown, but as my eyes adjusted, I began to see the variety of colors and that light…I miss it every day!  Thanks!
Today, pictures from valued commenter ?BillinGlendaleCA.
Watts Towers

The Watts Towers are located in the southern Watts neighborhood of Los Angeles about a block south of the 103rd Street station of the Metro Blue Line. An Italian immigrant named Simon Rodia came to Watts in 1920, finding his perfect triangular shaped parcel of land bounded by railroad tracks(the only other parcel of land like this is at the current intersection of Wilshire Blvd and Santa Monica Blvd in Beverly Hills). He began construction of the towers in 1921 and over the next 30+ years the towers rose next to his home. He mixed his own special type of concrete and collected various materials(the bottoms of glass bottles, tile, etc) that would adorn the towers. Then in 1954, he stopped his work on the towers and moved away. His house burned down the next year and the City of Los Angeles condemned the property and wanted to tear down the towers. The local community had grown rather fond of the towers and managed forge an agreement with the City to keep the towers if they were structurally stable, so the City did a stress test on the towers with crane providing increasing amounts of pressure pulling on the towers, reaching a maximum pressure of 10,000 pounds. This proved the towers, which only have a 2 foot foundation to be structurally sound. The area has become a historic park with an art museum and an area for public performance adjoining the towers.

I'd encourage anyone either living in LA or visiting to see the towers, they're a true treasure. I waited much too long to visit them.

Overview of Watts Towers

Taken on 2016-09-09

Watts, Los Angeles, CA

This is an overview of the towers from the old railway right of way, now an amphitheater. There's some scaffolding to the left where they are doing some restoration work.
The three main towers(now in infrared!)

Taken on 2016-09-09

Watts, Los Angeles, CA

There are not that many trees by the towers and you really need trees for infrared. Again you can see the area where they're doing some restoration work.
Closer view of the 3 main towers.

Taken on 2016-09-09

Watts, Los Angeles, CA

While Simon Rodia never said what inspired him to build the towers, it's often thought that it was probably a ship. These would be the masts for sails.
Historical designation markers.

Taken on 2016-09-09

Watts, Los Angeles, CA

Historical designation markers from both the City of Los Angeles and the US Government. These are at the entrance to the towers.
Small wedding cake style tower.

Taken on 2016-09-09

Watts, Los Angeles, CA

This is just inside the entrance after passing by the garage door for the house that's no longer there.
At the base of the 3 towers(now with more fisheye).

Taken on 2016-09-09

Watts, Los Angeles, CA

This picture give a pretty good idea how tall the towers look up close.
Wall outside the towers.

Taken on 2016-09-09

Watts, Los Angeles, CA

This is the wall at the southern edge of the towers. It's got some nice tile mosaic and the arches are signed with "SR".
Thank you so much ?BillinGlendaleCA, do send us more when you can.
Travel safely everybody, and do share some stories in the comments, even if you're joining the conversation late. Many folks confide that they go back and read old threads, one reason these are available on the Quick Links menu.
One again, to submit pictures: Use the Form or Send an Email