On the Road is a weekday feature spotlighting reader photo submissions.
From the exotic to the familiar, whether you're traveling or in your own backyard, we would love to see the world through your eyes.
Good Morning All,
This weekday feature is for Juicers who are are on the road, traveling, or just want to share a little bit of their world via stories and pictures. So many of us rise each morning, eager for something beautiful, inspiring, amazing, subtle, of note, and our community delivers – a view into their world, whether they're far away or close to home – pictures with a story, with context, with meaning, sometimes just beauty. By concentrating travel updates and tips here, it's easier for all of us to keep up or find them later.
So please, speak up and share some of your adventures and travel news here, and submit your pictures using our speedy, secure form. You can submit up to 7 pictures at a time, with an overall description and one for each picture.
You can, of course, send an email with pictures if the form gives you trouble, or if you are trying to submit something special, like a zipped archive or a movie. If your pictures are already hosted online, then please email the links with your descriptions.
For each picture, it's best to provide your commenter screenname, description, where it was taken, and date. It's tough to keep everyone's email address and screenname straight, so don't assume that I remember it "from last time". More and more, the first photo before the fold will be from a commenter, so making it easy to locate the screenname when I've found a compelling photo is crucial.
Have a great weekend everyone, enjoy the pictures!
Today, pictures from valued commenter marv.
Sending in these four photos from the March in DC because I didn't see any posted by Juicers when I returned. Another reason is I think Cole's near-legendary analogy about the futility of modern political "dialogue" between the right and left – one side proposing Italian for dinner, the other tire rims and anthrax – is why this movement of young people exploded on the scene. After 20 years of idiocy, which inevitably drew us in as well as the other side, it took the children who felt it to wake people up.

 

The main reason I drove 700 miles to be there is simply I was a public school teacher for 20 years. It's a humble position, but I'm pretty sure there are teachers in the background for these kids. I just wanted to show up.

 

The most moving part of the whole thing for me was it became increasingly clear, speaker after speaker, that it was just going to be young people talking. I hadn't really expected anything about that one way or another, but just being there I became really grateful that no politician, no adult, strode out to proclaim unity, co-opt, congratulate, etc.

Photo No. 1:    The crowd. Exactly to my left is the "J. Edgar Hoover FBI Building". It was strange looking at his name on the front of it, which I did often. It was a comfort to think a person he tried so hard to destroy (MLK) now has an astonishing, powerful memorial just a few blocks away. Hoover's name is still on FBI headquarters, but aside from that I think he has largely, and justly, been consigned to the dustbin of history. Maybe the moral arc really does…
Maybe I've been living in the country too long, but it was some kind of overload to be in the nation's capital with hundreds of thousands of others on an historic day and then on the way out see this notice of an upcoming Cezanne exhibit.
I was surprised how moving it was for me to be back in DC, partly I'm sure because it was an historic day. But also because the last time I was there was over 50 years ago with my mother, a high school American history teacher, shortly before her untimely death. So I liked seeing the Washington Monument in the background as we left. My mom and I walked to the top of it back in the day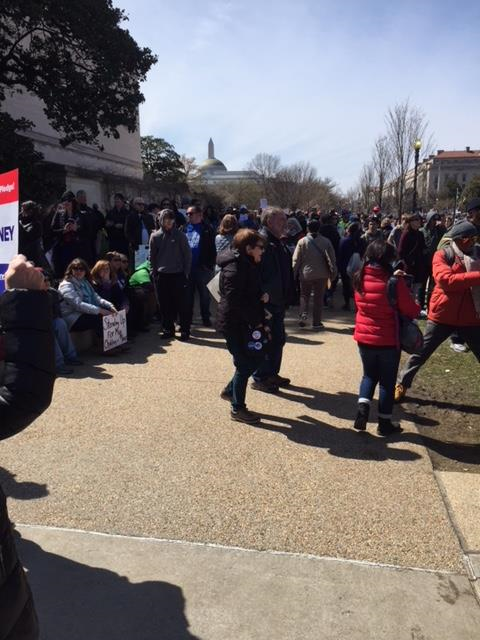 Enough said. As I grew up in DC, I spent a lot of time around the monuments (for example, the morning of my last high school exam, I took a long bike ride, past the White House, Capitol, the mall and its assorted monuments, etc). The good friend of our middle school art teacher sculpted the Vietnam Vet statue, so I've always felt a personal connection to the memorial. Whenever friends or family came to town, I would always take them for a walk along the wall. It still makes tears well up in my eyes, remembering the thousands of vets I've seen there at all times of the day and night, in any weather, crying, never forgetting, reaching out to a brother.
Thank you so much marv, do send us more when you can.
Travel safely everybody, and do share some stories in the comments, even if you're joining the conversation late. Many folks confide that they go back and read old threads, one reason these are available on the Quick Links menu.
One again, to submit pictures: Use the Form or Send an Email