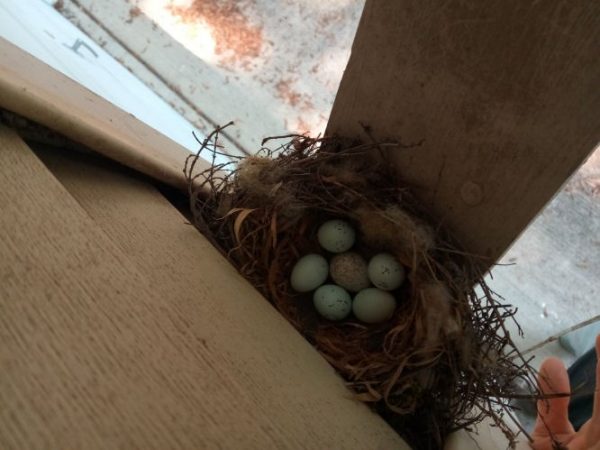 Commentor Melissa M:
Over the weekend I noticed my own house finch nest located on the eave supports for our garage. One egg was perched precariously on the edge of the nest, so I quickly popped it in with its brethren-to-be. Momma has been seen sitting on them since, so no harm done. I'll let you know when there are updates!
***********
On a different arm of the home-love axis, a lawn-owner after my own weed-friendly heart, via the Washington Post:
Robert Stricker — 31, insurance actuary, reluctant lawn owner for nearly five years — would be perfectly content if every yard on his block was a jungle of weeds, all equal in ugliness.

He accepts that this is not the world in which he lives.

Rather, he and his wife, Abby, live in the United States — in the Dallas suburb of Richardson, specifically, where lawns are basically social caste symbols, and Stricker has no ambitions of ever leaving the weeded class.

His lawn is "going for that messy I-just-woke-up look," he said. "It's just crabgrass, as far as the eye can see."…

He thought he had surrendered in the lawn battle long ago, but last week the war found him, anyway.

Abby Stricker came home one afternoon after her volunteer shift at an animal shelter to find a sign planted amid the balding grass and stray leaves of their yard.

"Your lawn was not treated today," the sign read. "Your neighbor's was." It listed a 1-800 number for Dr. Green lawn care.

Abby sent a photo of the sign to Robert, who, in a fit of irritation, posted the photo on Reddit.

"Shaming us for our lawn quality I guess?" he wrote. And before Stricker had come home from the office and plucked the thing out of his yard, the sign had enraged the Internet…

Unbeknown to Stricker, however, one of his Reddit viewers was the owner of Dr. Green Services, Ryan Van Haastrecht.

"I thought the posts were actually quite funny, to be honest," Van Haastrecht said. "What's amazing about this story and how viral it's gone is we were literally only doing this for about two days."

It was a new marketing gimmick gone awry, the owner said. After treating a lawn, his technicians had been instructed to place signs in the yard of all neighbors — not just those with ugly lawns.

"We weren't trying to shame anybody," Van Haastrecht said. "Just trying to do something a little bit creative. … Certainly I'm not thinking this was a great idea, necessarily."

Van Haastrecht said he ended the sign gimmick as soon as he saw the reaction to Stricker's photo on Reddit. For whatever reason, he said, his business has increased since the short-lived campaign…
***********
Despite the late spring around here (in April, when this article still appeared, there was still snow in our yard) the transplanted mail-order tomatoes are doing nicely. Several of them even have green fruit swelling, so Murphy the Trickster God willing we'll have home-grown tomatoes in time for Independence Day!
What's going on in your garden(s), this week?