This is going to be both esoteric and incomplete, so fair warning.
ACA risk adjustment is revenue neutral and it is based on the relative risk score of a particular insurer compared to the state wide average risk score. Finally, the money that is transferred is key on the state wide average premium.
Risk adjustment in the ACA is an extremely touch projection for actuaries to make. First they have to accurately project the future coded risk profile of their company's enrollees, average premium and plan sorting mechanisms. Next, they have to project every other enrollee's coded risk profile and their consumer choices. Finally, they have to slot people into metal levels as different metal levels have different risk scores for the same disease category.
In small states like Rhode Island, that means the actuaries for Insurer A are projecting their entire geographical footprint. In large states like Pennsylvania where insurers like my former employer, UPMC Health Plan, have partial state footprints, the actuaries are projecting both their own regions where there is significant local knowledge and chunks of the state that they have no tacit knowledge. It is a hard calculation. It is getting harder for 2018 as the distribution of plan selection by metal varied greatly by insurer strategy and CSR coping mechanism.
In states where there is a single insurer, this does not matter as risk adjustment does not matter. In states where there is a single dominant pricing paradigm, the projection is a relatively straightforward or at least no harder than it has been in the past.
However, some states like Georgia, Texas, Pennsylvania and Tennessee have multiple pricing strategies at play. I just want to look at Tennessee as they are a Silver Load state with both a large spread strategy and a narrow spread reality in various parts of the state. We are looking first at the difference in premium between the benchmark Silver and the least expensive Silver for a single forty year old non-smoker (Silver gap) and then the Silver marketshare for on-exchange 2018 sales.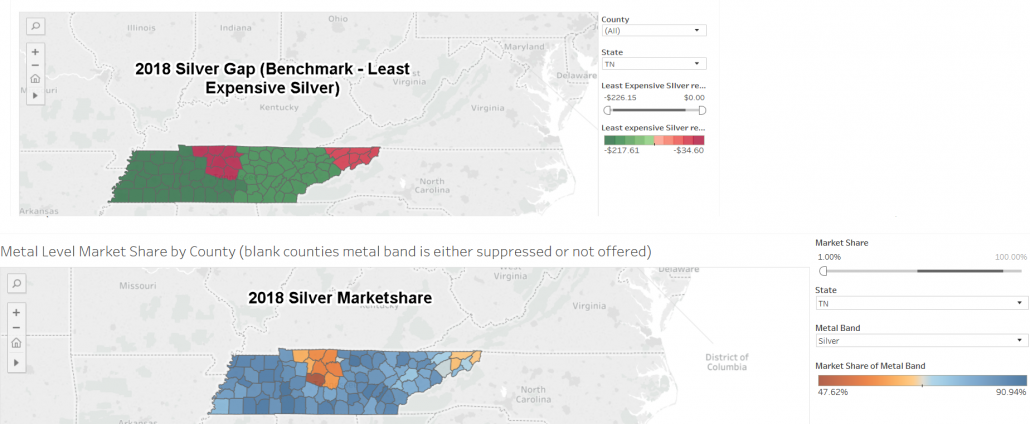 The Greater Nashville area has two insurers. The pricing strategy is to have a fairly tight Silver spread (~$35.00 for a single 40 year old difference between the least expensive and benchmark Silver.) Pragmatically, a 40 year old earning $28,800 can buy a $0 premium Bronze plan or a $153 per month CSR 73 Silver plan.
Outside of the Nashville rating area, most of the state has a large gap between the least expensive Silver and the benchmark Silver. In Dickson County, the Silver gap is one of the biggest in the nation at $207. This means that a single 40 year earning 400% Federal Poverty line (~$48,200) qualifies for a $0 premium Bronze plan. They can earn up to $30,500 to qualify for a $0 premium CSR Silver plan.
The Greater Nashville insurers, Cigna and Oscar, attract far fewer Silver buyers than most of the state. Instead, 30% to 50% of their sales are low cost and low actuarial value Bronze plans. Most of the state is mainly buying Silver with a smattering of Bronze and Gold plans.
This differential metal purchasing pattern will lead to significant uncertainty in risk adjustment projections that were used to build the 2018 rates. In states like Tennessee, this could lead to significant surprise losses and gains until insurers figure out how to model metal plan purchasing decisions and then feed that sub-model into the risk adjustment projection system.