"Premiums are going up 3% next year…"
"Rate increases are projected to be 7% higher…."
"Maryland expects premiums to drop…"
Those are common headlines for ACA plans.  Those will be even more common headlines in the next couple of weeks as states finalize rates and insurers sign their 2019 Exchange contracts.  These headlines try to roughly compare like to like with weighed averages of enrollment by metal type and/or insurer. There is a sloppiness in the language though.  Most of these headlines and analysis look at a protoypical buyer of a constant age.  I'm guilty of this.
Let's assume that an unsubsidized buyer is 38 years old in 2018 and their birthday is on New Years Day.  Let's assume that they have a plan that the headline says will have no premium change at all.  Is that their lived experience when they look at their proposed charges for January 2019?
No!
The premiums are set on a 3:1 age band (except New York and Vermont that use pure community rating) which means the premiums for a 64 year old can be no more than 3 times greater than the premiums for a 21 year old.  Using the New Jersey release, I've built out a graph of the age factor (the blue line) and the annual percentage change in premium due to aging.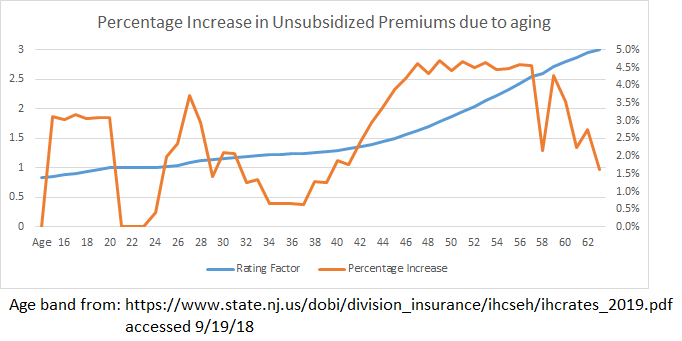 Almost every year after your mid-20s, there is a 1% to 4% increase in an unsubsidized buyer's premiums just because they had a birthday.  It is not a smooth curve with a constant increase.  There are peaks and valleys with some hard spikes.
So when we use the language that premiums are increasing by 3% for a standardized population, we are assuming that everyone who buys insurance is a vampire who does not age.  That is ridiculous as the lived experience is that non-subsidized buyers are seeing a couple percentage points of a price increase just because they age and this premium increase is independent of everything else that is going on with pricing.
So let's talk about people instead of vampires.