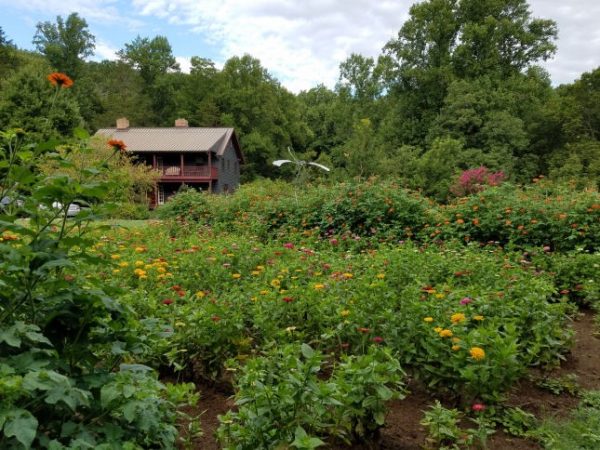 From dogged (I lost his original message) commentor HinTN:
Here up next to the Cumberland Plateau in southern middle Tennessee, we are blessed to live between two creeks. The deer are blessed as well, and their population is so out of control that they now make so bold as to come into the yard and munch everything in the garden. Zinnias and Mexican Sunflowers are about the only thing for which they (knocks on wood) don't have a major taste.

Top pic is the flower garden approaching full bloom.

My zinnias and Mexican sunflowers. This one even has a butterfly in it.

I generally favor red zinnias but this year I took a flyer on yellow and I'm sold. They'll be in the repertoire for the foreseeable future.

It's definitely a country house when the "middle" is growed up in grass. This crape myrtle and four o'clock bed greet the newly arriving as they approach the house. The zinnias and kinetic sculpture are to the photographer's right and the is immediately to the left up the drive.

Here's a look from the front porch. The zinnia garden is just behind the internet dish. (My goodness is that service slow but it beat the dial-up we had for years. No Comcast out here and certainly no fiber like they've got in gig city.)

That's the plateau rising up across the way. The big green bushy stuff at the end of the ramp is blue sage for hummingbirds on the left and lantana for butterflies on the right. It doesn't really bloom until the cherry drops its leaves and allows it the full sun it needs to bloom.
***********
What's going on in your garden(s), this week?