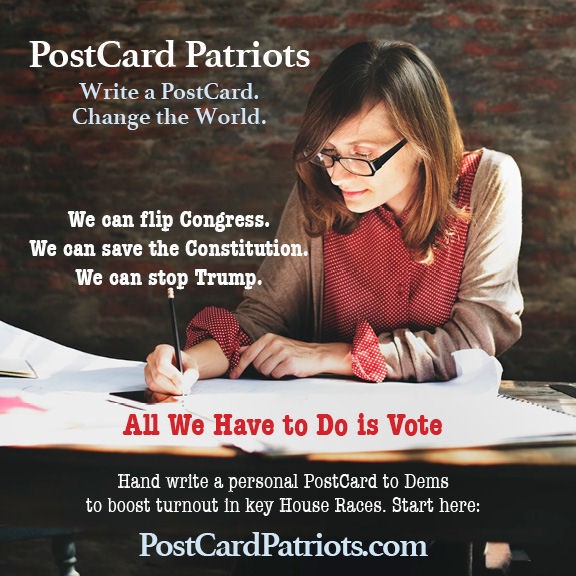 A message from commentor MazeDancer:
Hoping you could feature the just-launched website PostCardPatriots.com in a post.

It was inspired by the Balloon Juice Top 40 Candidates – plus John Cole's favorite Kendra Nesser, who responded most enthusiastically – as a way we could all do something meaningful to flip the House.

Even those of us who are too busy – or physically unable – to canvas.

We can Armchair Activist and boost turnout. We can write personal PostCards to Dems encouraging them to vote Nov 6th.

The site has some free postcards to download and print. Some examples of things to write. All people have to do is use the email form and tell me how many addresses they'd like for which House Candidates. I'll send them the addresses and they can start writing.

I contacted all 40 campaigns. Am still hearing back from them. But have a wide enough group of great candidates that we can go.

And if people can get voter addresses from any of the next 46 BJ candidates, will happily add those campaigns, too.

We can flip the House.

We can save the Constitution.

We can have affordable HealthCare.

We can stop Trump.

All we have to do is Vote

Maybe BJ PostCard Warriors can bring in the winning votes!