On the Road is a weekday feature spotlighting reader photo submissions.
From the exotic to the familiar, whether you're traveling or in your own backyard, we would love to see the world through your eyes.
Good Morning All,
On The Road and In Your Backyard is a weekday feature spotlighting reader submissions. From the exotic to the familiar, please share your part of the world, whether you're traveling or just in your locality. Share some photos and a narrative, let us see through your pictures and words. We're so lucky each and every day to see and appreciate the world around us!
Submissions from commenters are welcome at tools.balloon-juice.com
For each picture, it's best to provide your commenter screenname, description, where it was taken, and date. It's tough to keep everyone's email address and screenname straight, so don't assume that I remember it "from last time". More and more, the first photo before the fold will be from a commenter, so making it easy to locate the screenname when I've found a compelling photo is crucial.
So Halloween night is not going well as I didn't sync my new IP address in my password db before I left home and all are asleep so I can't find out. Short way of saying, these aren't the pictures I'd planned to run. We're Wisconsin-bound, not Africa-bound.
I'm off my game, no lie. Friday will be one year since my mom died and the past couple of weeks, I've been out of my mind. I expect that will clear up as I get past that first anniversary.
Today, pictures from valued commenter HinTN.
BillinGlendale's picture of the rotunda of the California capitol reminded me that I had pix of the remarkable Wisconsin capitol. I was in Madison last June and spent a couple of hours walking through the place. It's wide open, you can go up and down all the halls and even go into the governor's "formal" conference room. I doubt they meet there but I sat in one of the chairs at the large table. Anyhoo, here's some shots of the thing.

Taken on 2018-06-27 00:00:00

Madison, WI

OK, so each is a "Gallery" and not a hall. This is from the first floor up from the ground floor and each gallery has those wonderful paintings beside the arch. The smaller arches to either side are the entrances to the halls that lead to exterior doors (they all are functional and unattended, except for one that required maintenance) and the stairs down to the plaza that surrounds the whole building.
Taken on 2018-06-26 00:00:00

Madison, WI

I got this shot one morning walking up to get my daily dose of cappuccino from the Starbucks right on the Capitol Square. Sadly, all the non-chain coffee shops opened far later than my schedule permitted, so old faithful it was. The street behind me led down to the lake and the Monona Terrace, which is a conference facility designed by Frank Lloyd Wright. Madison is a lovely city. Lots of good places to eat and incredibly friendly people. I highly recommend it!
Taken on 2018-06-27 00:00:00

Madison, WI

If you're persistent you will find your way to a small stair (it's almost a ship's stair) on the fifth floor that leads up to a small hall that encircles the rotunda dome. There's a very informative museum that goes all the way around and there was a very chatty and knowledgeable docent up there to point out lots of cool stuff. Of course there's a door that's unattended that leads to the exterior where you can walk completely around the dome. There's statuary all over the place up there and the view of the city is spectacular.
Taken on 2018-06-27 00:00:00

Madison, WI

The founder of the Progressive movement is memorialized right there in the main area below the rotunda. I'm surprised Scott Walker didn't have him removed, or draped like Ashcroft did with lady Justice.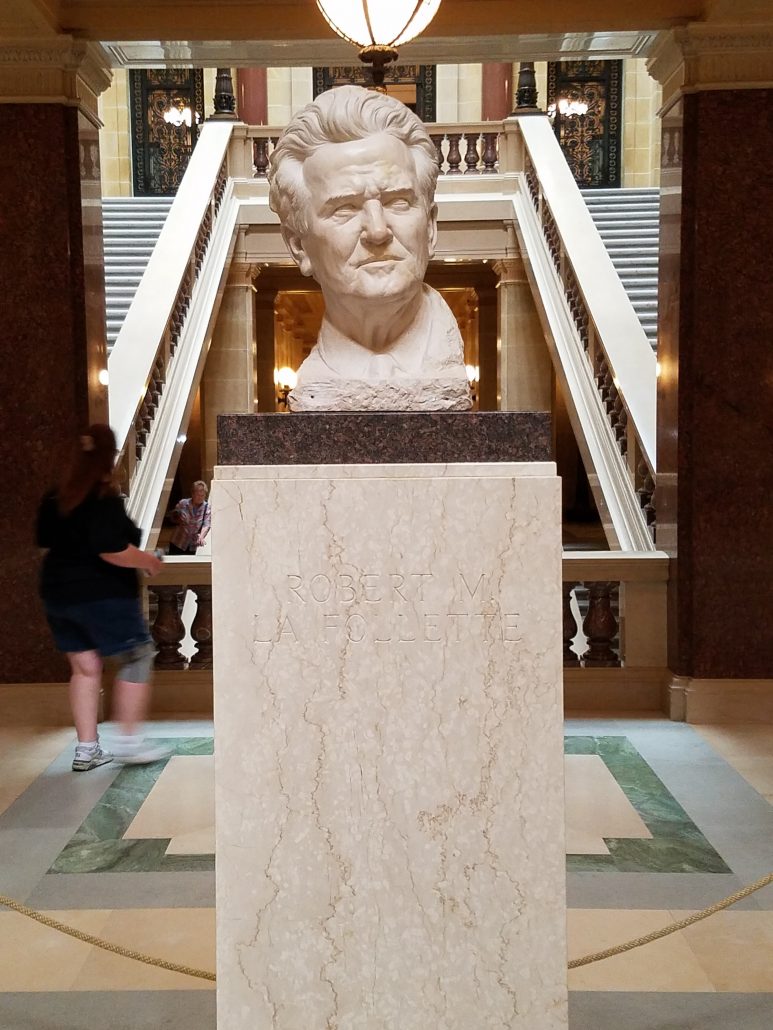 Taken on 2018-06-27 00:00:00

Madison, WI

The capitol is cruciform with four "halls" at the cardinal points. These halls have all the offices, meeting rooms, etc. Between each hall are areas that have "lesser" starwells, more offices, and on the first floor halls with statuary that lead outside to grand stairs down to the street. The center of all this is open from the ground floor up to the rotunda. I took this lying on my back on the floor to get a stable shot with my Samsung S7. While I was there another tourist asked me to take her photograph with her camera. Nice work if you can get it.
Today, pictures from valued commenter HinTN.
Bonus shot of the capitol through trees.

Taken on 2018-06-27 00:00:00

Madison, WI

There was an outdoor performance of the symphony on the plaza. I took this strolling around.
Thank you so much HinTN, do send us more when you can.
Travel safely everybody, and do share some stories in the comments, even if you're joining the conversation late. Many folks confide that they go back and read old threads, one reason these are available on the Quick Links menu.
One again, to submit pictures: Use the Form or Send an Email