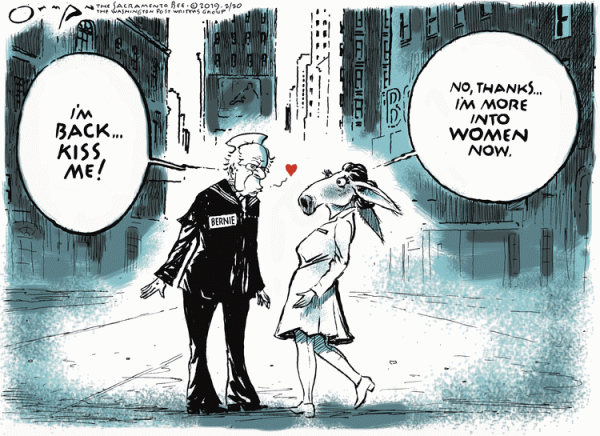 Suddenly, the white male establishment finds itself in a world where it has to contend with, not just other white men, but women, candidates of color, & LGBTQ people. And now it really wants to talk about the importance of *not* judging people by race, gender, or sexuality. https://t.co/xpVrDY6GCd

— Ashton Pittman (@ashtonpittman) February 20, 2019
He seemed so new and novel back in 2016, but sensibilities change! Moira Donegan, in the Guardian, "Why vote for Sanders when you can have Elizabeth Warren instead?":
… In the 2016 primary, Democratic voters were presented with a choice: Sanders, who represented the potential of redistributive policy, and Clinton, who represented the possibility of shattering, as she put it, the last, highest glass ceiling. She dismissed his ideas as impractical; his supporters attacked her with a virulent misogyny that belied their nominal commitments to equality. For leftist women, to express enthusiasm for Sanders' policy proposals was seen as condoning the sexist attacks on Clinton. To defend Clinton from sexism meant that we would be accused of condoning the worst choices of her history. This choice, between Sanders and Clinton, redistribution and representation, has been the central conflict of American progressive politics in the years since. You can have either redistribution or representation, the thinking goes, but not both.

Sanders' announcement, and the resurgence of the party divisions that it has already ushered in, is especially maddening to those of us who would rather avoid a repeat of this bruising 2016 primary fight, as there is already a candidate with a long record of commitment to redistributive policies and a proven ability to combat inequality: Senator Elizabeth Warren, of Massachusetts.

Like Sanders, Warren has a long career of railing against the injustice of a country where the rich are getting richer and the poor are getting poorer. Unlike him, she has a proven track record outside of the Senate, helping to establish the Consumer Financial Protection Bureau during the Obama administration and writing the book – actually, writing several books – on how to help working families by making finance and debt laws more fair.

But unlike Sanders, Warren does not have the baggage of the 2016 primary, which will weigh Sanders down and alienate large swaths of the Democratic base. She is a woman, an essential identity trait in a party that is increasingly dominated by people of color and accounts for the votes of half of all white women, who rightly want to see themselves better represented in a party whose leaders have been much older, whiter and more male than actual voters. And she does not ask voters to make the choice that was posed to them in the 2016 primary, between fiercely attacking economic inequality and tackling the gender and racial injustices that perpetuate and exacerbate it. Her statements and policy proposals, more detailed than those of the other early frontrunners, and show that she is committed to doing both.

Why would Democratic voters choose Sanders when Warren is running? The two are not ideologically identical, but the differences between their major policy stances, on regulation of financial services and the need to extend the welfare state, are relatively minor, especially compared to the rest of the field. Warren calls herself a capitalist, the Sanders partisans point out, while Sanders is unafraid of the label "socialist". That's one thing. But this point has the quality of a post-hoc rationalization. It is cited by those seeking a politically acceptable reason to vote for a man and not for a woman – those who would vote for this man, and perhaps not any woman, no matter what. The fact is that Warren is to the left of Sanders on some issues, notably gun control. If the primary contest becomes a race to the left, it is not entirely clear that Sanders would win…
As always, I'm agnostic about Warren ending up as the Democratic nominee; if she doesn't, the winner will almost certainly be another very strong candidate (I could most certainly vote for President Harris, right now). And, selfishly, in that case Warren will still be my Senator, hopefully for many years to come. But Sanders has disqualified himself irretrievably in my eyes, and in those of many other staunch Democratic voters as well.