Let's do a simple thought experiment. Let us assume that you are need to buy health insurance on the individual market. We will also assume that there is only a single insurer offering a single network with a common set of benefits across all scenarios. What scenario is best for you of the three below. I will show you the premiums only.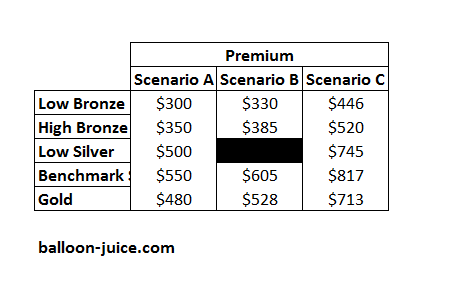 In most markets, the answer is easy — everyone wants Scenario A as it is the lowest price for identical plans.
In the ACA markets, it depends. It depends on if you receive subsidies or not.
In the ACA markets, no one should prefer Scenario B as a first choice. If one is subsidized, Scenario C is better. If one is not subsidized, Scenario A is better.
States and insurers are trying to figure out how file plans that allow for someone to be better off. Ideally, an insurer would be able to offer Scenario C to all subsidized buyers and Scenario A to all unsubsidized buyers. This can be done if the insurer is able to offer significant variation in plan attributes such as offering only on-Exchange/subsidized PPOs and off-exchange HMOs or by significantly varying networks. Benefit design decisions can be made so that the off-exchange plans are relatively low actuarial value with correspondingly higher deductibles/out of pocket maximums. However to do this greatly increases complexity and navigation costs.
So insurers and state regulators will make choices in multi-dimensional space that won't be optimal on any single attribute.