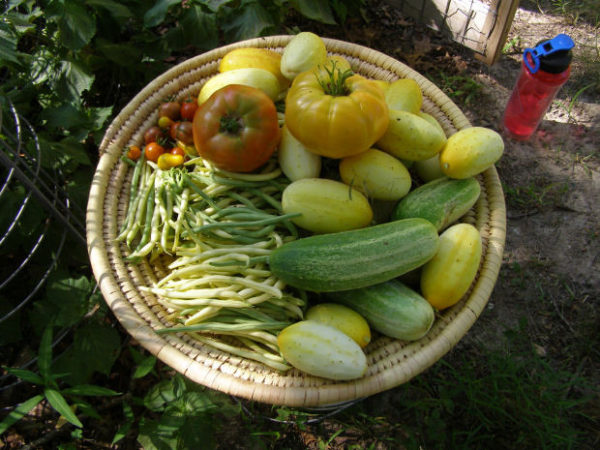 What would we do for entertainment / information on a Sunday morning, if not for the ever-reliable Ozark Hillbilly?
Nothing much, just a few summer harvest pics.

At top: Early Harvest: This was probably our first good morning's pickings. L to R, French Gold and French Emerite beans from Renee's Garden, Bumblebee and Yellow Pear from Baker Creek and cherry from the local MFA, A Wood's Famous Brimmer and an Amana Orange tomatoes from Baker Creek, and some Dar and Miniature White Cucumbers also from Baker Creek.

The beans are always good producers, the FG especially so, and mighty tasty too. I have put up app 35 pints, plus we have some frozen and have given away maybe a dozen gallon bags stuffed full. All from 1 of each seed packets. The miniature Whites were by far the most productive of the 2 cukes and both were very sweet tasting even if they got excessively large.

Tomatoes of many colors: L to R in the basket, Bumblebee, cherry, Green Zebra, Amish Paste peaking through, Amana Orange. In front: Woods Famous Brimmer and Pink Brandywine. All from Baker Creek except for the Cherry.

The Bumblebee are some of my most reliable producers, more savory than sweet, very crack resistant and wilt tolerant. I will still be picking a few of them long after all the others are gone. For the 2nd year in a row my Green Zebras had problems with blossom end rot and the plants succumbed to the wilt early on.


The Amish Paste are always good producers with plenty of large, meaty, paste tomatoes perfect for salsa and sauce. Amana Oranges… sigh… BC is no longer carrying them and this might be the last year I grow the most beautiful tomato on the planet. I am going to try and save some seeds but cross pollination is unavoidable. The Woods Brimmers, What can I say? Wow. Talk about productive, 3 plants, maybe a hundred maters so far and they are no where near done yet. These are medium to large beefsteak types with lots of good meaty flavor.

Eggplants: L to R: Diamond, Rosita, Mitoyo, and Rosa Bianca. I've been doing battle with the flea beetles and barely keeping up. the plants are stressed and I would say is the reason for lack of productiveness among my eggplants. With this harvest I made a killer Eggplant Parmesan that I am still feasting on a week later. I have more of each coming and with the next bunch I think I'll just fry them like Mama did.

Sliced: This is a Mushroom Basket tomato from Baker Creek. Very beautiful and the flavor was good but the plant did not fare well at all, wilt and blossom end rot.

I fell behind with the wilt this year and was never able to catch up. Surprisingly, I have not picked a single horn worm and have had no HW damage. I don't think that has ever happened to me before.

Day Glow Lily, just because it's a nice pic.
***********
I think we got the very last daylily bloom of the season yesterday — if I remember my planting chart correctly, an Apricot Sparkles. (You can't tell from the photos, but the flowers actually do 'sparkle' in sunlight, as though they've been dusted with the finest glitter.)
We're getting a steady trickle of ripe tomatoes here, augmented now by occasional purchases from our favorite local farmstand. Most important for my future plans, with only 20 plants instead of 30+, I've been making progress on tearing up and redoing the various long-neglected raised planters and flower beds… Murphy the Trickster God willing, there will be something to look forward to next spring besides the endless cleanup! Already put in a bulb order for this fall, mostly for the little early 'naturalizers' — crocus, chionodoxa, muscari — to see how they do, tucked in among the existing daffodils and 'naturalized' in the semi-shaded side yard.
What's going on in your garden(s), this week?