Yesterday afternoon, hubby and I went to the local deplorabar, which is an obnoxious dump, but the trip there looks like this:
Time for a quick boat ride? pic.twitter.com/tyuddjiw60

— Betty Cracker ? (@bettycrackerfl) September 28, 2019
So the ride there was fun. We tied up to a rickety-ass dock that is a lawsuit in waiting, and as we walked toward the establishment, I saw a HUGE motherfucking snakeskin in the grass. I stopped and took a picture: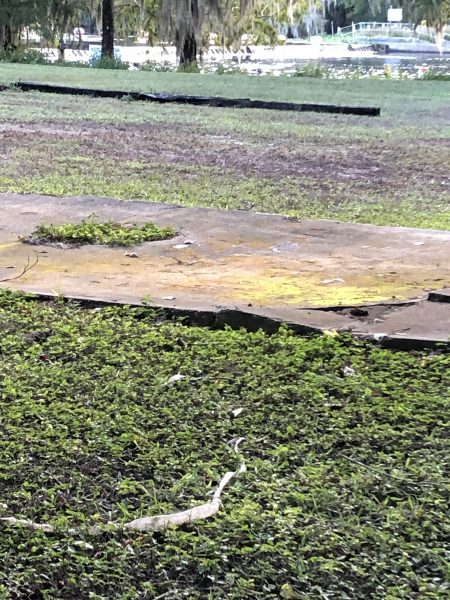 And no sooner had I snapped that photo with my phone, the former wearer of that skin came shooting through the grass in my general direction. I ran like the hounds of hell were on my heels, screaming my head off, as one does when pursued by a giant snake.
My husband thought that was funny. It was not. The snake was a big honking water moccasin, which is not the sort of snake one wants to encounter since they are venomous.
When we got inside the pub, we warned fellow patrons and the barkeep and reported the snake's last known coordinates. On the way back to the boat, we gave that area a wide berth.
Jesus, I hate snakes. My husband always chides me for my long-standing snake hatred and expounds on the many ways snakes are beneficial. He should save his breath because I don't want them to go extinct, and I don't do anything to physically harm them.
I'm not arguing against the idea of snakes; I just want them to stay away from me. I don't want to see them, even the "harmless" ones, because there's no such thing: I've harmed myself fleeing snakes many times, including running face-first into a glass door when some asshole brought a pet boa constrictor into a convenience store and got in line behind me.
Anyway, that was my excitement for the weekend. How's your Sunday going?