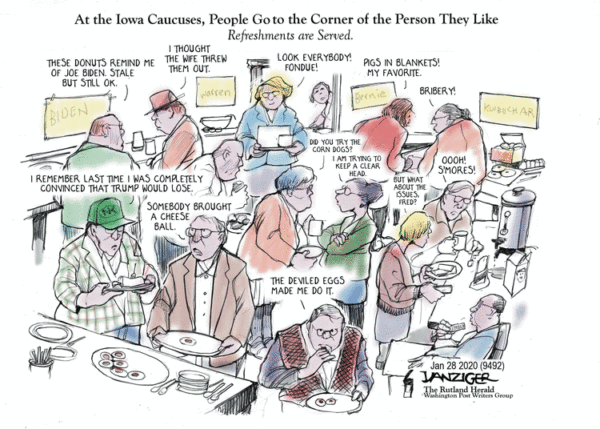 This is to say nothing of Bloomberg. He might get some Yang voters, though, all 3.

Anyway people will actively avoid learning how the caucus works and Monday night will be a very confusing time

— Canadian Bread Price Fixing (@MenshevikM) January 30, 2020
This is no way to run a democratic election!
It's actually just completely shameful that we went through a whole big push about reforming the system to make primaries 'more democratic' & there was almost nothing about eliminating caucuses, which are inherently undemocratic.. https://t.co/kZWNKKeio1

— Centrism Fan Acct ?? (@Wilson__Valdez) January 27, 2020
I am going to be caucusing with a 7 year old, so the stupidity of a crucial political January in-person event starting at 7 pm has been in the front of my brain lately as I think about the stories of doorknockers being turned away by husbands as they ask to speak to the wives too https://t.co/YmaKTwXWhn

— Louise Seamster (@louise_seamster) January 29, 2020
They were certainly bad for my late mother who has been a Democrat longer than most people have been alive but couldn't attend the caucuses anymore when she was in her 90s cuz she couldn't hang around in cold rooms for hours.

— Equanimity (@shunyata2000) January 29, 2020
And the glimpses I'm seeing on twitter of 'mock caucus' training to bring in The Youngs are… not inspirational:
In a mock caucus right now. First round, Biden, Tulsi, and Amy were not viable. Yang was viable, and we just grew in size by 26% after a number of them moved to us. Bernie, Warren, and Pete are the only ones left besides us and each remaining group is similar in size. #YangGang pic.twitter.com/TdFyv60Hk4

— Scott Santens?? (@scottsantens) January 28, 2020
Warren supporters attempt to convince Sanders supporters. Almost none have budged. As an unviable group – if they don't realign, they're effectively going home. pic.twitter.com/A2Wwd25qwt

— Ben Pu (@BenPu_nbc) January 28, 2020