Good news everybody!
The Union was approved for Duke Grad Students. I voted yes along with 88% of my colleagues.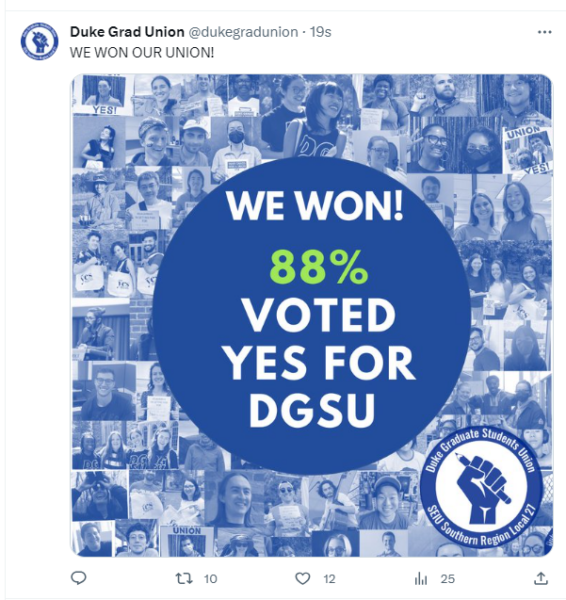 Personal life updates now as a grad student.
I completed my comprehensive exams and my required class work last May. I'm filing the forms to establish my dissertation committee this week.  I've gotten conceptual buy-in on my aims.  The data is all public use files.  I intend to speed run my dissertation phase with the objective of being done by the end of next summer.
For the jackals who are in the academic health policy universe:
I AM ON THE MARKET
I am looking for a tenure-track position with both research and teaching responsibilities.
I have two comparative advantages.
I  am good at seeing odd policy hooks because I have ridiculously deep subject matter expertise on the Affordable Care Act's individual health insurance marketplaces.  I repeatedly and rapidly assemble teams from several institutions with access to relevant data to probe that oddity.  We then quickly write and publish papers aiming for policy impact in good journals. We've done that for advertising and navigators, automatic re-enrollment, automatic re-enrollment into dominated plans, plan re-entry, zero premium plans and the impact of affordability from Silverloading.  I have something to add to this list currently under review.  It started as a screenshot in a Twitter DM in February.  We question an assumption that a lot of states make.  Our evidence shows that things don't work the way people think it works.  Secondly, I have a demonstrated history of production which substantially lowers the variance of my future outcomes.  In sports terms, I'm a high floor draft pick.
The median gestation time for my H-index papers is under a year.  This is what I love to do and what I do well. It is my strength.  It is my weakness. My five year research agenda is not as settled as many folks and it is not disease specific.  That is not the easiest thing to fund through the NIH grant mechanism.  This  shapes where I likely can fit well.
Teaching gives me energy. Let me teach undergrads, let me teach masters students, let me teach doctoral students!  I have designed and implemented a new class at Duke Sanford as an instructor of record. I have supervised master student capstone projects.  I have acted as mentors to younger students.  All of this gives me energy and new ideas to think about for my research.
Geography — I'm open to a mostly national search with some weather preferences.  I will very happily move to a state where teenagers are only stressed out about a test in 4th period calculus and whether that cutie in biology laughed yesterday with the funny comment or at the speaker of the not so funny comment. You know the normal stresses of being a teen instead of having a state sanctioned target on their back because of who they are.
I'm revising my job market materials right now and starting to look at the listings on a regular basis.  If you happen to know of things that could be interesting please send it to me at my Duke e-mail address (dma34 is the left hand side of the address)