I'm not a great planner — not in life generally, and definitely not in grocery shopping and meals. I've had to become better about it since we moved way out in the boonies a couple of years back; a trip into town now requires a 15 minute drive on a horrendous, cratered, often partially flooded dirt road, and then a further 15 or so on a hardtop before civilization looms into view, such as it is here in the hinterlands.
The lockdown put even more of a kibosh on my trips into town. But I did recently discover a quiche shortcut that I will share here — it makes a great last-minute, no-plan dinner. It's based on a recipe I found in The Post that uses frozen puff pastry rather than a traditional piecrust.
This method makes a smaller quiche and uses fewer eggs, which is perfect for us right now (until the economic collapse brings the fledglings back to the nest, le sigh). You just need 4 eggs, 1/3 cup of cream or half-and-half, a thawed sheet of puff pastry and whatever kind of goodies you want in the quiche.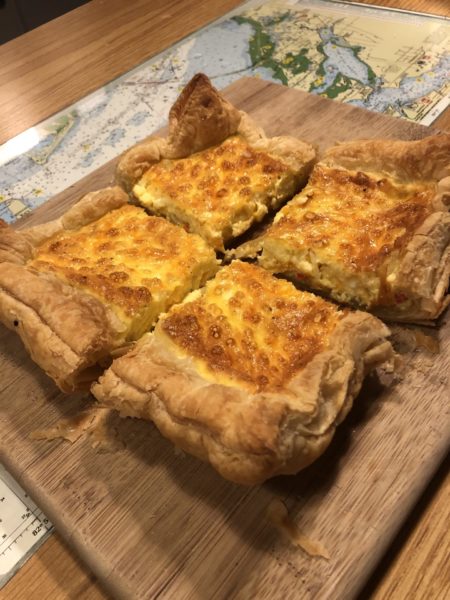 More below the fold…
I originally followed the recipe as published in The Post, with one exception: it featured Gorgonzola cheese, and we didn't have that, so I used feta. To be honest, it wasn't very good. The lemon zest overpowered everything else. It would have probably worked with a stronger cheese like Gorgonzola, but the zest just rudely elbowed that feta out of the way and dominated the dish. But while that particular quiche sucked, it was a good proof of concept nonetheless, and I've made a few pastry puff quiches since then. So simple!
First, you line an 8 x 8 baking dish with parchment paper and plonk the thawed square of puff pastry on it, forming a well to hold the rest of the ingredients: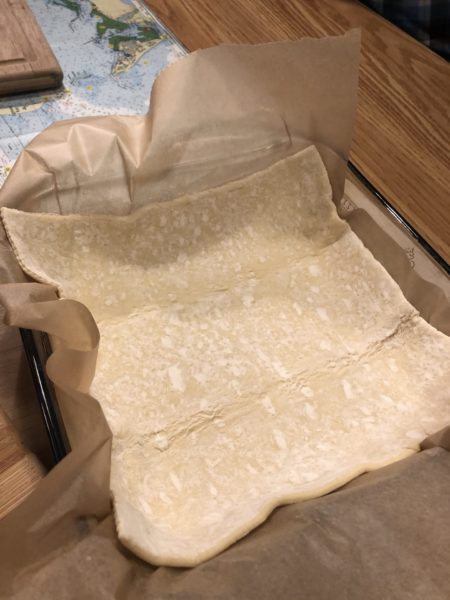 Then, you add whatever you want in the quiche — I sauteed some mild peppers the mister grew in the garden plus half an onion and threw that in the crust: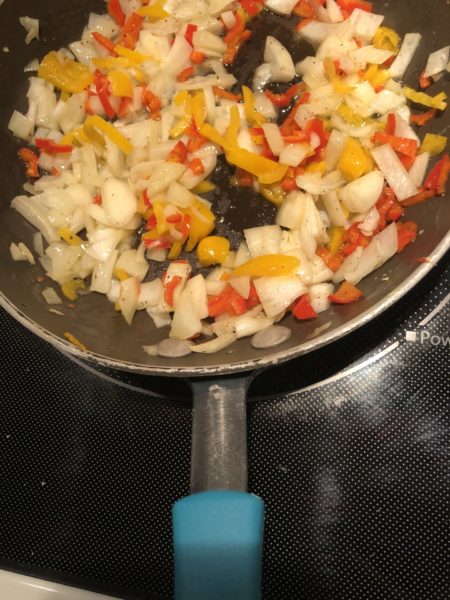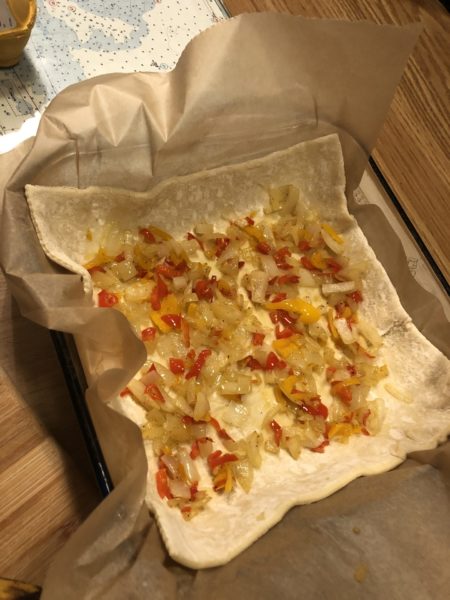 Then I added a couple of handfuls of shredded jack and cheddar that we had in the fridge to the veggie mixture, whisked up four eggs and the cream along with some salt and pepper and poured that over the top of everything else.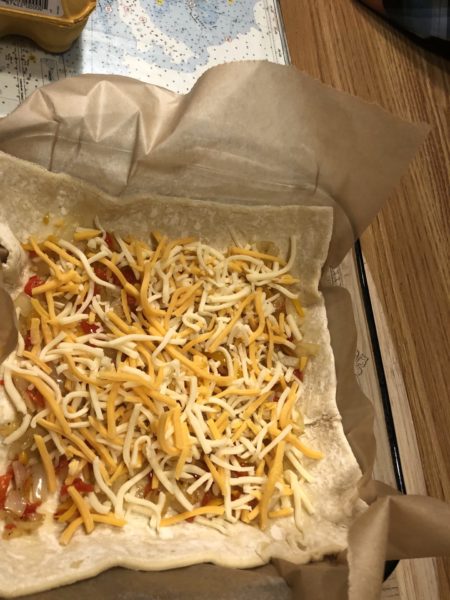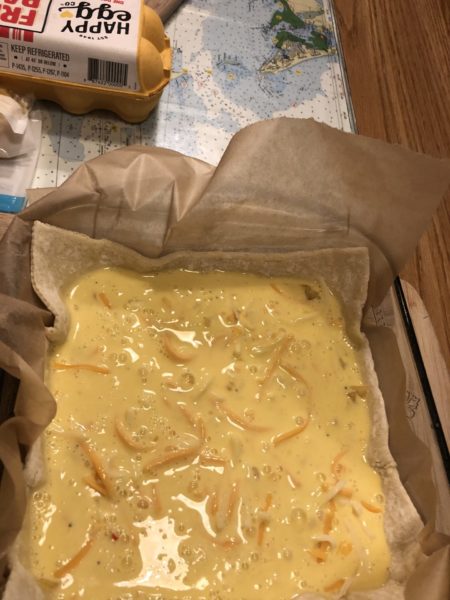 Then I popped it in a 400-degree oven for half an hour, and voila — quiche!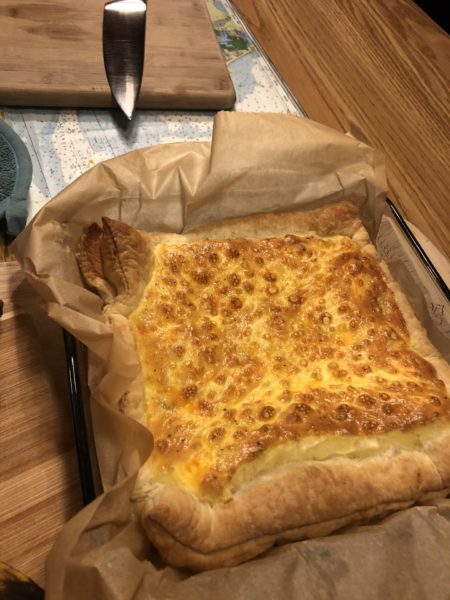 Sharp-eyed readers may note that I overcooked this quiche. Damn it! In previous attempts, I've started checking it at around 20 minutes, and as soon as it was mostly set but the center was still the teensiest bit wobbly, I removed it from the oven. Last night, I got distracted by something and didn't check until it had been cooking the full 30 minutes, so it was overdone. But still tasty!
The mister occasionally notes that I'm a good cook but sometimes don't know when to stop cooking. It's my belief that people who are eating something that another person has cooked for them should keep such observations to themselves, but I admit it is true. I blame my British Isles heritage. But anyway, quiche.
Have you learned any quarantine cooking tips? Meal planning strategies? Please feel free to share that or anything else — open thread!