On the Road is a weekday feature spotlighting reader photo submissions.
From the exotic to the familiar, whether you're traveling or in your own backyard, we would love to see the world through your eyes.
I look a the photos when they come in, and I look at them again when I write the short introduction.  This time I am left speechless, with no coherent thought.  Llamas!  The amazing sunset after the storm.  Twin Lakes.  So beautiful.  ~WaterGirl
lashonharangue
My spouse and I enjoyed backpacking and camping in California. However, we reached a point where age and orthopedic issues made that impossible. We switched to car camping and long day hikes but it wasn't the same. Then we discovered we could pack with llamas, save our backs, and be gone for up to two weeks without resupply. We have taken them throughout the state – in deserts in So. Cal, around Mammoth Lakes, in Sequoia-Kings Canyon, but most of our trips were in or near Yosemite. Our most common outings were in Emigrant Wilderness in the Stanislaus National Forest northwest of Yosemite.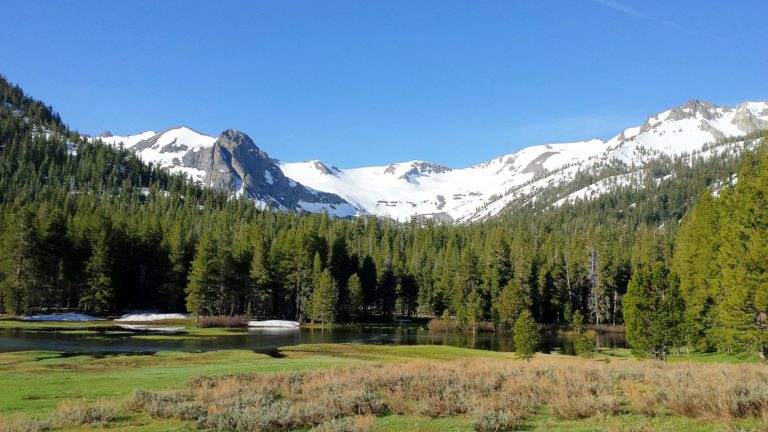 Kennedy Meadows
June 4, 2017
Llamas and people are generally out of shape and not adequately altitude acclimated after a winter's layoff. So early season short hikes are to get us all ready for longer trips and heavier loads (for them). This is one of our favorite places in the Emigrant Wilderness. When we could get there depended on the previous winter's snowpack as the llamas can't walk through snow more than a few inches deep. This trip was in early June. Still snow on the peaks but the trails were almost clear.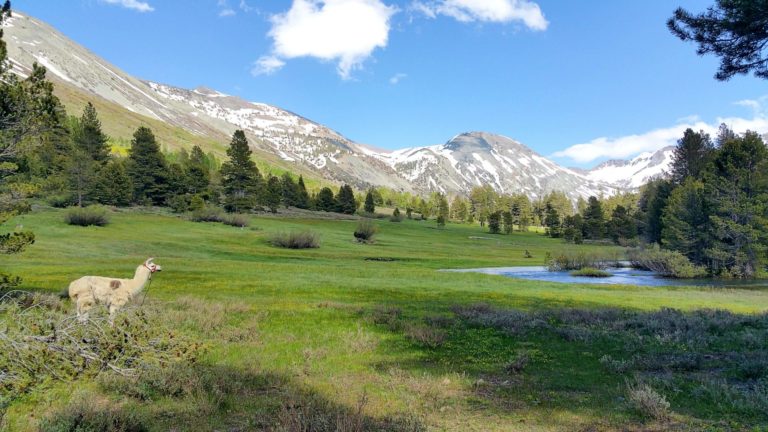 Kennedy Meadows
June 4, 2017
One of our llamas grazing. Llamas are browsers and will eat almost anything. A small amount of feed is carried in case we have to camp in a place with nothing for them to eat. Hiking for them is like being at a fabulous buffet after eating hay at the ranch.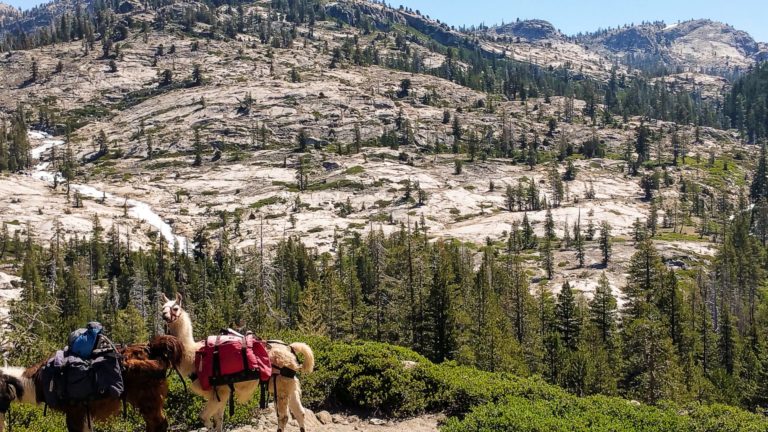 Above Cherry Creek
August 19, 2017
These next photos are from a long trip later in the same year at higher elevations. Down below you can see what looks like a small creek. It was a raging torrent due to snow melt. We descended and had to hike several miles downstream to find a place to ford. On the way back the creek had gone down. So we easily crossed in a place that would have been deadly when this photo was taken.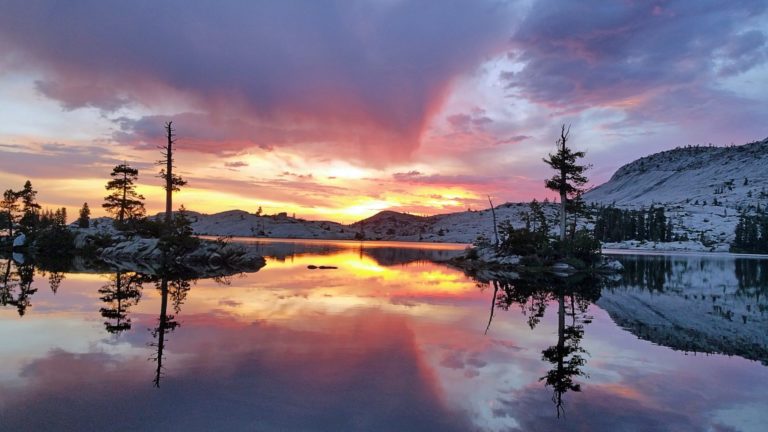 Big Lake
August 20, 2017
We set up camp here in the late afternoon and then a big storm came through with hail and thunder. This was taken at sunset after things started to dry out. We stayed here a couple of nights as the next day was the solar eclipse (partial).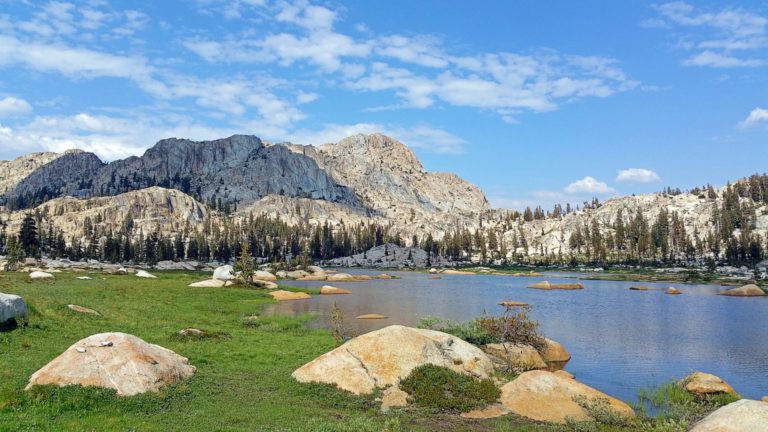 Blackbird Lake
August 24, 2017
We didn't camp here. Just another beautiful view on the trail.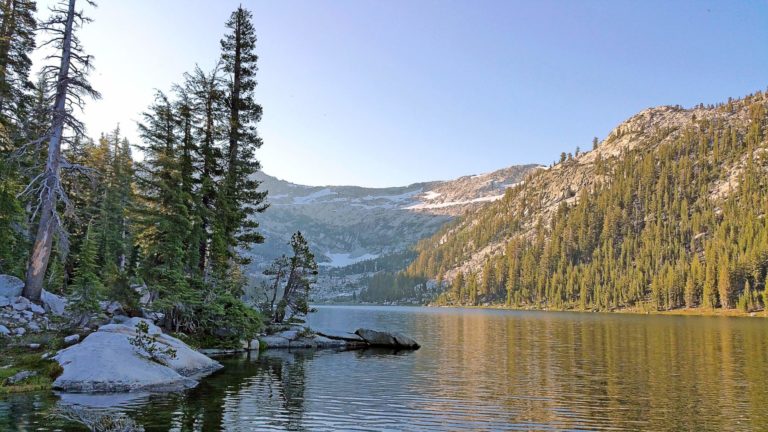 Twin Lakes
August 28, 2017
This area is actually in Yosemite NP but the trail to it comes via Emigrant. To get here from Yosemite would require going over that ridge above the lake.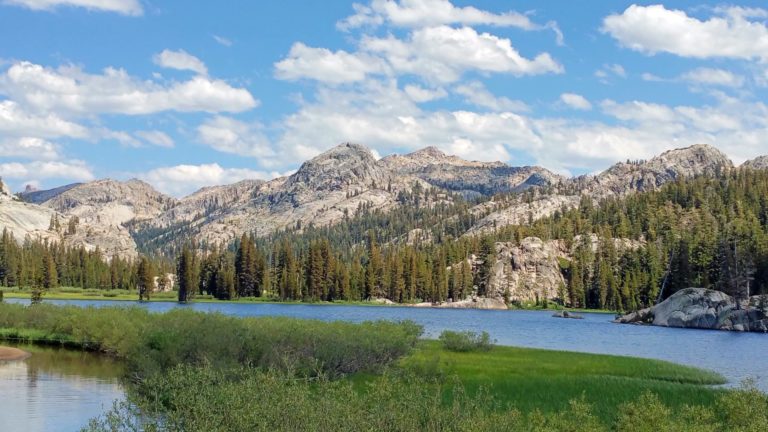 Upper Buck Lake
August 30, 2017
One of the prettiest lakes on our trip. We camped at Lower Buck Lake a little further down the trail.