On the Road is a weekday feature spotlighting reader photo submissions.
From the exotic to the familiar, whether you're traveling or in your own backyard, we would love to see the world through your eyes.
Skydiving!  I've got nothing except "Yikes!" and "Wow!"  Okay, just one more thing.  The views in the 1st and 4th photo are absolutely amazing!  ~WaterGirl
feloniousferb
After Balloon Juice was kind enough to post my photos from Koko Head, one commenter (Stinger) asked for some skydiving pictures. I'm happy to oblige. My first jump was such an extraordinary experience that I've jumped many times since then. On my first trip to Oahu one of the military members I was working with suggested I look into skydiving up on the north shore of Oahu. I was still, technically, in the reserves at the time and they offered a good military discount. So I did it. I paid for a photographer to take pictures (you can pay a little more for a video too!). I hoped, since it was my first time, that I would have a cool record of this "once in a lifetime" experience. It did not disappoint, they give you a USB stick with all the pictures!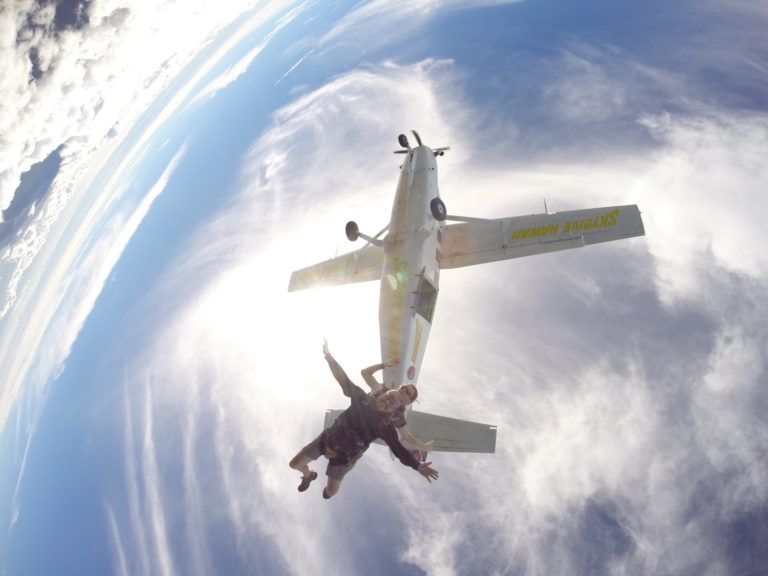 North Shore, Oahu, Hawaii
The photographer is solo jumping and his job is to get into all the positions that make good photos happen (that's what you are paying for, right?!). What a cool job! I'm not sure that the smile would have been on my face if he wasn't there. That was the first jump, I think now I have a grin beginning back while I'm still on the plane. I didn't realize until much later that the force of the air means that it's a little hard to "exhale" and it was quite a few seconds before I started breathing after I left the plane, the rush and the view and the acceleration are a bit much to take in the first time.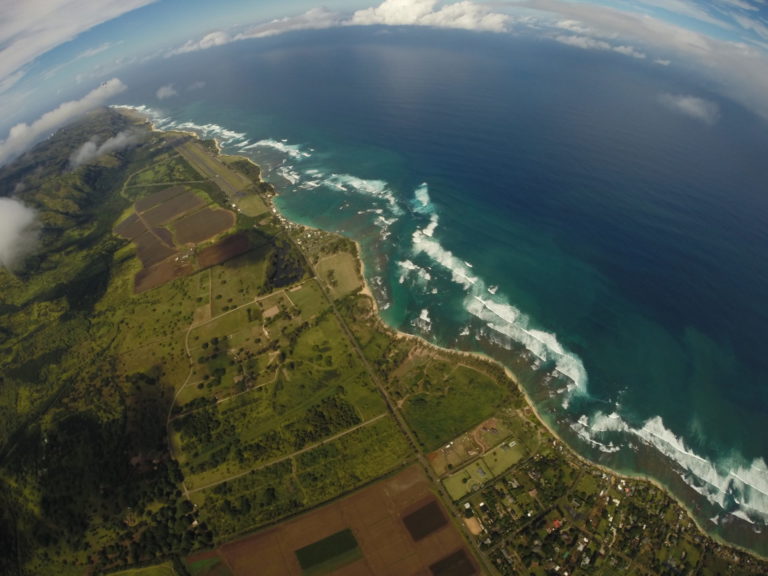 North Shore, Oahu, Hawaii
The NW tip of Oahu. That's Ka'ena Point State Park in the distance (maybe photos of that hike later). You can see the airport we'll be landing at in the upper left (Rnwy 26 for any pilots out there). The 'proper' North Shore is east of here but you can see there are still some big waves.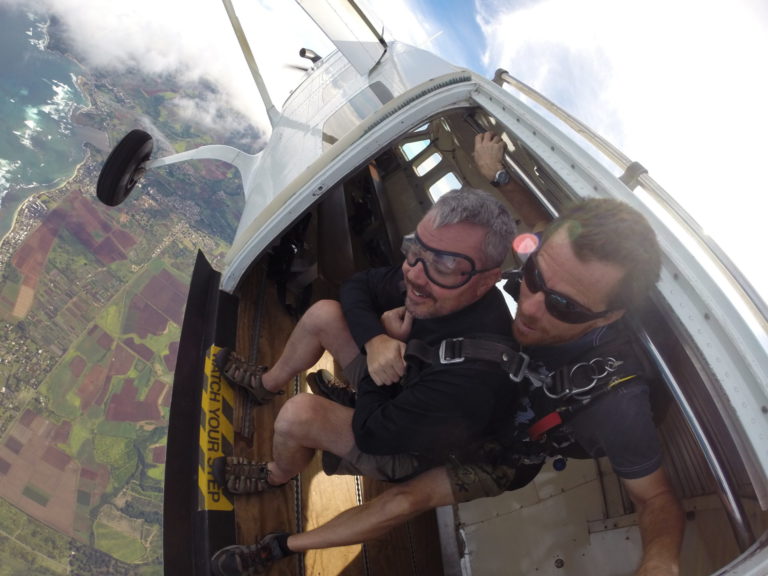 North Shore, Oahu, Hawaii
All that fun has to start somewhere and here is the moment of truth! The photographer is hanging on to the outside of the plane via that rail on top. I'll admit as we skootched to the door that my heart rate was way up there and I was semi-wondering why the heck I "wanted" to do this. The enthusiasm from the instructor was VERY helpful. Not leaving the plane was simply not an option. This picture is looking east and that's Kaiaka Bay Beach Park, Haleʻiwa Aliʻi Beach Park, and Pua`ena Point Beach Park in the distance. I didn't care too much about that at the time.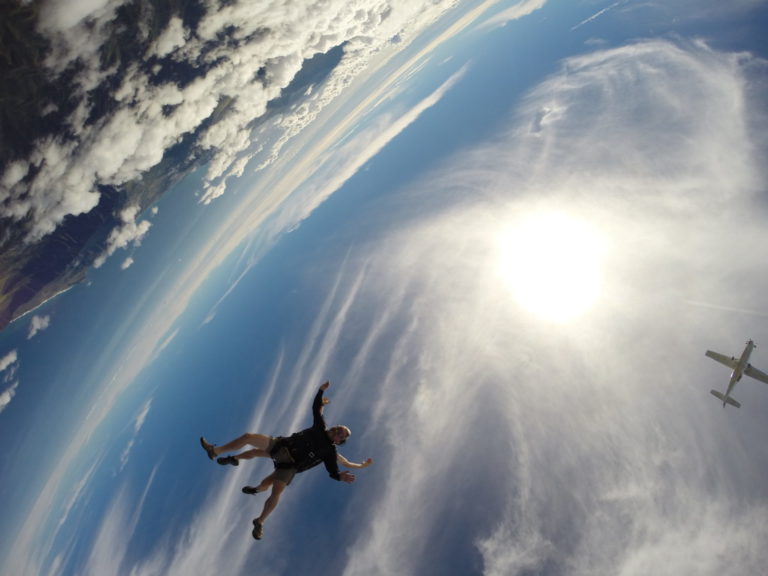 North Shore, Oahu, Hawaii
I had a great instructor and we left the plane gently and settled into free fall very quickly. No tumbling, spinning or anything too scary. I'm still amazed you are moving well over 100 miles an hour at this point! It's cold but you are not exactly aware of that. The dive is advertised as either 12,000 or 15,000 feet and I'm not overly concerned which it was. It was AMAZING!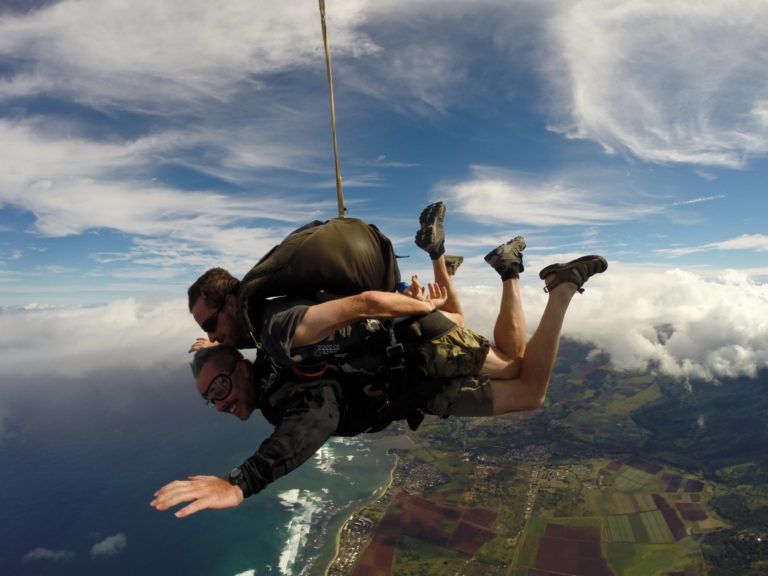 North Shore, Oahu, Hawaii
The instructor (on top) releases a "drag chute" which keeps you stable and slows you down enough that the main chute can handle the deceleration from the weight of two people. Notice his hands are behind his back. I've since learned how to "turn" (spin) to point in any cardinal direction I would like to. Free fall is hard to describe. The buffeting and noise is absolutely something you notice the first couple times but sort of fades with each subsequent jump. Looking straight down is not something I would advise.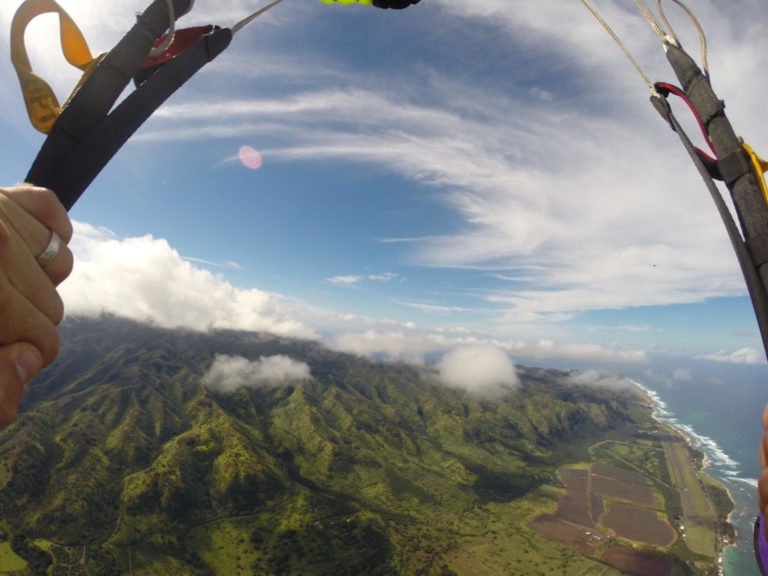 North Shore, Oahu, Hawaii
Seriously, that view! The jolt of the opening canopy is something I'm not a big fan of. The first thing after that is the noise drops to almost nothing, just a breeze in your ear and you can talk with the instructor. He let me steer the chute and pointed out a pod of whales!! It was December and it's the best time for whale sightings off Oahu. I totally understood para-gliding after having this experience. This photo is from the photographer's POV, who is now having his own fun time making sure to get to the ground first to get pictures of my landing. The runway is bottom right.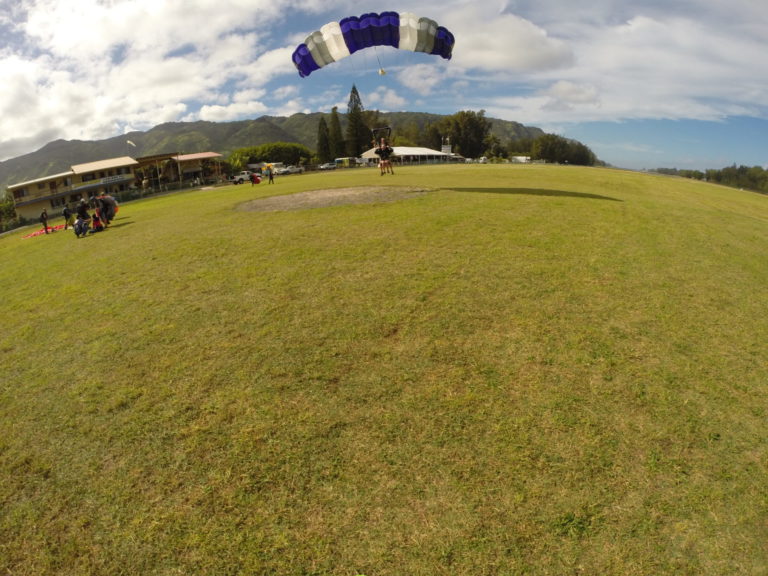 North Shore, Oahu, Hawaii
I can't speak for sky diving instructors but it seems to me from my jumps that they really don't want you to make them look bad during the landing! There are a lot of people watching. I think my knees are in a good position.
The instructor, if everything is going well, might take you for some steep spins as you approach landing and those were very dynamic. Next to the main chute opening shock, this applies the most pressure against those straps near your groin area….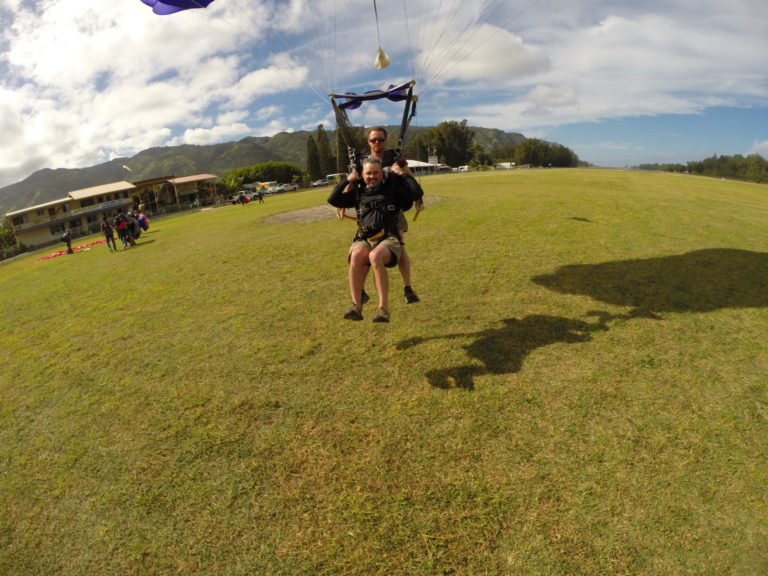 North Shore, Oahu, Hawaii
Mission accomplished!! Huge grin, already thinking about going again.
Side note: In the background, just to the left of the rear of the white truck, you can see a gate opening. While you are sitting around waiting to go, or basking in the completion of your first jump, you get to watch other skydivers arrive and some of them are really aggressive. I've seen several that "divebombed" that gate and flew through it at ludicrous speed before skimming across the grass to land. Very cool.