This is the first of three posts for anyone who wants to talk California Propositions.
pacem appellant has graciously agreed to share his views on the California propositions this year.  The intention is to provide a jumping off point for discussion, and a place for BJ folks to share their views, not to suggest to anyone how they should vote.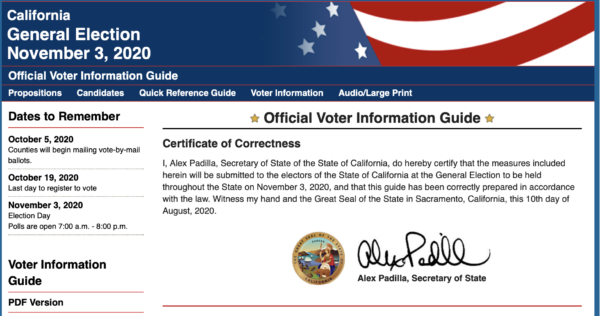 The 12 propositions will be covered in 3 separate posts. This one covers 14, 17-19, 21, 23 and 25.  The second one will cover 15.  The final one will cover 16, 20, and 24.  I expect to run one a day:  today, tomorrow and Sunday.  As soon as one is posted, it will appear under Election Action! in the sidebar.  (In the hamburger menu on mobile.)
pacem appellant (aka Vincent Jorgensen)

I'm a California native, born and raised in the Bay Area. For the past several years, in every election in which there are propositions on the ballot, I've been researching the propositions and posting my findings and recommendations to my Facebook feed. It spurs a healthy discussion among my friends, and it's led to my mind changing, too.This November, there are 12 propositions on the ballot, which isn't record-setting, but still daunting. There were 17 on one ballot in 2016. The record, by the way, is 48, and was set in 1914.

For those unaware, ballot propositions are a staple of California politics, dating back to 1910. They are placed on the ballot either by the legislature or by citizens. With enough signatures, it's possible to get any pet issue before the voters. I've been tasked with voting on whether to ban the sale of horse meat as food (that one passed), as well as modifying the state constitution to ban gay marriage (that one sadly passed, too). Because of the relatively low threshold for the number of qualifying signatures, most ballot proponents simply buy enough signatures to get their issue onto the ballot. A common sight is paid petitioners standing outside the grocery store trying to get shoppers to sign their names to a slew of potential referenda. Once a proposition is passed into law, the legislature can't overturn it, only another citizen initiative can (like this cycle's Prop 15).

This year we have four initiatives that were placed there by the legislature (16, 17, 18, and 19). The rest are citizen initiatives. We are tasked with deciding changes to who can vote, how taxes are assessed, who's an employee (and who's not), and criminal justice. I take this responsibility very seriously. I hope my fellow Golden State residents find my research and musings useful. I look forward to hearing your thoughts as well.

For my sources, I primarily used the following (and reference them at the end of each proposition)

Ballotpedia
CA Secretary of State
League of Women Voters
The L.A. Times
…..
Discuss!
…..
Proposition 14: Stem-Cell Bonds, Electric Boogaloo!

Authorizes Bonds Continuing Stem Cell Research. Initiative Statute

Legislative Summary: Authorizes $5.5 billion in state general obligation bonds to fund grants from the California Institute of Regenerative Medicine to educational, non-profit, and private entities for: (1) stem cell and other medical research, therapy development, and therapy delivery; (2) medical training; and (3) construction of research facilities. Dedicates $1.5 billion to fund research and therapy for Alzheimer's, Parkinson's, stroke, epilepsy, and other brain and central nervous system diseases and conditions.

Pros: CA leads the way in stem cell research, an important area of science that the feds have discounted since the second Bush Administration. This continues the push for science-based medicine and life-saving therapies that are being ignored by the federal ban on stem-cell research.

Cons: When CA passed its first stem-cell bond measure, there were high hopes that it would lead to meaningful medical discoveries. It has not, and has left the public disillusioned as to the efficacy and speed of medical research. Also, it adds to the debt serving of the state, which comes out of the general fund. As we are in Covid-19 times, state revenue is plummeting, and debt servicing for research (which creates jobs! and prestige!) maybe isn't where we should be focusing our resources.

My rec on 14: Yes. I'm going to be an old person one day (as is everyone), and we aren't going to improve the quality of life for our senior citizens (or other citizens with degenerative diseases) if we don't put the time and money into finding effective therapies. The feds aren't stepping up, and few other states in the union have the unique status of being a de facto nation-state, we might as well behave like it.

Further Reading:

Ballotpedia for Prop 14
Secretary of State Ballot Proposition for Prop 14
…..
Proposition 17: Ex-felons are people, too

Restores Right to Vote After Completion of Prison Term. Legislative Constitutional Amendment

Legislative Summary: Felons can vote upon completion of their sentence (Enfranchises felons)

Pros: The voting franchise is expanded to citizens who committed felonies in the past, but have completed their sentence are–for all intents and purposes–tax-paying law-abiding citizens again.

Cons: I really don't see any. If you believe that felony sentencing is too light, then petition for harsher sentencing: we've done it before, CA led the way on three-strikes laws (though most of these have since been repealed). If you think that former felons aren't really humans or citizens, then I have no words with you.

My Rec on 17: Yes. Once the time is served, we need to humanely welcome ex-cons back into society, and it is crucial for the health of our democracy that participants come from all walks of life.

Further Reading:

Ballotpedia for Prop 17
Secretary of State Ballot Proposition for Prop 17
…..
Proposition 18: 17 year olds are almost people, too

Amends California Constitution to Permit 17-Year-Olds to Vote in Primary and Special Elections If They Will Turn 18 by the Next General Election and Be Otherwise Eligible to Vote. Legislative Constitutional Amendment

Legislative Summary: Allows voting in a primary at 17 if will be 18 at time of General Election

Pros: It gives soon-to-be voting-age young adults a stake in the general election.

Cons: Young people don't vote in significant numbers, so why bother? (That is sarcasm)

My Rec on 18: Yes. Expanding the voting franchise is a great idea! The sooner we get our citizens used to the idea of actively participating in our democracy, the more engaged they'll be as they leave young adulthood and enter boring adulthood.

Further Reading:

Ballotpedia for Prop 18
Secretary of State Ballot Proposition for Prop 18
…..
Proposition 19: Wonky property tax reform for the landed gentry

Changes Certain Property Tax Rules. Legislative Constitutional Amendment

Legislative Summary: Authorizes an owner of a primary residence who is over 55 years of age, severely disabled, or a victim of a wildfire or natural disaster to transfer the taxable value of their primary residence to a replacement primary residence located anywhere in the state, regardless of the location or value of the replacement primary residence. Eliminates tax loopholes used by the wealthy to avoid paying property taxes on vacation homes and rental properties. Uses some of the proceeds of the increased revenue to fund Cal Fire.

Pros: Somebody in the State Assembly has a bee in their bonnet. This passage from the text of the proposition struck me: "Eliminates tax loopholes used by East Coast investors, celebrities, wealthy non-California residents, and trust fund heirs to avoid paying a fair share of property taxes on vacation homes, income properties, and beachfront rentals they own in California." This measure accomplishes that by eliminating the parent-to-child and grandparent-to-grandchild exemption in cases where the child or grandchild does not use the inherited property as their principal residence. Moving tax liability between properties already exists in California, but it's on a county-by-county basis. This makes the whole state fair game for a qualified transfer. If you're in a qualified group, you can move to a home of equal or lesser value and not be reassessed at the new property's tax value (greater value is still a good deal, with a prorated upward adjustment). It also increases the number of times you can perform this transfer in your lifetime from one to three.

Cons: I think the biggest downside to this is its still an upward transfer of wealth from the wealthy back to themselves. Most Californians aren't homeowners, and don't fall into the protected categories defined herein (over 55, disabled, or wildfire victims, though with the way things are going, the last category is going to swell in numbers very soon). The Assembly must have known this would be a hard sell to CA's renters, so they sweetened it with sticking it to the idle rich and transferring some of that largesse to a disaster relief fund.

My Rec on 19: Yes. But mostly because I will be able to benefit from this as a CA homeowner who will reach age 55 in the next two decades.  It's like they wrote these propositions just for me!

Further Reading:

Ballotpedia for Prop 19
Secretary of State Ballot Proposition for Prop 19
…..
Proposition 21: The rent's too high!

Expands Local Governments' Authority to Enact Rent Control on Residential Property. Initiative Statute

Legislative Summary:  Amends state law to allow local governments to establish rent control on residential properties over 15 years old. Allows rent increases on rent-controlled properties of up to 15 percent over three years from previous tenant's rent above any increase allowed by local ordinance. Exempts individuals who own no more than two homes from new rent-control policies.

Pros: In 1995, an absolute upper bound was placed on rent control throughout the state: No rent control could be imposed on property built after 1995. As new homes are built, these are all rent-control free, meaning that fixed-income folks are forced to stay living in older buildings lest they lose their rent control, or if they do move, lose rent control all together based solely on the est. date of the building. The AIDS Healthcare Foundation tried to amend the 1995 law (known as Costa Hawkins) in 2018, but it failed at the ballot box by a punishing 18 points. This time around, the proposed changes to Costa Hawkins are more modest. More properties can be rolled into rent control jurisdictions (if that's what the municipalities want), small-time landlords are exempted, and rent-control rate hikes are fixed, i.e. no more vacany decontrol. 

Cons: Opponents note that in communities that enact rent control, rental property values will decline. People will move less often, and property developers will be scared off from building more much-needed housing in California.

My Rec on 21: Yes. The opposition's arguments are laughable. Real-estate developers might make slightly less money. (I'll try to remember to shed a tear for them.) And if there's one truism of the most expensive real-estate markets in the state, it's that the price of property in the long run only goes up. If a city wants to try rental control that isn't so transparently designed to make the developers truckloads of cash, we should let them try it.

Further Reading:

Ballotpedia for Prop 21
Secretary of State Ballot Proposition for Prop 21
League of Women Voters Prop 21
…..
Proposition 22: Did you know that gig workers aren't really people?
Exempts App-Based Transportation and Delivery Companies From Providing Employee Benefits to Certain Drivers. Initiative Statute
Legislative Summary: Establishes different criteria for determining whether app-based transportation (rideshare) and delivery drivers are "employees" or "independent contractors." Independent contractors are not entitled to certain state-law protections afforded employees—including minimum wage, overtime, unemployment insurance, and workers' compensation. Instead, companies with independent-contractor drivers will be required to provide specified alternative benefits, including: minimum compensation and healthcare subsidies based on engaged driving time, vehicle insurance, safety training, and sexual harassment policies.
Pros: This proposition makes me irrationally angry and I cannot for the life of me even pretend to impartially find a silver lining. This a naked ploy by Uber, Lyft, and DoorDash to exploit their workforces and circumvent the legislature. 
Cons: I wish I had saved the email, but I received one from Lyft, telling me how to vote on this prop. Not a suggestion, but an order to vote in accordance with their glibertarian dystopia. I don't like being told what to do from a company whose only contribution to the world is a goddamned app. Irrational anger aside, the real reason to oppose this measure is that it subverts the ability of the state to determine its own labor laws, specifically, AB 5 (2019). If the state sets labor practices, and a rich enough coalition of robber barons can come along and overturn it, then the corporatists have already won.
My Rec on 22: Hard No!
Further Reading:
Secretary of State Ballot Proposition for Prop 22
…..
Proposition 23: Look Ma! I'm a doctor, now!

Establishes State Requirements for Kidney Dialysis Clinics. Requires On-Site Medical Professional. Initiative Statute

Legislative Summary: Requires at least one licensed physician on site during treatment at outpatient kidney dialysis clinics; authorizes Department of Public Health to exempt clinics from this requirement due to shortages of qualified licensed physicians if at least one nurse practitioner or physician assistant is on site. Requires clinics to report dialysis-related infection data to state and federal governments. Requires state approval for clinics to close or reduce services. Prohibits clinics from discriminating against patients based on the source of payment for care.

Pros: The SEIU-UHW (a prominent healthcare-workers union) may be using this prop (and a failed one from 2018) as part of their efforts to unionize CA's two largest dialysis businesses. However, those businesses have been allegedly retaliating against pro-union employees. How this helps their cause, I'm unsure, but they've put up $5 million dollars for the Yes campaign. Disclosing infection rates seems like a good idea for a safety regulation. If it's the case that dialysis clinics are being closed in more remote or harder-to-serve areas of the state, then the government has a compelling interest in keeping them open.

Cons: I'm being asked to vote on what is best for patients. I (and the vast majority of the CA electorate) do not work in healthcare or have any relevant expertise in determining what is in the best interest of dialysis patients. I know nothing about dialysis and maybe a physician on-site is great idea. If dialysis clinics get more physicians, they'd have to come from somewhere, and it's not like there is a glut of MDs running around out there.

My Rec on 23: No. I like unions, I like people getting safe dialysis care. Still, it just puts us in an unenviable position of deciding what quality of care should be. If the purpose is to improve quality of care for patients, putting a strain on the physician network isn't the way to go about that, nor is the likely closure of smaller clinics and the increase out-of-pocket expenses for Medicare patients.

Further Reading:

Ballotpedia for Prop 23
Secretary of State Ballot Proposition for Prop 23
League of Women Voters Prop 23
L.A. Times Editorial in Opposition to Prop 23
…..
Proposition 25: You're guilty if you're poor

Referendum on Law That Replaced Money Bail With System Based on Public Safety and Flight Risk

Legislative Summary: Requires a majority of voters to approve a 2018 state law before it can take effect. The 2018 law replaces the money bail system with a system for pretrial release from jail based on a determination of public safety or flight risk, and limits pretrial detention for most misdemeanors.

Pros: Ending cash bail would mean that defendants who cannot afford bail will not have to lose income and their livelihood while awaiting trial. 

Cons:  Defendants lose their get-of-jail benefits if they're deemed flight risks regardless of how much money they pay. People who make money loaning money to defendants for bail will lose their job.

My Rec on 25: Hard Yes!  Again, it's another attempt to circumvent the legislature, like prop 22. 

Further Reading:

Ballotpedia for Prop 25
Secretary of State Ballot Proposition for Prop 25
…..
Cliff Notes for comparing and easy to copy for commenting.  Just change the decision where you disagree.
Proposition 14: Stem-Cell Bonds, Electric Boogaloo!
Yes
Proposition 17: Ex-felons are people, too
Yes
Proposition 18: 17 year olds are almost people, too
Ye
Proposition 19: Wonky property tax reform for the landed gentry
Yes
Proposition 21: The rent's too high!
Yes
Proposition 22: Did you know that gig workers aren't really people?
Hard No
Proposition 23: Look Ma! I'm a doctor, now!
No
Proposition 25: You're guilty if you're poor
Hard Yes
THE END.