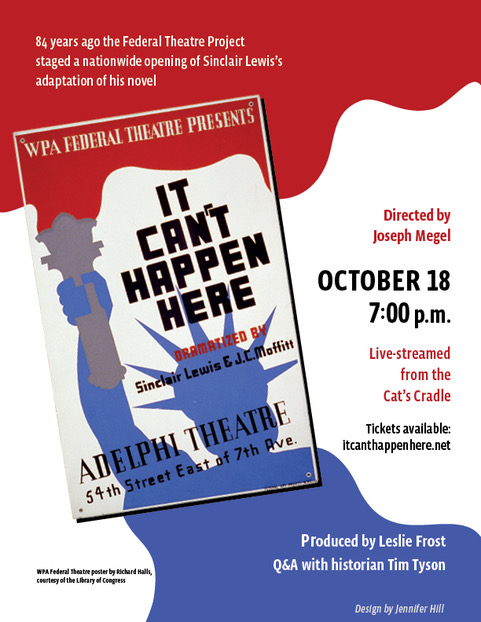 If you want something to do next Sunday evening:
Four years ago I, a loyal Balloon Juice reader and general lurker since John was a Republican, put on a staged reading of Sinclair Lewis's stage adaptation of his novel It Can't Happen Here at UNC's Old Playmakers Theatre. The play describes the takeover of the United States by an American president, and the resistance movement for which ordinary people risked their lives.

Four years ago, the threat was clear, but this election the threat is happening. Rise of militia movements. Voter suppression. Administration corruption as never seen.

Out of Durham and Chapel Hill, NC, a cast of professional and community theatre stalwarts will perform a zoom livestream of the production Oct. 18 at 7 p.m. to counter the threat to our democracy. Legendary music club The Cat's Cradle is hosting the livestream. Longtime local musical favorite Daniel Chavis from the Veldt, is playing. Novelist Daniel Wallace (Big Fish) is introducing and historian Tim Tyson is doing a q&a following.

Our cast and crew are coming in from Texas, Illinois, and Brooklyn, and we'd love an audience from everywhere too. All people need to do is donate to FlipNC or the David Ladley Swanson Fund to elect progressive candidates through this ActBlue site: https://secure.actblue.com/donate/turningncblue. Any amount is welcome. The donation will generate the livestream link.

We have a website with more information: www.itcanthappenhere.net

Some BJ people donated last time to a reading they could not attend. Bravo, my virtual friends! But this time we can all share in this act of theatrical resistance, just as we're pulling together to resist the galloping authoritarianism of the Trump presidency. It can happen here, it is happening here, but we can stop it.