The ACA places some restrictions on what types of cost-sharing structures insurers can offer to buyers. There is a maximum out of pocket (MOOP) limit. Some services must have no cost-sharing. Plans must fit within pre-defined actuarial value bands that come close but seldom overlap. However, beyond those requirements, insurers are allowed to offer pretty much whatever they want in terms of cost-sharing.
Last night, I resubmitted a manuscript on dominated plan choices in California. In that choice environment, the cost-sharing structures were held constant by the state and we, the research team, only compared choices within insurer verticals to waive away all the important unobservables. Lots of people still made expensive bad choices. The choice environment in the ACA is tough. There is a lot going on in the best set of situations where people can readily make objectively bad choices on a startlingly frequent basis. Most of the ACA choice environment is much messier than the California examples.
The Tableau below the fold has every standard/non-CSR plan/insurer maximum out of pocket and deductible plotted at the county/year level on Healthcare.gov. I am pulling out Durham County NC from 2018-2021 in the image below. The X-axis is the individual maximum out of pocket expense.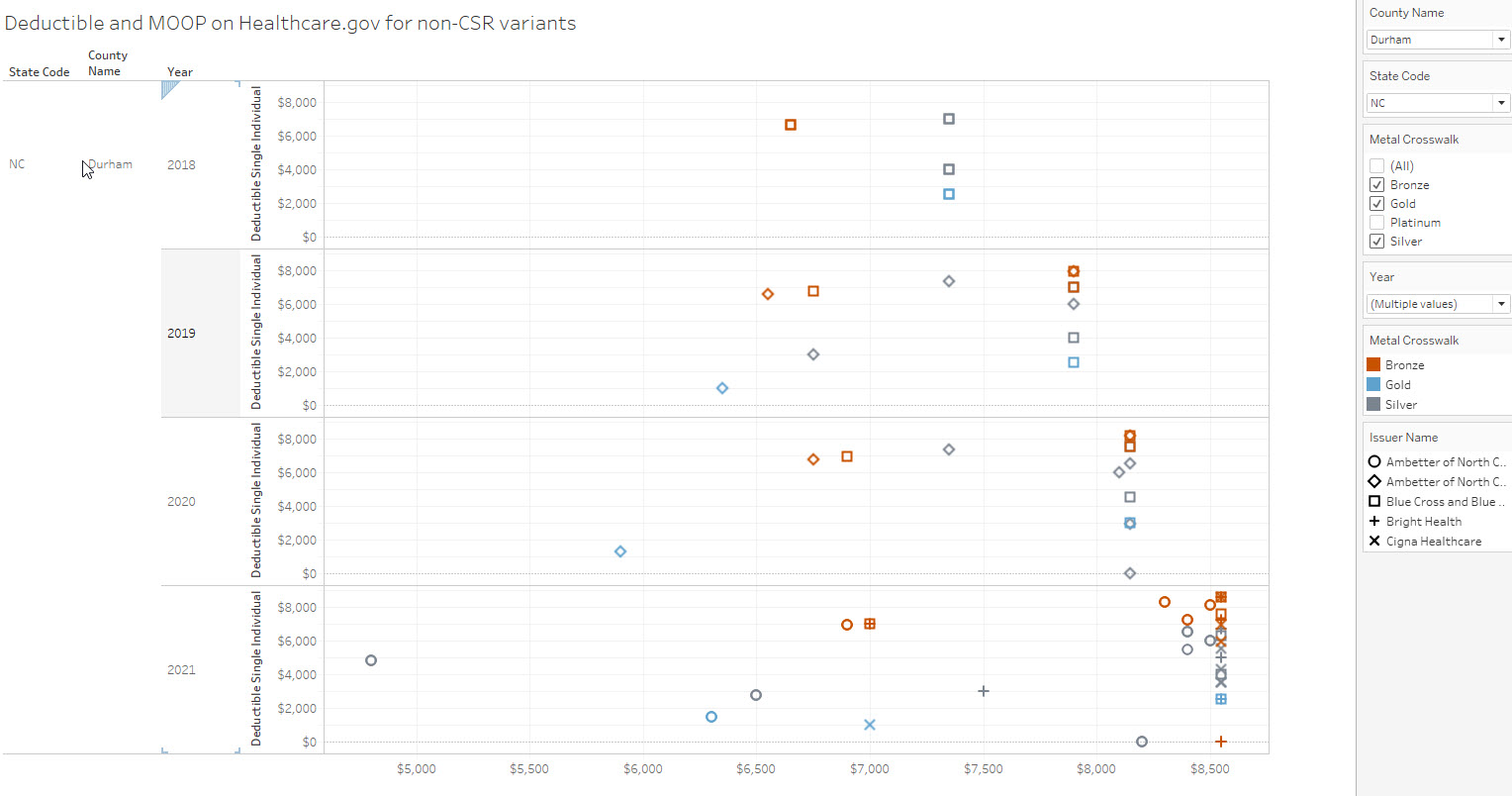 In 2018, the choice environment in Durham is straightforward with a single insurer offering plans.  However the bronze plans being offered has a lower deductible and MOOP than the baseline benchmark silver plans.  The gold plan has a lower deductible than anything else but a MOOP equal to all of the baseline silver  plans and higher than the bronze MOOPS.
In 2021, Durham is back to being a very competitive market.   Four insurers are offering plans.  And they range from zero deductible silver and bronze plans (each with $8,000 or more MOOPS) to a pure deductible silver plan ($4,800 for deductible and MOOP) to everything in between.  The zero deductible plans are probably being offered as a combination of search engine optimization and risk screening.  These plans cost sharing have to be very heavy on inpatient stays and specialty drugs which makes these plans repulsive to individuals who are likely to need services and quite attractive to individuals who think that they are unlikely to use any services beyond perhaps a PCP/ObGyn appointment, generic antibiotics and an urgent care visit during the year.
Insurers are using the design space in Durham to differentiate themselves and their products within the county in 2021.  From a decision sorting perspective, these are tough choices for an individual to make.  Tough choices with plenty of uncertain information strongly suggests that individuals will not make optimal choices.  And that can be okay as long as they are making good enough choices.  I fear that good enough is a tough bar to clear at times.  And these choices get more complex as soon as we start looking at the inclusions and exclusions.  A plan can have a $0 deductible but a $3,000 per day inpatient co-pay that acts remarkably like an inpatient deductible.  Two plans with the same deductible and MOOP can have very different actuarial values if one plan pays PCP and specialist claims pre-deductible and charges a 15% hospital co-insurance while the other plan applies everything to deductible and thus MOOP.
This is a complex choice environment even at the simplest abstraction.  Diving into the details leads to dragons.
Below the fold is the Healthcare.gov 2014-2021 Deductible and MOOP data set; have fun!
Play around with this!