On the Road is a weekday feature spotlighting reader photo submissions.
From the exotic to the familiar, whether you're traveling or in your own backyard, we would love to see the world through your eyes.
Mary G
In 2018 I took my teenaged housemate and his girlfriend at that time to Sherman Gardens and Library in Costa Mesa. CA. I submitted two sets of photos from that visit to On the Road, but the third set that I never got around to choosing was of their the cacti and succulents, the plants I love the most for our changing climate in SoCal. I had seen a photo of one of their borders in a magazine and fallen in love. My front yard is in its fifth year of me trying to replicate it. It'll never happen exactly, because I don't have their greenhouses, army of paid/volunteer gardeners, and rich patrons, but it's getting to where I want it.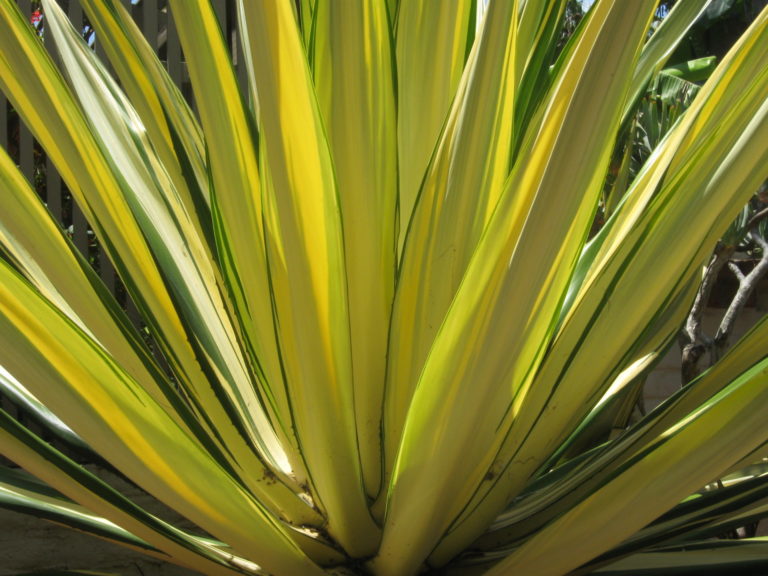 Sherman Gardens and Library in Costa Mesa. CA
June 15, 2018
This is a closeup of a giant agave that I love; I don't know the species name. The bright yellow color is extremely unusual; I've been looking for one that's even close to this shade for years. I asked if they got seeds from it, and was saddened to hear that it doesn't breed true, which accounts for its rarity.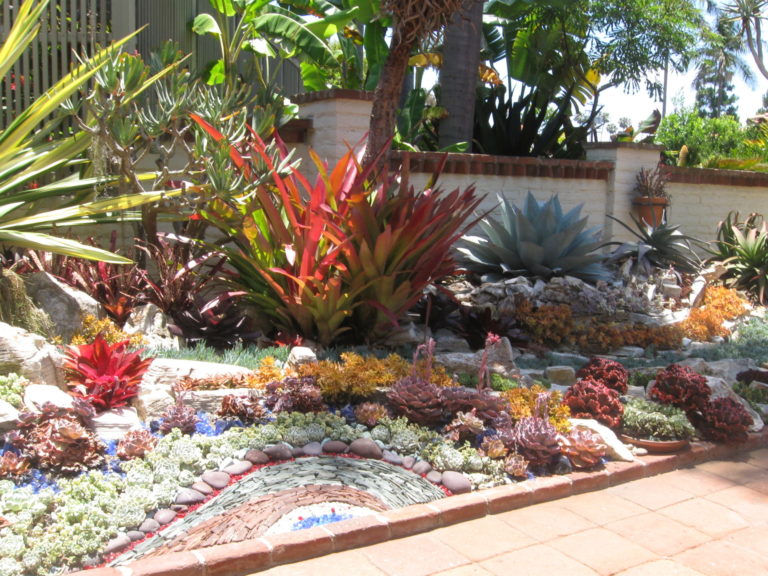 This is the border the yellow agave anchors. You can see its bottom leaves on the left.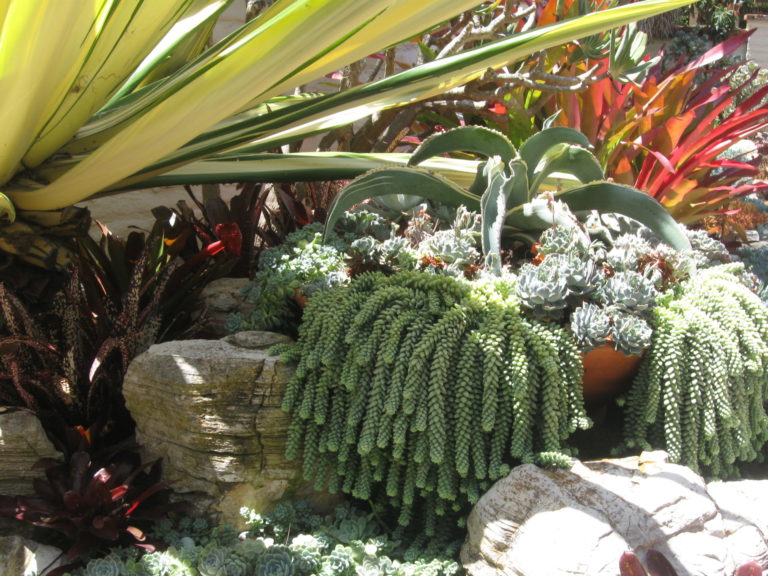 Pots of donkey tails and echeverias under the yellow agave. Getting varied plant heights with mounds and rocks is something they do so well at Sherman's. I am not as good at it, but housemate B and I are getting better with practice.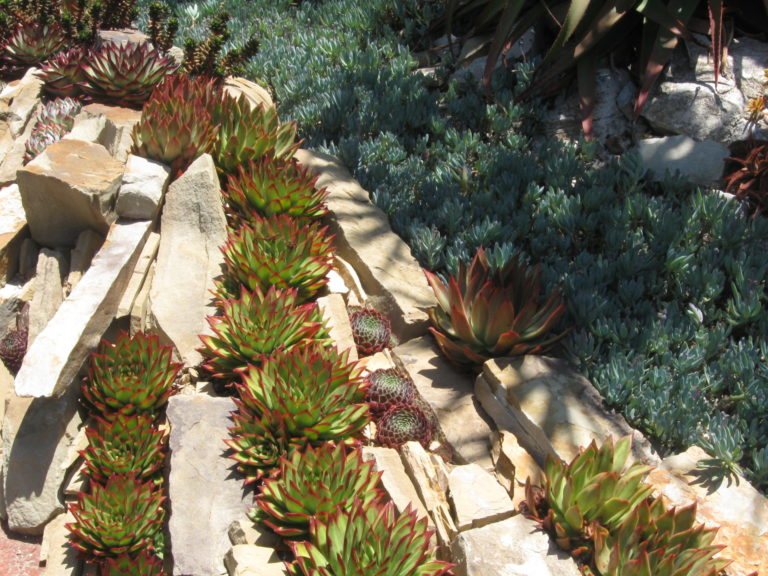 Detail of a section of another border: miniature variety of senecio on the right, with slabs of rock enclosing rows of echeverias on the left. Graphic elements using succulents are so appealing, but as we've learned, not easy to keep looking like this. Some plants grow faster and get bigger than the others; some plants die and leave gaps; critters pull out the rocks looking for tasty worms and grubs for dinner.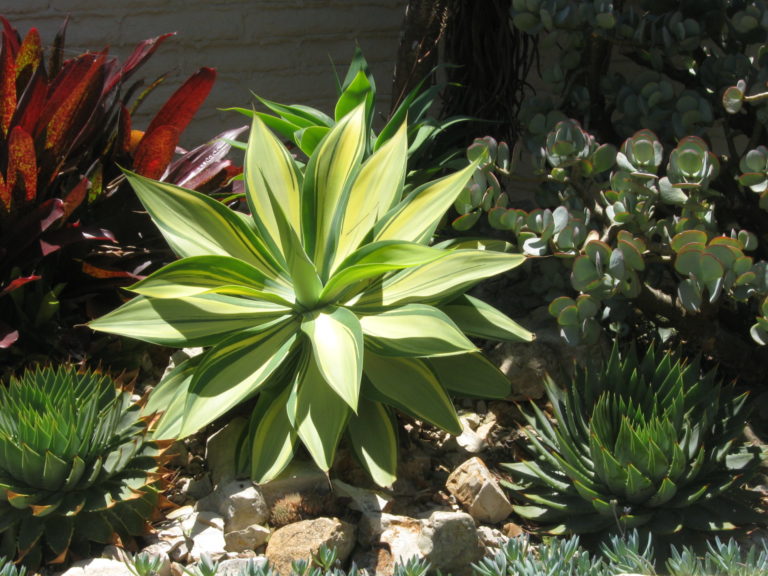 Another agave that's much smaller and less yellow. I think the smaller dark green agave with brown tips on its leaves on the bottom left is a variety developed for the Crystal Palace in London and named for Queen Victoria. It is quite slow growing and was thought to be hard to cultivate, and thus extremely expensive when I started to learn succulents. Turns out it propagates easily from seed and enough commercial growers planted fields full of them 20 years ago that they are sold all SoCal over for no more money than any other of the nicer common agaves. Amateurs hoping to make a fortune on Etsy and eBay learned this to their dismay.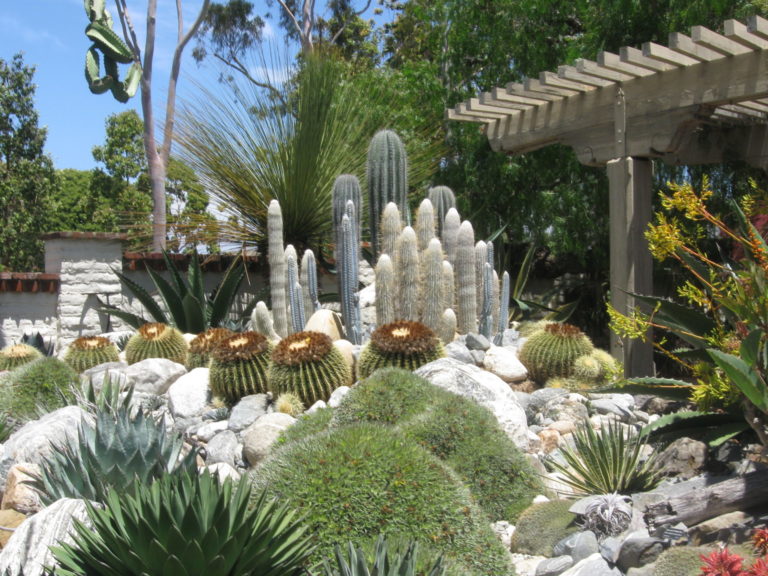 Sherman's has several displays of gorgeous and rare cacti, but since I'm a klutz who can stab myself no matter how much garden PPE I wear, I don't grow many and didn't take a lot of pictures of them.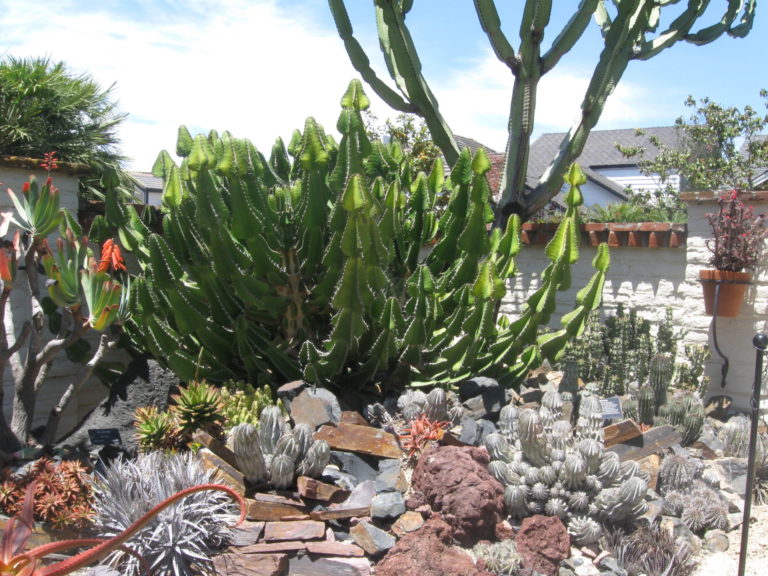 More cacti with some succulents as well.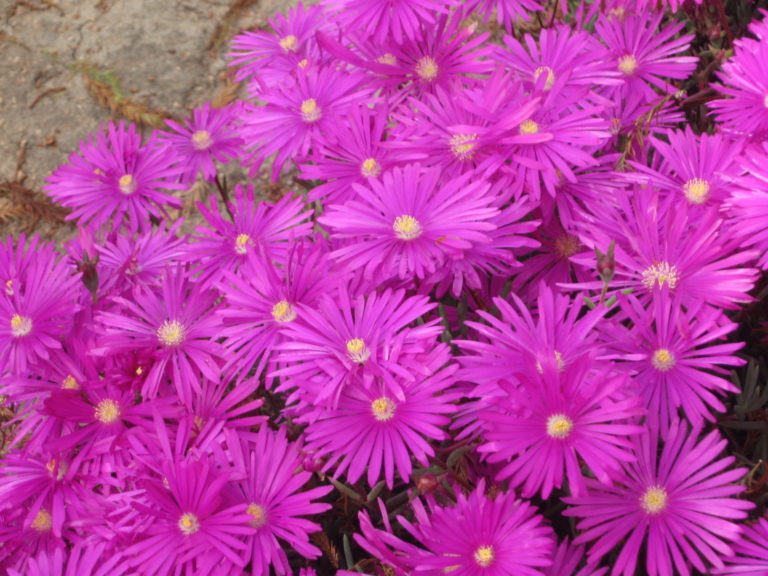 This is a bit of a cheat, it's a close up of dwarf ice plant flowers in my garden February of this year. I haven't been out there to work much since the lockdowns started. Republican Fox-watching neighbors and complete strangers have come up unmasked to offer help, or even hugs and kisses. Nobody got close, because I was loud and rude, but it's hard to have fun constantly looking over my shoulder.