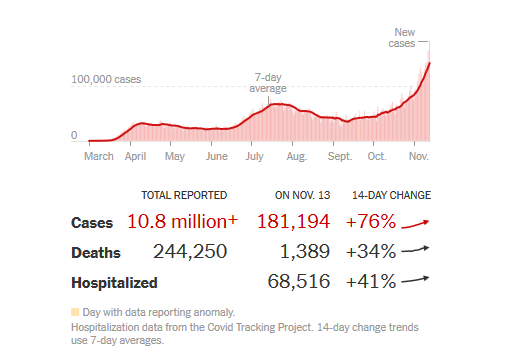 We're gonna blast past 200k before we even get to Thanksgiving. If I were God emperor, I would lock everyone down, issue mask mandates, and mount speakers every 100 yards playing this nonstop until people didn't want to leave the fucking house:
Meanwhile, from the no shit department:
US coronavirus cases will spike after Thanksgiving, further stressing health care systems and prompting new restrictions, an emergency physician said Saturday.

Meanwhile, states continue to report soaring numbers of new cases, hospitalizations and deaths, and several governors have already announced measures to try to gain control before winter.

Dr. James Phillips, chief of disaster medicine at George Washington University Hospital, told CNN's Erica Hill he is "terrified" about what's going to happen this holiday season.

"We're going to see an unprecedented surge of cases following Thanksgiving this year, and if people don't learn from Thanksgiving, we're going to see it after Christmas as well," Phillips said.
I laugh cried at the "if people don't learn" part. The most American thing in the world is NEVER FUCKING LEARNING ANYTHING EVER.
The worst thing about this is that Trump's followers are literally a cult. Anything he says or does they mindlessly repeat and replicate. If that motherfucker would just have asked his followers to wear a fucking mask we wouldn't be in half the mess we are in right now.