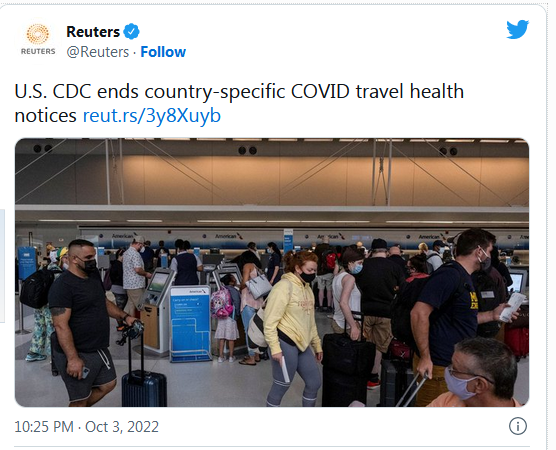 From 'pandemic' to 'endemic':
The Centers for Disease Control and Prevention (CDC) said on Monday it had ended its COVID-19 country travel health notices as fewer countries reported enough data for accurate assessments…

CDC said on Monday "as fewer countries are testing or reporting COVID-19 cases, CDC's ability to accurately assess the COVID-19 (travel health notice) levels for most destinations that American travelers visit is limited."

Since April, the notices have drawn little attention since the CDC was not issuing blanket recommendations against travel for specific countries.

As recently as March, the CDC recommended against travel to about 120 countries and territories worldwide, or more than half of all destinations…

CDC said on Monday it will only post a travel health notice "for a country if a situation, such as a concerning COVID-19 variant, is identified that changes CDC travel recommendations for that country."
Half of U.S. adults have heard little or nothing about the new #Covid boosters, according to a new survey. The latest shots, targeting #Omicron subvariants, could offer protection against a winter surge. But many people are unsure if they're eligible https://t.co/QYom3mKGqj pic.twitter.com/UGhXVckT09

— delthia ricks 🔬 (@DelthiaRicks) October 1, 2022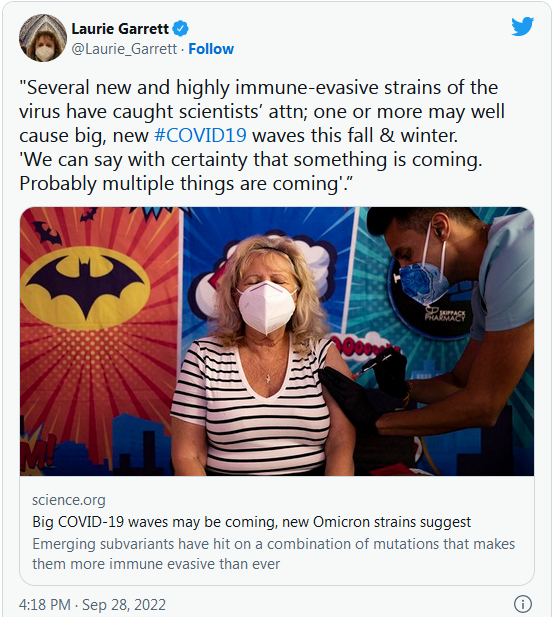 Not great…
Nearly 3 years into the pandemic, SARS-CoV-2 faces a formidable challenge: finding new ways around the immunity humans have built up through vaccines and countless infections. Worrisome new data show it is up to the challenge. Several new and highly immune-evasive strains of the virus have caught scientists' attention in recent weeks; one or more may well cause big, new COVID-19 waves this fall and winter.

"We can say with certainty that something is coming. Probably multiple things are coming," says Cornelius Roemer, who studies viral evolution at the University of Basel. Whether they will also lead to many hospitalizations and deaths is the big question.

"It's not surprising that we're seeing changes that yet again help the virus to evade immune responses," says molecular epidemiologist Emma Hodcroft of the University of Bern, who notes that SARS-CoV-2 faces "the same challenge that things like the common cold and influenza face every year—how to make a comeback."

The strains that look poised to drive the latest comeback are all subvariants of Omicron, which swept the globe over the past year. Several derived from BA.2, a strain that succeeded the initial BA.1 strain of Omicron but then was itself outcompeted in most places by BA.5, which has dominated in recent months. One of these, BA.2.75.2, seems to be spreading quickly in India, Singapore, and parts of Europe. Other new immune-evading strains have evolved from BA.5, including BQ.1.1, which has been spotted in multiple countries around the globe.

Despite their different origins, several of the new strains have chanced upon a similar combination of mutations to help scale the wall of immunity—a striking example of convergent evolution. They all have changes at half a dozen key points in the viral genome that influence how well neutralizing antibodies from vaccination or previous infection bind to the virus, says evolutionary biologist Jesse Bloom of the Fred Hutchinson Cancer Center…

Sheward and Murrell agree we should expect lots of infections in the next few months, as happened last winter when Omicron entered the scene. But they're less pessimistic than Cao, noting that many more people have recovered from an infection now or have received additional vaccine doses, including Omicron-specific boosters, whose rollout began this month. Those will boost overall antibody levels and will likely broaden the antibody repertoire, Sheward says: "I don't think we're quite back to square one."

"The choice to put BA.5 in the vaccine booster is still looking like a good one," Bloom adds. "The boosters are always going to be a step behind, but the good news is that the BA.5 booster is going to be one or two steps behind the virus' evolution, instead of five steps behind."

Just how brutal a comeback the coronavirus has managed will become clear once more people become infected with the new strains. The next wave may also provide better clues about what factors trigger or prevent severe disease, Murrell says: "I think we're going to learn a lot this winter."
Around 3.2 mln Americans received updated COVID boosters last week -CDC https://t.co/6BvlBxIPR6 pic.twitter.com/5awpTIykpd

— Reuters (@Reuters) September 30, 2022
No, it ain't over.https://t.co/QVleZ8rfwa

— Laurie Garrett (@Laurie_Garrett) September 26, 2022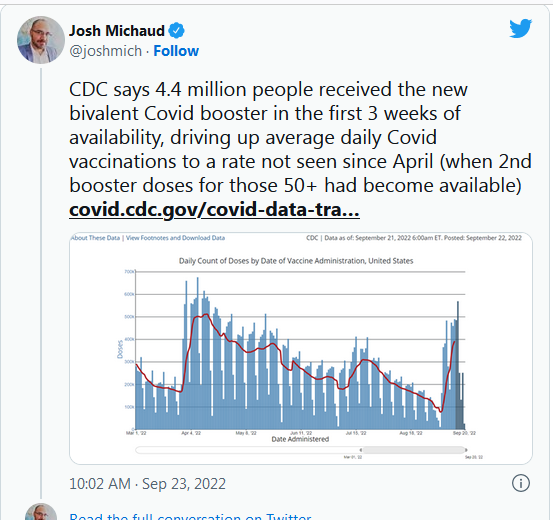 (link)
COVID-19 Coronavirus Updates: Monday / Tuesday, Sept. 26-27Post + Comments (26)
People have decided the pandemic should be over, unfortunately:
News: the US & Pfizer amended their vaccine donation contract to add time to find takers. Joe Biden bought a billion vaccines at cost to donate to the world but world demand is lower. Target is now 600m this year, maybe more later.

with @rileyraygriffin:https://t.co/EYNn431HP2

— Josh Wingrove (@josh_wingrove) September 22, 2022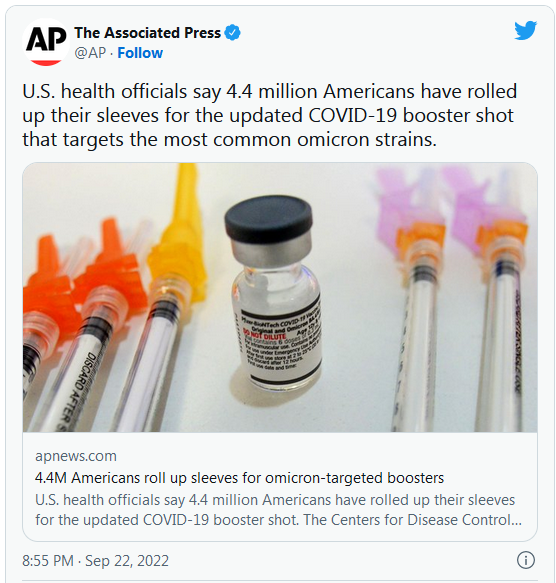 Note: The FYWP function that lets me post screen-shots here decided to go on strike just as I started the process here, so I've pruned the list down a bit to get as much as possible updated.
***********
People have decided that the pandemic is over, would've been a more accurate phrasing, but in context, President Biden's remarks are far less shocking than his opponents would like to pretend:
here are the in-context remarks pic.twitter.com/klWMIChllC

— GONELIKEHELLMACHINE (@golikehellmachi) September 19, 2022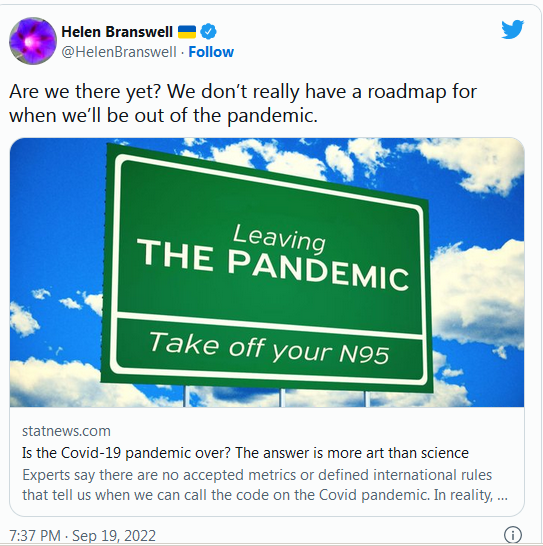 Take it from the experts:
… Reaching the end of a pandemic is not like driving out of one county into the next. There is no fixed demarcation between a pandemic and post-pandemic period, especially for the first recorded pandemic caused by a coronavirus. It's not like we know it's over if cases drop to a certain level for a prescribed length of time.

Experts say there are no accepted metrics or defined international rules that tell us when we can call the code on this horrible event. In reality, things are much more ephemeral when it comes to knowing when a pandemic is over.

"It's over when people decide that it's over. … And most people seem to have decided it's over," said John Barry, author of "The Great Influenza," a history of the 1918 Spanish flu.
COVID-19 Coronavirus Updates: Monday / Tuesday, Sept. 19-20Post + Comments (58)
The world has never been in a better position to end the COVID-19 pandemic, the head of the World Health Organization said on Wednesday, his most optimistic outlook yet on the years-long health crisis which has killed over six million people. https://t.co/D6IMv5uh0U

— Reuters Health (@Reuters_Health) September 14, 2022
The FBI announces the arrest of Catherine Leavy for making a bomb threat against Boston Children's Hospital.

The threat came amid a wave of harassment toward the hospital after its gender-affirming care center became a focus in conservative media. pic.twitter.com/eiHbZBmrT3

— The Recount (@therecount) September 15, 2022
For the past month and more, Chaya Raichik and her far-right running buddies have been ginning up a campaign of terrorism against Boston Children's Hospital. Today, the FBI arrested one of the bigots Raichik convinced that a world-renowned facility treating kids with cancer, heart problems, and other life-threatening illnesses deserved to be targeted 'because they want to cut little girls' breasts off'. (Which is, of course, a lie, but guaranteed to scare the transphobes.)
This is great news for Raichik — tons of earned media advertising her site for any confused haters who need a 'safe space' to plan attacks on the people and institutions they fear! It would be less great if there was any chance that the social media platforms which she uses to monetize her bigotry might shut her down, but CLICKS FREE SPEECH, everybody…
New from us: FBI arrested Catherine Leavy of Westfield, Mass, for making a bomb threat against Boston Children's Hospital.

It's one of "well over a dozen" BCH has received since being targeted online by anti-trans influencers like @libsoftiktok. https://t.co/evCyp3piv3

— Brandy Zadrozny (@BrandyZadrozny) September 15, 2022
Domestic Terrorism Open Thread: Congratulations, 'Libs of TikTok'!Post + Comments (56)