On the Road is a weekday feature spotlighting reader photo submissions.
From the exotic to the familiar, whether you're traveling or in your own backyard, we would love to see the world through your eyes.
Albatrossity
Winter in Flyover Country can be tough birding in some years, or maybe it just seems tougher as I get older. Nevertheless there are always things to see, and birds to photograph and celebrate. So this is the next installment in an irregular series of On The Road posts, showcasing some of the sights that keep me sane here in year 2 of the pandemic, and year eleventy billion of the reign of 45. I write this at the end of the week of the attempted coup, and dog knows what it will be like when you read this in a few weeks. Stay well, and go see some birds if you can!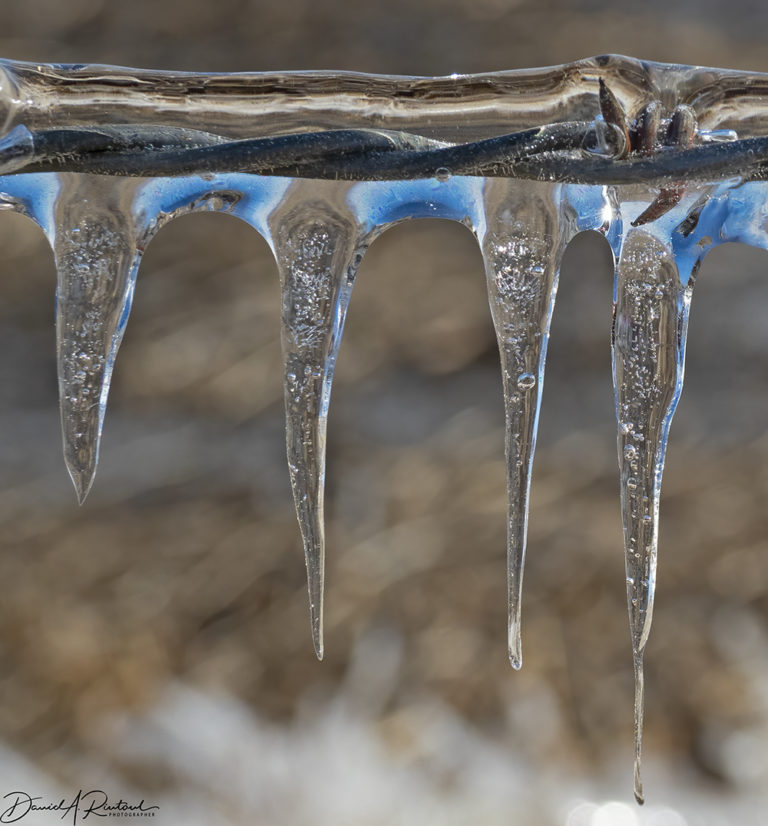 Near Manhattan KS
December 31, 2020
Ice can be treacherous and deadly, but when the sun comes out after an ice storm it can also be jaw-droppingly gorgeous. Barbed wire, ice, and refracted sky on a crisp clear day on the edge of the Great Plains.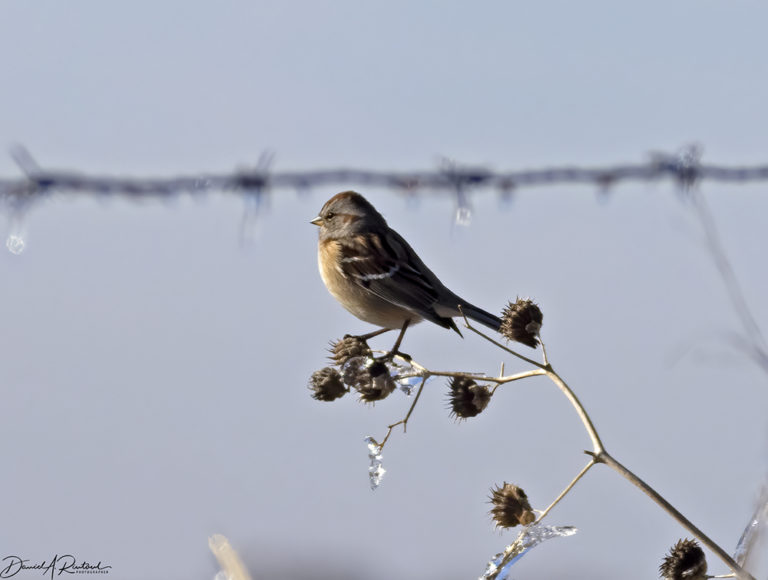 Near Manhattan KS
December 31, 2020
Ice coatings don't seem to stop birds from foraging, at least if the coating is minimal and melting. Here's an American Tree Sparrow (Spizelloides arborea) chowing down on some crispy sunflower seeds.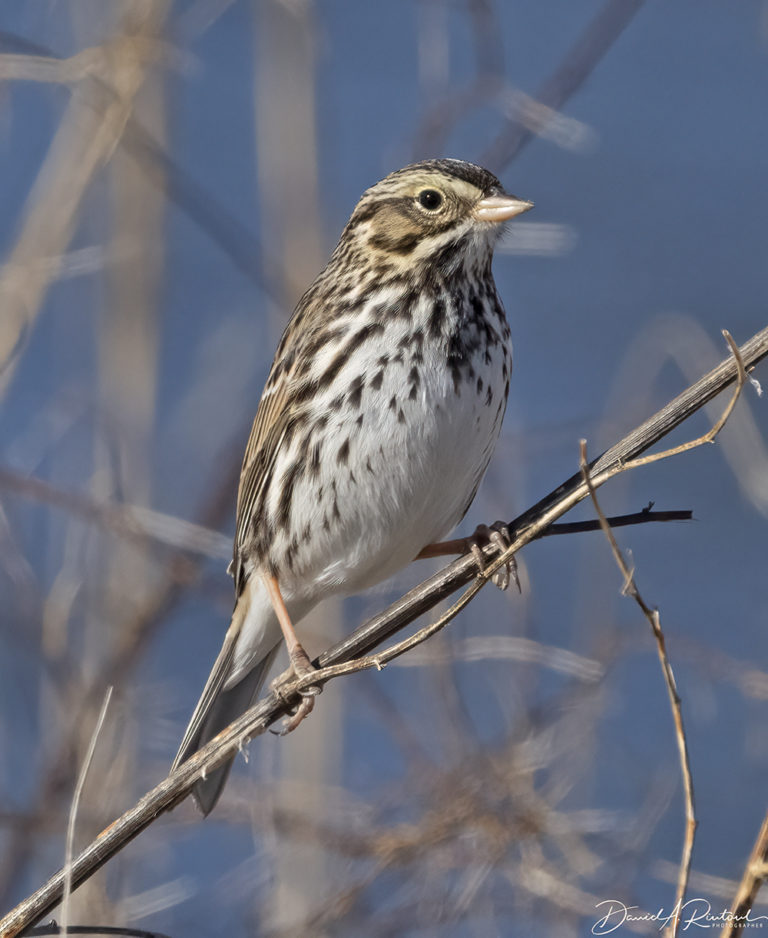 Quivira NWR
January 4, 2021
Another sparrow here for the winter in smaller numbers is the Savannah Sparrow (Passerculus sandwichensis). As our winters get slowly warmer, we seem to have more of these wintering here than we did in the past.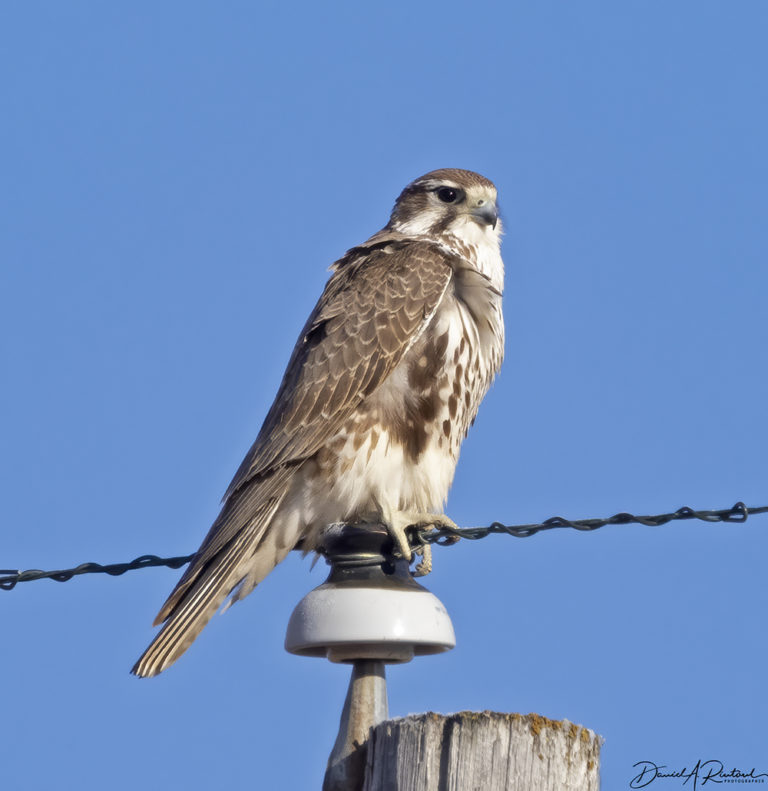 Near Manhattan KS
December 31, 2020
The flocks of sparrows have other fans besides me, including this Prairie Falcon (Falco mexicanus). It has been a good winter for seeing Prairie Falcons here; this was the 6th one I have seen this season, and probably it won't be the last one!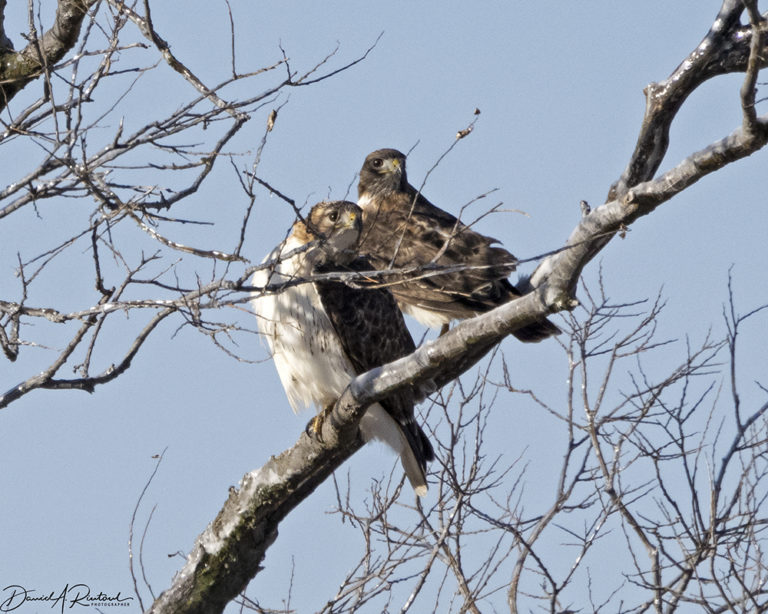 Near Manhattan KS
December 31, 2020
It may look like winter to you, but this pair of eastern Red-tailed Hawks (Buteo jamaicensis borealis) is thinking spring. Females are larger than males, so this is a good picture to illustrate that dimorphism. Soon they will be renovating their old nest and starting on a new generation. Baby steps.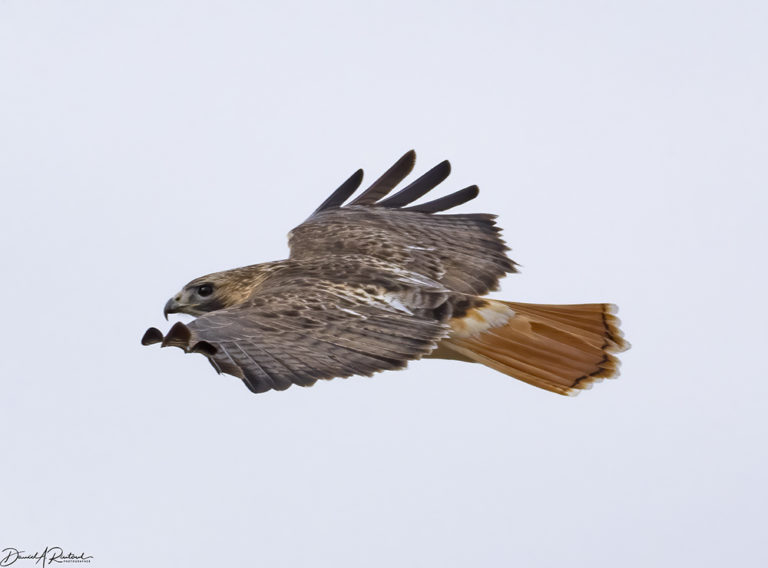 Near Manhattan KS
December 28, 2020
I take lots of pictures of hawks, but I probably neglect the standard resident eastern Red-tailed Hawks, focusing too much on their migrant conspecifics. So here is a standard Eastern Red-tailed Hawk (B. jamaicensis borealis) that is pretty representative of our summer birds here. Brick-red tail with no banding other than that skinny black subterminal stripe, white uppertail coverts, and a glare that would not make a prairie vole feel very safe.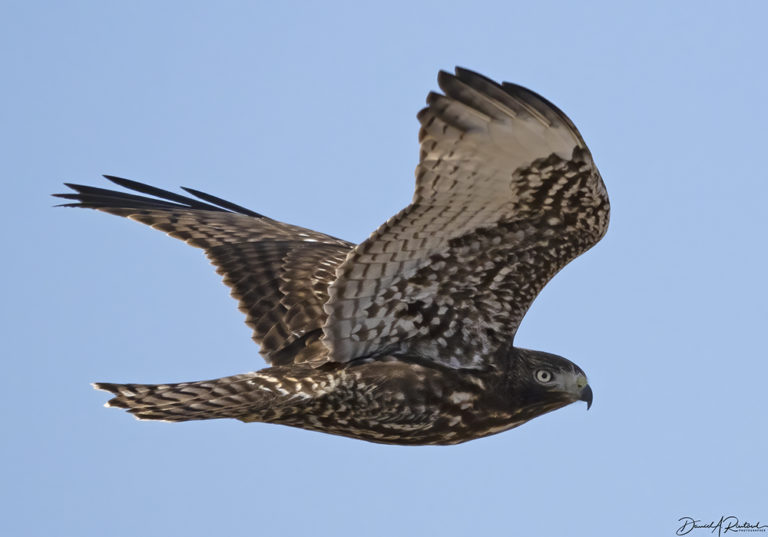 Near Manhattan KS
December 27, 2020
Migrant Red-tailed Hawks are abundant in my part of the plains, and the variety is infinite; every one is unique. The next two shots can illustrate that. These are Harlan's Hawks (Buteo jamaicensis harlani); both first-year birds, most easily aged by that yellow iris. They are both in the category we call intermediate-morph, halfway between dark- and light-morphs, based on that nearly checkerboardy black-and-white patterning underneath. But they are also clearly unique and identifiable, at least in photographs, although the differences are subtle. I'll let you ponder them and see if you can spot some of the differences. Best of all, if they come back next year, they will have many different feathers and a whole new look!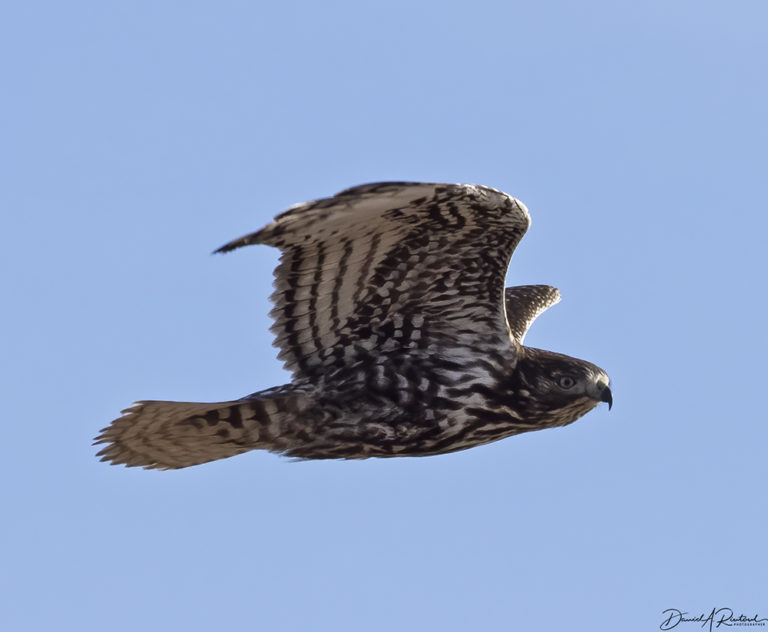 Near Manhattan KS
December 26, 2020
First-year intermediate-morph Harlan's Hawk #2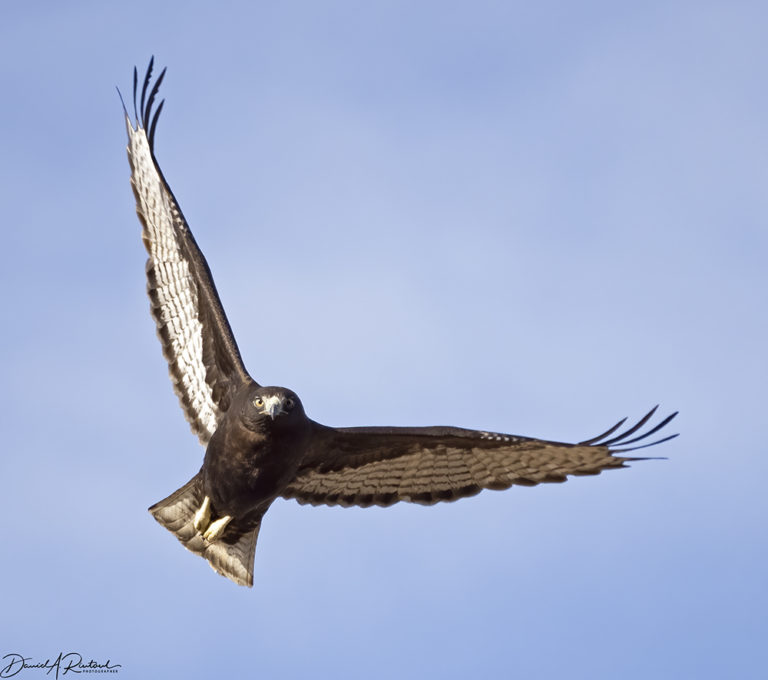 Near Manhattan KS
December 26, 2020
Dark-morph Harlan's Hawks (B. jamaicensis harlani) can be very dark, as illustrated by this one. And despite its yellow iris, this is a bird in its second year, with fully adult tail and wing plumage. We can see the wings in this image. Look at that heavy dark trailing edge on the wings and compare it to the two youngsters in the previous pictures. Even though those two are a different morph, the paler and thinner trailing edge says that they are in their first year. Every adult redtail might not have a red tail, and might not have a dark iris, but it will have that thick dark trailing edge on the primaries and secondaries.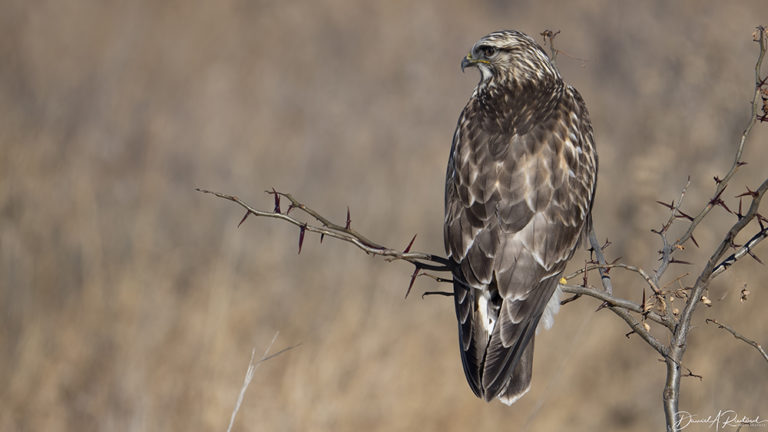 Quivira NWR
December 9, 2020
Finally, here's another winter resident raptor, a Rough-legged Hawk (Buteo lagopus). Long wings tell us that this is a long-distance migrant, and indeed this species nests on tundra in Arctic Canada and Alaska. Some years (probably when there are lots of edible rodents in the Dakotas and Nebraska) we have very few of these here. This year we have plenty, and some of them even pose for pictures!