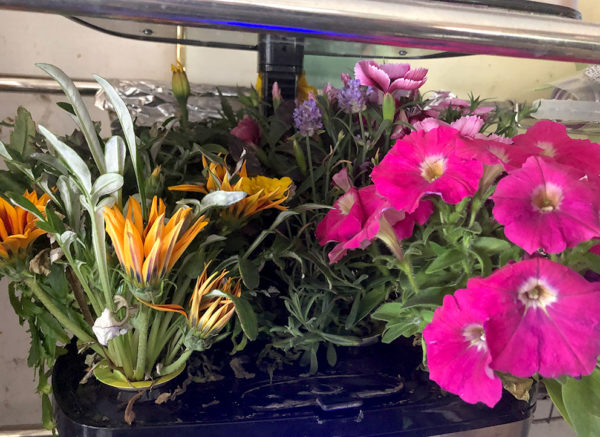 From commentor Catherine D:
I am a winter person and hate being outside in the summer, so my gardening is all indoors and hydroponic. Last winter I had cherry tomatoes and jalapeños in one garden, but my house is cold, so it took a long time for them to grow.

This year I decided to plant flowers for a blast of color in dreary times: calendula, dianthus, lavender, marigold, and petunia. This is what I see every time I walk into the kitchen.

Herbs grow very happily despite the cool house. Right now I have basil, mint, rosemary, and a totally insane oregano plant. The oregano will get a haircut today and go directly into dinner.

I have planted lettuces and other greens such as bok choi before, and I probably will replace the flowers with those once the blooms are done.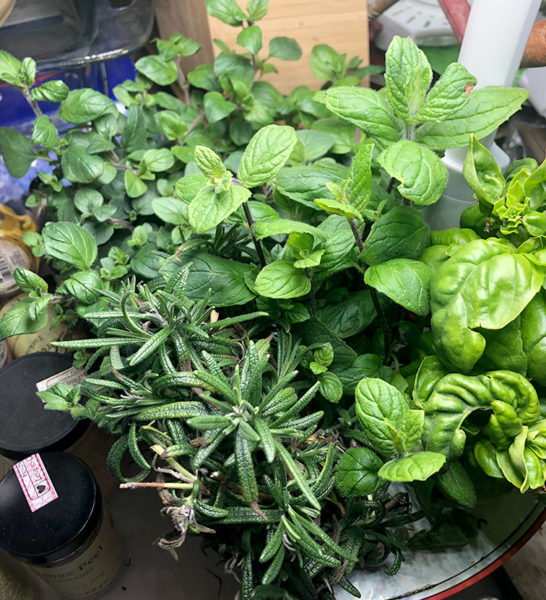 ***********
Which reminds me… I have a small AeroGarden kit that I purchased back at the start of the pandemic rush, with a vague idea of starting cherry tomatoes just in case. Of course the box is still sitting unopened, but now that I'm feeling less like one of those cartoon critters who accidentally charges off the side of a cliff and has to keep running frantically in place, this is probably as good a time as any to dig it out…
(Satby, were you the master gardener with recommendations for buying micro-tomato seeds online?)

What's going on in your garden (planning / indoor / tropical / memories), this week?