Almost everyone who has purchased a health insurance plan on the ACA marketplaces is undergoing a massive price shock as Healthcare.gov and the various state based marketplaces are updating their subsidy calculation tables to reflect the increase in breadth and size of premium subsidies contained in the American Rescue Act. Anyone making under 150% FPL is now guaranteed to see at least two silver plans with 94% AV and low deductibles cost nothing to them. Bronze and potentially gold plans may also be zero premium for more people.
A recent paper by my frequent co-author, Coleman Drake, and his collaborators from the University of Minnesota look at how people pay attention to health insurance choices. Their model finds that people pay more attention to their choices when there is a large price shock.
Choice inertia is a bad thing in choosing health plans, especially when the marketplaces have subsidies that are determined by a price-link to a benchmark that may reset every year. Someone could be in a plan whose gross premium is a constant but whose net premium Yo-Yo's up, down and sideways over a four year span. A good plan in Year 1 may be an atrocious plan in Year 2 relative to other options if individuals are paying attention.
We should expect people to go back in and look around as they experience a net price shock. Many states are allowing individuals to switch plans mid-year and carry their already accumulated deductibles to the new plan (this is going to be a great identification opportunity for future adverse selection research).
What is most interesting to me will be states like West Virginia that have Broadloaded their CSR benefits into all their plans from 2018 to 2021 but is rumored to be Silverloading for 2022. People in West Virginia are highly likely to observe a double shock. They will be seeing the single universal shock of the American Rescue Plan subsidy shift, and then another large shock as Bronze and Gold plans will become massively cheaper relative to the benchmark silver plan in 2022. This should be a huge attention getting event in West Virginia and any other state that transitions into Silverloading from Broadloading.
West Virginia has seen their relative marketshare of enrollees on Healthcare.gov drop over time as the pricing has not improved.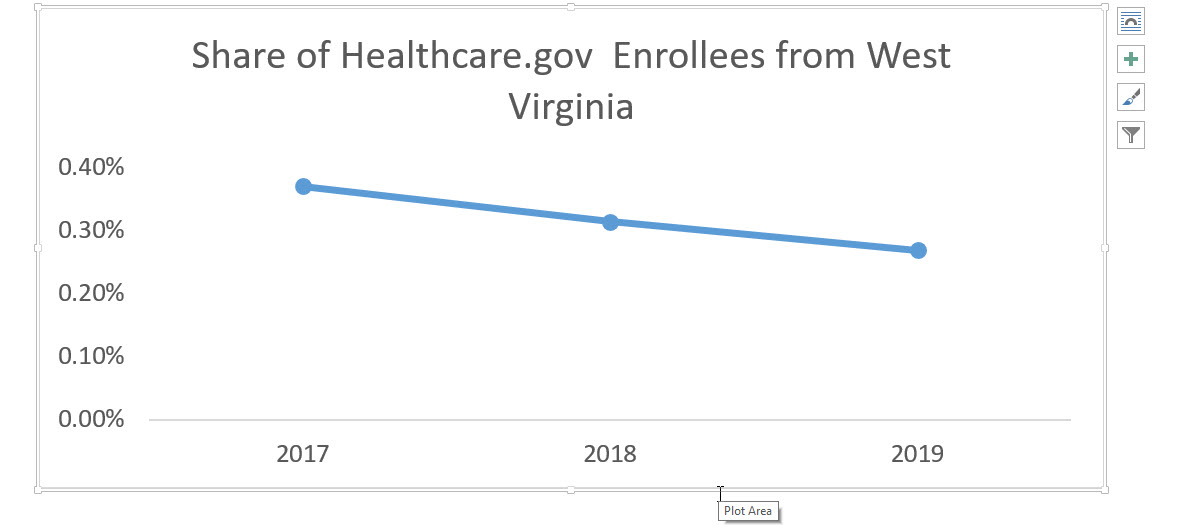 I will be shocked if West Virginia does not have some of the largest relative enrollment gains during the next OEP as a massive policy and attention shock is being doubly applied to that state.