On the Road is a weekday feature spotlighting reader photo submissions.
From the exotic to the familiar, whether you're traveling or in your own backyard, we would love to see the world through your eyes.
frosty
Like Joshua Tree, this is a park I always wanted to see, but never got to while I lived in California. When you decide to go up 395 through the Eastern Sierra, you pretty much give up seeing any other parts of the state, especially in the winter when the passes are closed. This was the first trip where we decided to do that.
We were here for four days. We unhitched the trailer at Stovepipe Wells, one of three places in the park with a gas station, restaurant, and lodging. We took three day trips through the park, taking short hikes at some of the sites and on the fourth day went over the passes to 395 and spent the day at Manzanar and Lone Pine (more later). This post shows pictures of the landscape, the next one will show some of the historic sites.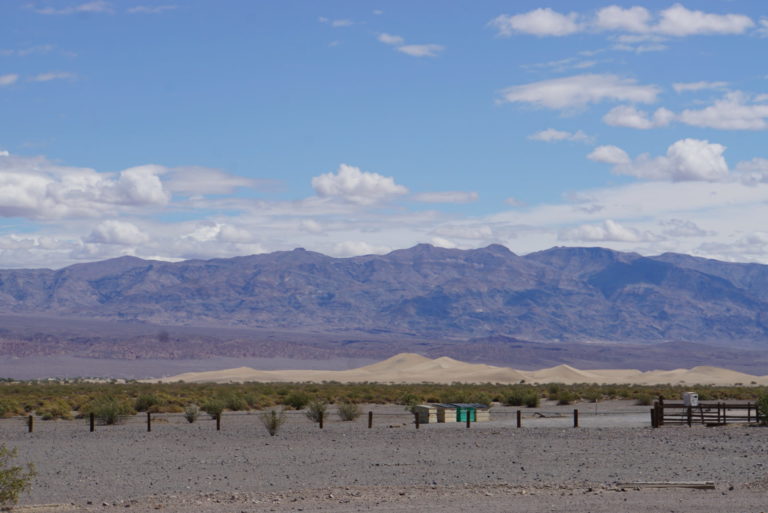 Stovepipe Wells, Death Valley
April 26, 2021
The RV campground in Stovepipe Wells had mountains on all sides. The view out our door was the Cottonwood Mountains and the Mesquite Flats sand dunes (and a couple of dumpsters behind the ranger station). On our second night the wind came up, with gusts that rocked the trailer for about three hours, before it started to rain. When we got up in the morning there was snow on the peaks all around us.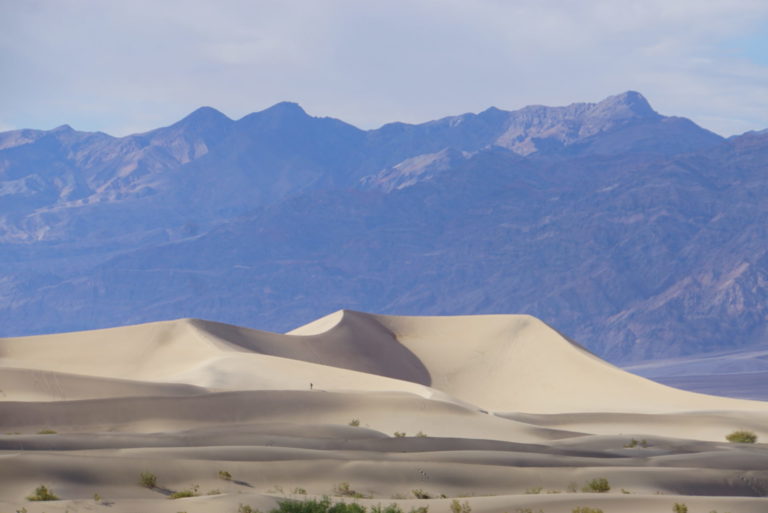 Death Valley
April 27, 2021
Mesquite Flat dunes at dusk.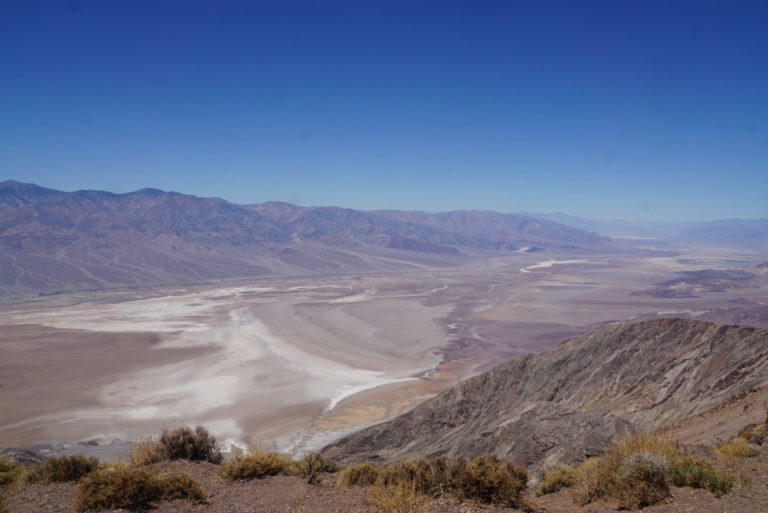 Dante's View, Death Valley
April 28, 2021
The overlook at Dante's View (el. 5,475 ft) was our last stop and maybe it should have been the first. Every time we got above the valley floor for a hike I took a picture. This one was better than any of the others.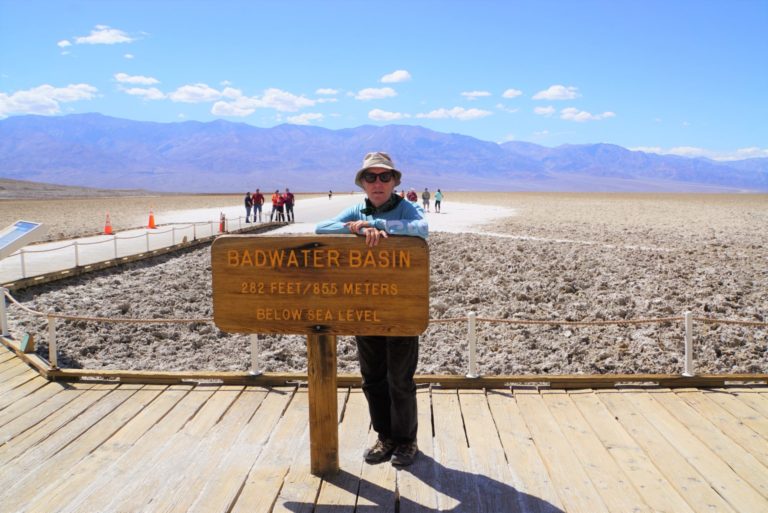 Badwater Basin, Death Valley
April 28, 2021
Badwater Basin is the lowest point in North America, 282 feet below sea level.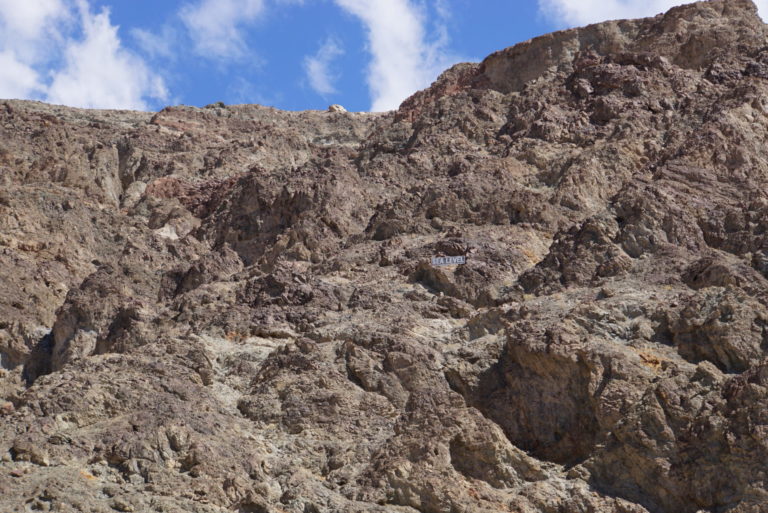 Badwater Basin, Death Valley
April 28, 2021
And in case you don't quite know where sea level is, there's a sign on the cliff at the edge of the basin that shows it, high above our heads. It's in the middle of the picture.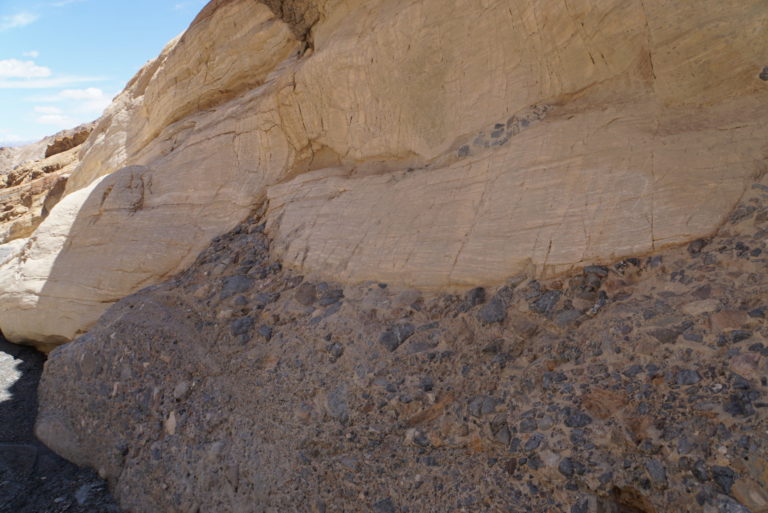 Mosaic Canyon, Death Valley
April 27, 2021
Mosaic Canyon geology. On top, dolomite metamorphosed into marble. On the bottom, breccia, remnants of a landslide cemented together into a mosaic that gives the canyon its name.
Salt Creek, Death Valley
April 26, 2021
The Salt Creek Trail is a short boardwalk over what passes for a wetland in the desert, a small, shallow, flowing stream and enough soil moisture to support vegetation.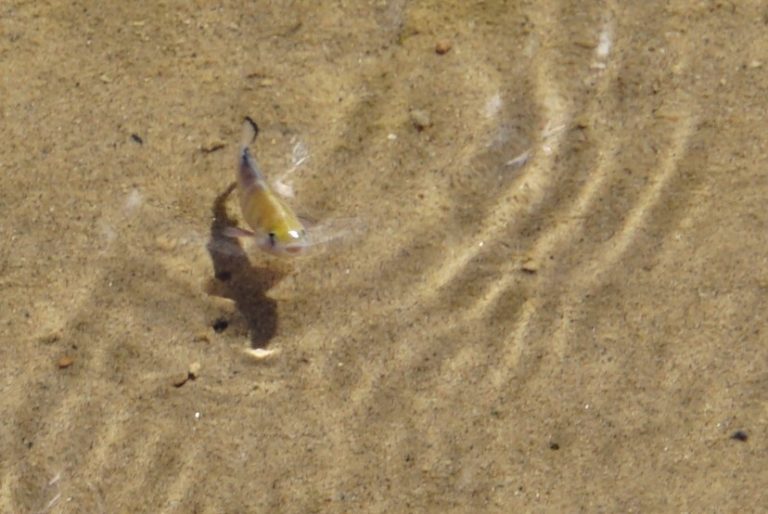 Salt Creek, Death Valley
April 26, 2021
The stream supports an isolated population of Pupfish, one of about ten locations in Death Valley, Owens Valley, and Nevada. Many of them are endangered.